My second day in Belfast was taken up with a filming location tour. I joined Brit Movie Tours on a Game of Thrones tour, to explore several filming locations outside of Belfast. I'm don't often do film location tours, but they can be good fun. Especially when the places you visit are just generally pretty too. If you want to discover what happened on my GoT tour, just read on!
On a side note, I was a little worried about spoilers when taking this tour. I stopped watching Game of Thrones at Season 6, as it went ahead of the books and I am refusing to watch until the books are finished (I'm looking at you George R. R. Martin). So I knew there were going to be a few spoilers for me, as this tour goes into Season 7, but actually there wasn't many (the only potential spoiler was one that my Dad had already spoilt for me).
Disclaimer: I was hosted on the Game of Thrones Winterfell Tour From Belfast With Direwolves in exchange for honest and unbiased coverage. Therefore all views are my own and uninfluenced in any way
A Walk Through Belfast
So the day dawned of our Game of Thrones tour, so after a quick breakfast at our Airbnb, we headed out to the meeting point. The tour was due to start at 9:30, and we decided to walk through the city. It took a little over half an hour and was a nice walk.
On the way, we spotted some awesome street art on a house. The mural was to commemorate the Corr family, who lived on Ormeau Road. Members of this family played important parts in events around 1916, such as World War II and the Easter Uprising. As I was taking photos a random guy started shouting at us. Just a little scary. But it turned out he was actually shouting the history of the place. Trying to tell it to us from across the road.
Closed Gardens
The walk wasn't too far, maybe half an hour. On the way we noticed that we were passing the Titanic Memorial Garden (read reviews of the garden here), so thought that we'd pop in for a look. Unfortunately, it was closed due to work being done. From what I could see it was much smaller than I'd thought.
The Titanic Memorial Garden is basically attached to the City Hall Garden (reviews can be found here), so we walked through here to get to the meeting point. It was a bit of a short cut, so it made sense. But much of this was also shut due to works being done.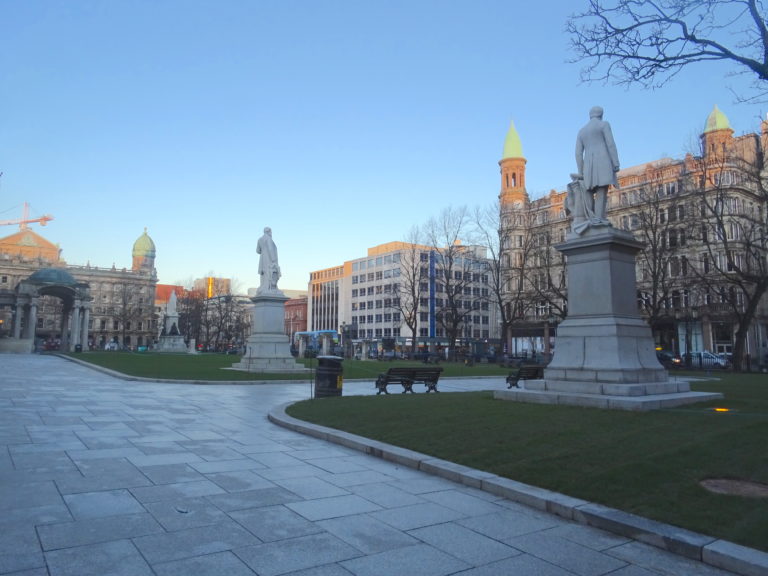 Walking through the gardens gave a great view of the impressive City Hall though. And there's a statue of Queen Victoria you should look out for too.
So we arrived at the meeting point, just outside the tourist office. There were already a few people waiting, so that's a good sign of it being the correct place!
A Little Bit Of Confusion
As we waited a tour bus arrived and, naturally, everyone started crowding around and getting a bit pushy. You'd think people would realise that they WILL get on the bus, they've already paid… Alright, maybe their more concerned with sitting near each other, but can't we all just chill out?
The guide who got off this bus was trying to tell us all what tour it was, but with all the pushing and shoving that was happening it was hard to hear. So we got in the queue to talk to the guy just to find out what tour this bus was for.
And it wasn't ours, this was for the Game of Thrones With Giants Causeway Tour. One thing you will discover in Ireland is that everybody's a comedian. The guy told us the tour the bus was for and when we told him the tour we were booked on he told us to "wait here for a guy with a big beard, carrying the Stark flag, with two massive dogs."
Well, we thought he was being funny, but he was actually pretty bob on for the guy that appeared not long after. The only thing missing were the two massive dogs.
The Game Of Thrones Tour Begins
So a guy with a big beard carrying the Stark flag appeared. He pointed us to a tiny bus that was hidden among many other larger buses and told us to head to that one. Easier said than done. But we made it and were finally on the bus ready to go on our Game of Thrones Winterfell Tour from Belfast with Direwolves (see reviews here).
Once everyone was on board (the bus was only about half full), we set off. Our guide introduced herself as Molly and began to tell us what the day would entail.
A great part about these tours is the guides, they were all involved at some point with Game of Thrones filming. Molly was an extra in Season 7 and so she had a lot of stories about the filming. She told us about the costuming, difficulties of learning to be a White Walker and how difficult it is to get vaseline out of your hair. And that was just the start of it!
The first drive was a little under an hour, so Molly did a fair amount of talking. She also showed us some behind the scenes footage, with interviews of some of the cast.
Not Just A Field
As we drove past a field, Molly told us all to look. There wasn't much to see, there were trees in the way. But she told us that the fields on the other side were filming locations. In the fields, the Battle of the Bastards was filmed and it was the location of the Godswood.
Unfortunately, you can not go and see these fields, as they are private land. But as they are just fields, there's not much to see anyway. It's not like the Godstree is there, that was an artificial tree.
Inch Abbey Ruins
After a bit of driving, we arrived at our first Game of Thrones location, Inch Abbey (here are some reviews of the abbey). These abbey ruins were used in the scene when Robb Stark is crowned "The King of the North".
There was an Abbey in this area from 800 AD, though the present ruins are from 1180-1188 AD. The ruins themselves are beautiful and the short walk down to them have some great views.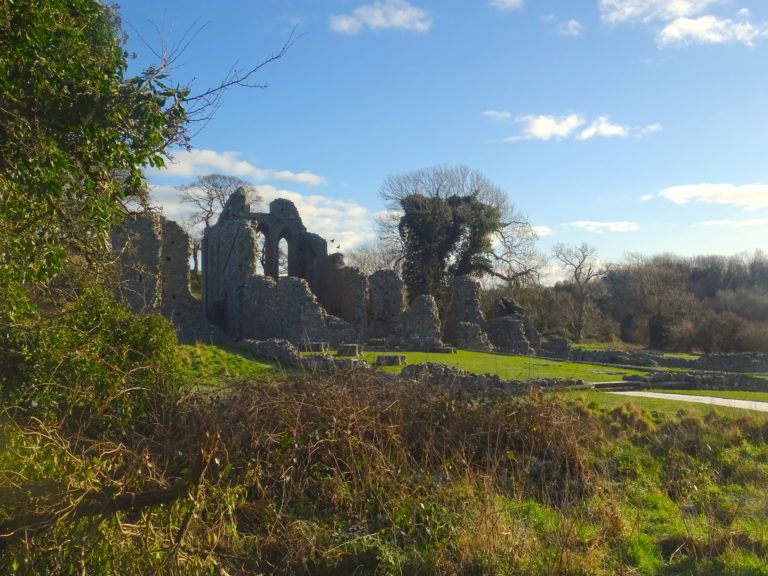 But we weren't here to learn the history of Inch Abbey, we were here to see it as a Game of Thrones filming location. So once we got to the Abbey, Molly got her tablet out and showed us the scene. I found it really interesting to see the clip in the actual location, you realise the angles and where each character was.
Molly also told us about some of the troubles of filming. In this scene, for example, was meant to be a night. So they had candles burning. However, as it takes hours to complete the filming if they used the same candles you'd be able to notice the different heights throughout the scene as they burn down. So they had to use loads of candles for continuality. It's amazing what you don't think about when it comes to filming.
We now discovered that Molly had brought some bits along for us. She'd brought some cloaks and Ice (Ned Stark's sword). So we had a bit of free time here to play with the props!
Getting Into Character
We even had Catelyn's cloak, I had to give it a try. You could tell the difference in quality compared to the extra's cloaks. And I will say Michelle Fairley is tall. I mean, I know I'm short, but I think you could fit two of me in that cloak!
Although now I worry about the fur trim… It looks real… This was at the start of my vegan days, and I wasn't 100% vegan at that point and often had a CEC (Cultural Exemption Clause). Not that I ever supported the fur trade and I certainly have never owned or wanted to own anything with real fur. But I'm just going to tell myself that it was fake, made to look real… And pray that I'm correct, or I might have to stop watching all films and series just because of the risk.
You'll also be surprised at how complicated the cloaks are. It's not as simple as just tying them around your neck, oh no. There were straps that went around your body. I had to ask for help for both cloaks I tried…
The cloaks are heavy too. And I mean really heavy. The other cloaks were also too long for me, but not to the extent that Catelyns' was. But they were very warm. So warm and cosy, and comfortable once you manage to get them on! Personally, I think they should come back into fashion because of how warm they are. Coats are boring and nowhere near as warm!
On the other hand, Ice was much lighter than I expected. Although it was HUGE. Almost as tall as me! It made me think of William Wallace's Sword in the William Wallace Monument at Stirling.
Exploring The Ruins
After we'd had our fun with the props, me and Dave decided to explore the ruins a little more. Not that there were extensive amounts of ruins. But they were really cool to just wander around for a bit. Most of the tour group stayed with the props, so we got some areas of it to ourselves.
It was really atmospheric here. There were jackdaws all around, making noise and generally glaring down at us. Definitely a great place for a filming location!
After about half an hour, it was time to move on. So we headed back to the bus, gave our cloaks back and set off for the next location.
Tollymore
It wasn't a long drive to the next stop, which was Tollymore Forest Park (read reviews of the park here). This area was once a private estate but is now a public park of 1,600 aces. It is one of Irelands' oldest forests and is the location for several scenes from Game of Thrones.
We had a fair walk through the forest before we got to the sight of the first scene. It's a really pretty forest. We crossed bridges and the rivers made a gorgeous sight in the trees. It was a really sunny day and the light glaring through the trees made an eerie scene. I would definitely want to come here again for more exploration.
After we'd crossed the river, Molly pointed to the other side. On the bank was an old summer house, but it was strange. It looks like a skull. A pretty skull, with greenery growing all over it, but definitely a skull.
White Walkers Are Here
After a while, Molly took us off the path and into the forest. Not too far in and the site of the first scene is found. And I mean the first scene location we were seeing and the first scene of the entire series. You know the one, where white walkers appear and attack three of the Night's Watch. Molly played us the scene and it was really quite weird to see the location of the body pile whilst watching it. But then again, I tend to get scared easily!
There is a bank, where the forest is slightly higher. It is maybe a semi-circle, so you can walk into it. Molly told us that they had to make the area fully circular with fake, biodegradable snow.
Do you remember in the scene there is a little girl hanging from a tree? Well, you can see this tree, and the nail hole is visible. Molly also told us that the girl hanging from the tree was actually a live extra. What a role!
With this scene I would definitely say don't try to find it for yourself, you'll either get lost or miss it. As it's not entirely how it is in the scene, it's not the easiest to recognise. The one obvious feature is the nail hole in a tree, but in a forest, that's not the easiest thing to find. So to see this scene location, definitely do the tour!
It's All About The Sexy Trees
As we got back to the path and started walking along to our next Game of Thrones location, Molly told us about the importance of sexy trees.
Apparently in many films and series, and especially this one, directors like distinctive trees for various scenes. These trees have unusual shapes and stand out. There are quite a few of these in Game of Thrones.
There was actually a location scout for Game of Thrones who had an entire "sexy tree" file. So basically, as the scout was looking for a location, if there was a sexy tree a picture would be taken and the location recorded. My thoughts? Mainly how does one become a sexy tree scout? I would love that job!
There is one of these trees near the path that Molly pointed out. I'm not sure if this tree was used, and if it was what scene(s). But I will admit, it is a sexy tree.
Jon's Seat
Not far from the sexy tree (I'm sorry, I just like saying "sexy tree") was another scene location. This one was from the first series too. Remember the scene where Jon and Tyrion are heading to the Wall and they had a good sit and a chat? Yep, that one. So Molly showed us the clip before pointing a few bits out.
This is another area that you will not find without a tour. Seriously, there are no big distinctive features (other than a tree in a forest) and it is off the path. You will either get lost or completely miss it. Finding it is also not helped by the changes the area has been through. In the clip, the area is rockier. But tourists have taken rocks from this area as a memento. Why? Because they don't believe in leaving things as they are for others to enjoy I assume. They have definitely never heard the quote "take only memories, leave only footprints". Anyway, enough of my little moan about that…
Molly did point out a few bits in the area. You can see the stump that Jon Snow sat on (it doesn't look comfy at all). Many of our group got a picture sat on it. There's also the log that Tyrion sat on, but no one sat on this one for a picture. I find that quite bizarre really.
A Rotting Corpse
The next Game of Thrones location we stopped at is much easier to find – it has a sign and everything. So this one you can't miss. This is where the dire wolf pups were found at the beginning of series one.
You can't get down to the bank that was actually used (it's a bit slippery and dangerous), but you can climb down the opposite bank to get a good view of the location. Or you can happily see it the location from the path, plus the start of the scene where the dead deer was is actually on the path itself.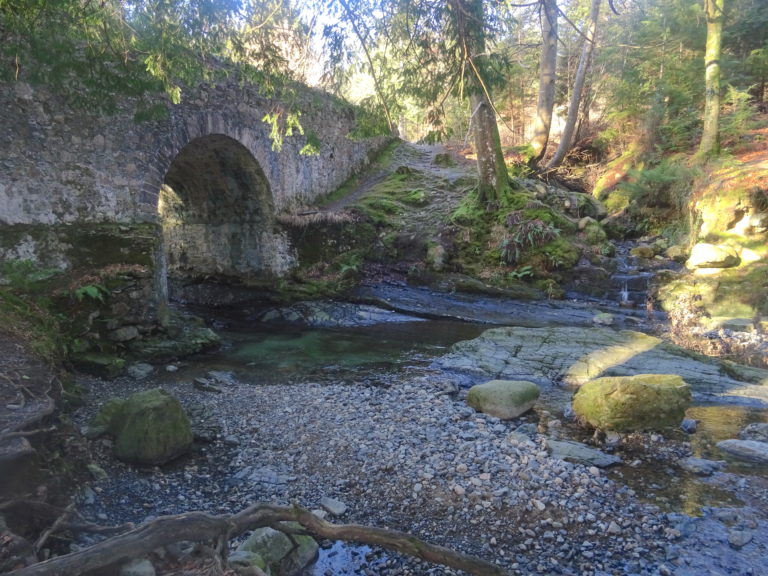 On the tour, we did climb down the bank to see the filming location on the opposite bank. Here Molly showed us the scene. Personally, this is one of my favourite scenes in both the series and the books. There's so much foreshadowing for what's going to happen. I think it's really clever.
An interesting point about this scene is that they actually used a dead red deer stag, it wasn't a prop. Basically, a local deer farm was going out of business and so was culling their deer. HBO asked the farmer for the corpse and paid the farmer for it (this actually saved the farm too). They then set the scene up two days before filming. So the stag corpse was left rotting in the forest for two days. They didn't tell the actors in this scene that they were using a real dead deer, so the reactions you see when they find the deer are completely real.
The Maghera Inn
After the dire wolf pup scene, we headed back to the bus. The forest park really is pretty. On the way back I noticed the entrance that we'd already walked past. There's a really cool wall with an opening that you walk through.
A short drive later and we stopped at a cute little pub, The Maghera Inn (for reviews follow this link). We were stopping here for lunch. We had to choose our lunch earlier in the day so that Molly could call ahead.
It was a cool little pub, quirky. There was a bike hanging from the ceiling. We were ushered into a sunny part of the pub, around two tables. I had the seafood chowder (as I said, this was before I'd become properly plant-based, so I'd decided that this was a CEC). It was nice, and I enjoyed it. I also had a Magners, why not eh?
Meeting The Stars
A short drive from the lunch spot and we arrived at the highlight of the day. In a small village, that I have no idea where it is, there is an enclosure where you can meet some of the series' stars. And when I say enclosure, it's basically a small square that has been walled off. In this square were a few people and two big dogs. Yes, here you can meet some direwolves.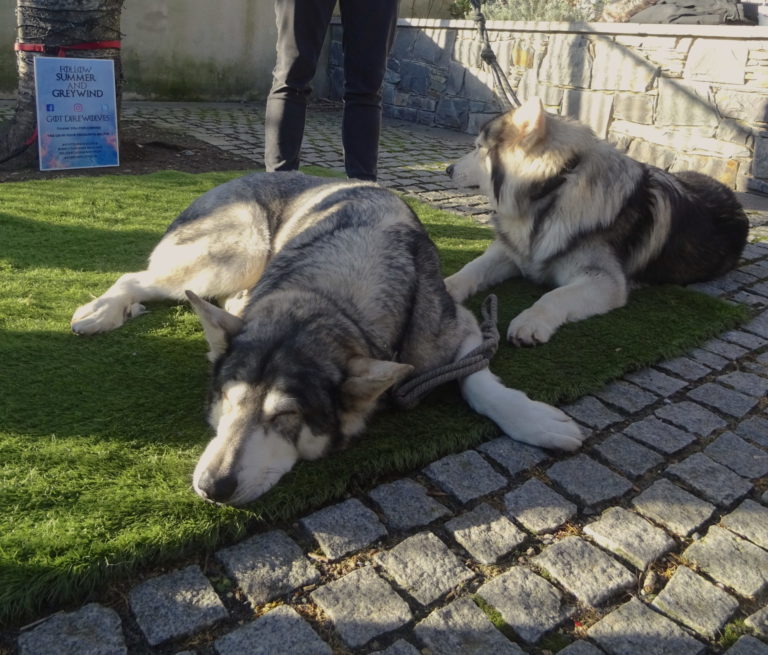 Before we were able to get up close and personal with the stars, their owners told us about their pets. They are northern Innuits, which is the closest breed of dog you can get to a wolf in the UK without having a licence.
There were two brothers and the father looking after the dogs and selling some of their artwork. The father showed us a scrapbook with pictures from the filming inside. He also told us how they ended up with two dogs, as he had told his sons that they could have one. But when they went to choose a pup, one of them was following the other by the tail. Who could only have one of those two?
Direwolves Of House Stark
The two dogs were just chilling out, proper divas, as we were introduced properly. They were Odin (who played Brans' wolf, Summer) and Thor (who played Robs' wolf, Greywind). Odin was the fluffier of the two.
As Odin and Thor lounged around the brothers told us some stories. There are actually three brothers and they were all involved in filming as extras. Now one of them is a camera assistant.
They had loads of stories, such as meeting Alfie Allen (Theon Greyjoy) in a bar and telling him that he tried to kill their dog (it is Odin that Theon goes to kill in the scene where they are found). There were also stories about the other dogs that starred in the series. For instance, did you know that Ghost (Jons' wolf) and Shaggydog (Rickons' wolf) were played by the same dog? They just dyed the dog's fur black for six weeks of filming Greywind's parts. It is also this dog that gets the most fan mail, as Ghost.
One little thing they told us that I really like, is that Lady (Sansa's wolf) is owned by Sophie Turner (who played Sansa). I really like it when actors/actresses get such a bond with an animal that they act with and end up owning them.
Holding Hands
Whilst we were being told all the stories, we were allowed to have our pictures taken with (and pet) Odin and Thor. You really realise just how big they are once you get up close. At one point, one of them jumped up at his owner and he was easily just as tall.
They were very chilled about it all. They'd been out in the mountains the day before on a nice big walk, so they were a little tired. Only one person could be with them at a time, but that was fine. Everyone in the group wanted a picture with the stars though, so it took a while. We were able to ask plenty of questions as we waited our turn. The guys were nice, very friendly and chatty about their experiences as extras and their dogs.
As the group was filtering to the bus, I went for one last pet (why not). And I discovered that Thor likes to hold hands. He just gave me his paw as he was laying down and his paw is massive! And heavy. But he just seemed to like having his paw held. So cute for such a huge dog.
Castle Ward
Obviously, I was very sad to be leaving the dogs, but it was time to move on. So back on the bus it was and onward to the final stop of the day.
The bus took us into a National Trust Estate, with lots of views. Though we weren't going to go to the mansion on this estate, we drove past it and Molly told us a little about it. The estate was Castle Ward (see reviews here) and its mansion is famous due to being a mix of architectural styles. Legend has it that it is due to a marital disagreement. Whatever the cause, one side of the house is Gothic and the other is Palladian. This mix is not just in the stonework either but can be seen in the decoration inside too.
Winterfell
We pulled up near a farmyard and piled out of the bus. The courtyard here was the filming location for Winterfell in the first Season. Molly played us a clip of King Robert's arrival in the first episode and you can match up the gate that the party came through. Though much of the scene looks very different, the crew set up various buildings in the courtyard and some CGI was involved.
For instance, the clock tower was used, this is the tower that Bran is pushed from at the end of the first episode. But the clock tower is square, the used CGI in the series to make it round.
One interesting bit is that here you can have archery lessons, on the exact spot where the archery scenes were done. If I were to go back I'd definitely be signing up to this. But on the tour, we did not have the time.
Castle Ward was only used as Winterfell for the first series. After that they moved to a different location, to one that looked "more castle-y".
Exploring The Estate
It wasn't just Winterfell that this location was used for though, there was more to see here! So walking away from the farmyard we headed out on a walk of the estate.
The estate is on Strangford Lough and the views over the lough were incredible. It was a lovely sunny day, so you could see across the water to other shores. Even without the Game Of Thrones link, it is a beautiful area worth visiting.
We walked along the shore on a path for a bit and there was a single tower on a hill to the left. I thought it was an interesting feature, but I did not realise that we would get to this tower later. The path took us slightly uphill and into a forested area.
The Hanging Tree
Not too far into the forested bit, we had another Game of Thrones filming location. There was a tree with a limb hanging over the path. Here Molly played us a clip from Season 2 of GoT. You remember when Brienne and Jamie come across three tavern girls hanging from a tree? Yeah, that one. The tree hanging over the path is the one from which the girls were hanged.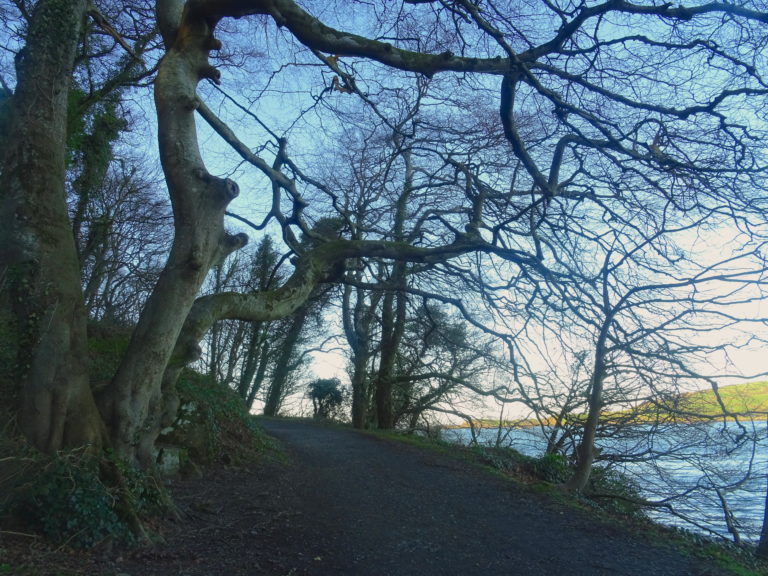 As we carried on our walk through the forest, Molly showed some more clips from this area. It was used for quite a few walking scenes. Such as when Bron and Tyrion are walking from the Eyrie.
For quite a few of the scenes there's nothing really noticeable about the place in relation to the scenes. It was just a forested area that was easy to film the scenes in I guess.
Audley's Field And Tower
You know I mentioned a tower on a hill? On our walk, we soon approached this place. This is Audley's Tower, which is on Audley's Field. Both of which were used for GoT locations.
Audley's Field was used for the Battle of Oxcross (there's a sign and everything here). Molly told us that when the filed was reopened after filming, the public found numerous bits of armour, shields and weapons that had been lost during the filming.
The tower itself was used as one of the Twins. Molly showed us a clip here, where Catelyn and Robb arrive at the Twins. The tower on the opposite shore is CGI and they had to film when the light blocked out the village on the opposite shore. A lot goes into planning a film, doesn't it? She also pointed out a contingency error in this scene; there's a windmill on the other side of the river, which manages to move in the clip. Personally, I can't even spot the windmill, let alone see it move! You have to have good attention to detail to see these things.
As this was the last spot on the tour, we had a bit of time to explore around the tower and drink in the views. Molly also produced a Stark banner, so we got to have some fun with that.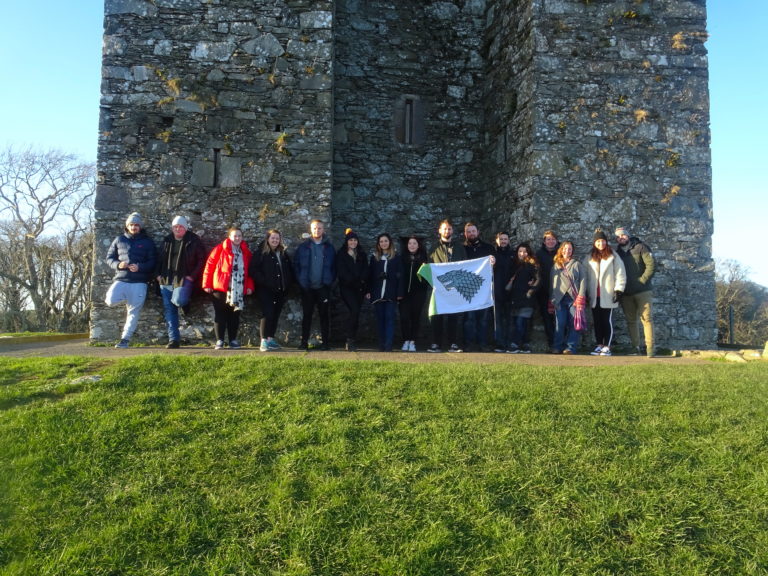 Back To Belfast
And with that, it was back to the bus and back to Belfast. Back in the city, we said our thanks and goodbyes to Molly and our driver and went our separate ways. Me and Dave headed to the Sunflower for a drink and to talk over the day we'd had. The Sunflower was a tip-off from our Airbnb host, being a pub that was saved by the locals and still had a cage around the door from the 'Troubles' (check out what people say about this pub by clicking this link).
I really did enjoy this tour, there was a lot crammed into one day. The places we visited were pretty enough by themselves but well linked together with Game of Thrones. If you're a GoT fan (even if you're like me and only watched so far in the series *ahem* Martin, still waiting for the books) and want to visit a few Game of Thrones locations in Ireland, Brit Movie tours can sort you out with a fun day.
Looking for tours in and around Belfast? Check out what's available with Get Your Guide and check out accommodation on Hostelworld.