I was looking forward to exploring Bacalar and nearby Calakmul. Bacalar is the second largest lake in Mexico and is still fairly untouched by mass tourism. Calakmul is the largest known archaeological site in Mesoamerica and is buried deep in the jungle. The plan was originally to stay in the small town of Bacalar, on the shores of the lake of the same name. However, due to various considerations, we ended up changing our plans and booking an Airbnb in Chetumal, which is about a half an hour bus ride from the lake. It turned out that Chetumal was a great base for adventures in the nearby area.
Disclaimer: I was given media rates with Bacalar Adventure Tours in exchange for honest and unbiased coverage. Therefore all opinions are my own
Although we knew what we wanted to do and see, we had nothing booked. I loved quieter areas in Mexico for this, much easier when you're travelling long-term and don't want to get bogged down in planning too far ahead.
Getting To Chetumal
Playa Del Carmen to Chetumal was a long bus ride, over four hours. On the plus side, there were plenty of options for when to go, so we just turned up to the bus station and got the next bus. So we arrived in Chetumal ADO bus station sometime in the midafternoon. Then we discovered that we had about a half an hour walk to the Airbnb. We really should look this stuff up before arrival.
We were met at the Airbnb by the host and let in (if you haven't used Airbnb before, sign up here and get up to £35 off your first trip). The accommodation was an open plan flat, it was a bit different, but it was clean and comfortable.
Planning Ahead
Once the host had left us, we realised there were a few minor issues with this Airbnb. Firstly, the listing had stated that there were cooking facilities. We found one pan and a camping stove. Not exactly much to work with there… There was also no bottled water. As the tap water in Mexico is not safe to drink, this was unexpected. Luckily, to avoid plastic bottles, we had a couple of water purifiers, such as the Lifestraw. But if we weren't prepped like this it would have been a larger issue.
But not to worry. Food in Mexico is pretty cheap if you go to the right places, so despite this still being pretty early on in our Mexico trip, we didn't let it worry us. Instead, we got to planning.
We had three full days here and two trips that we wanted to do. I'd already done some preliminary research, so now it was time to get everything booked. We emailed a couple of companies about their tours to Bacalar and Calakmul. This was about 5 pm, so once done we went out to explore the city and find some food.
Mexican Market
It was only about ten minutes walk to reach the centre, though about half an hour to reach the malecón. We went passed the Myan Culture Museum and down Avenida de Niños Héroes. Every Mexican city has a street or statue to commemorate the child heroes of Chapultepec Castle. The avenue in their name here is the main street in Chetumal.
We followed the street down to the malecón and came up to a plaza. Being a Saturday, the plaza was packed with a market and fair. The stalls were spread over the square and overspilled onto the malecón and along the road.
After wandering around we choose a taco stall on the end of a row to get some food on. We picked well! There was a selection of meat on show, and they warmed the tacos in front of you n the stall and filled them with a meat of choice. But like all tacos, it's the toppings that make it. And this stall had great toppings. At this point, these were the best tacos that wed had in Mexico.
After tacos, we walked around a little more and found a cake stall. Here we made a small mistake. We decided to try one of the cakes on display. It was a big white cake with bright pink edges. How could we not? And it was amazing, but the slab we were given was huge! We had to take leftovers of this cake home to have for breakfast.
A Plan Comes Together
After the ridiculous amount of food (or cake, just cake really) we headed back to the Airbnb. On getting back I was pleasantly surprised to find that I had an email back from one of the tour companies. We could join Bacalar Adventure Tours (see reviews here) on their Full Bacalar Adventure the next day. I was really impressed with how quickly they'd got back to me. So I replied to confirm and to arrange a pickup location.
It was quickly arranged, we would be picked up outside our Airbnb the next morning. It would be an early start, with pick up being 6:45 am. So it was a good job we'd decided to head back fairly early!
Bacalar Full Adventure
We were up nice and early the next day and waited outside the Airbnb for our pick up. We didn't have long to wait as our guide appeared and away we went for our adventure (you can read my review of the Bacalar Full Adventure here).
Our guide introduced himself as Rodrigo and began telling us what we would be doing on the tour. We had two more people to pick up first and then we would head out to Bacalar.
As we drove Rodrigo was very chatty. He is actually the owner of the tour company, which is also part of the Lynx Foundation. The foundation is a conservation charity that aims to protect the biodiversity of the region, through education. Rodrigo told us about the work he does, which includes helping farmers and doing talks in cities. So for me, this was a big plus for doing tours with this company.
Getting Ready To Kayak
After we had picked up another couple, we started on the way to Bacalar. Though we still had one stop left; we had to pick up the kayaks. These were actually at Rodrigo's home. So we pulled up and someone else was there to help load the kayaks onto the car.
As we waited for the kayaks to be loaded, Rodrigo's husky came for a nosey. Apparently, she loves a kayak adventure, so was wanting to come along.
So three kayaks piled onto the roof of the car and it was time to head out to the lake.
Laguna De Bacalar
Arriving on the shores of Lake Bacalar, Rodrigo went through the basics of kayaking as the kayaks were set up. We would be in double kayaks and he would lead the way in his single. The reason for the early pick up in this tour is so that you see the lake when it is quiet. First impressions of the lake were good, it is stunning.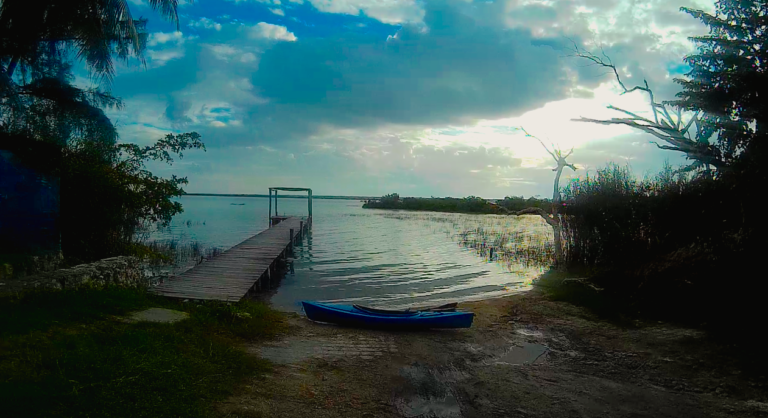 Before we set off Rodrigo also told us a bit about the lake (which is really a lagoon). Laguna de Bacalar (see reviews here) is actually made up of three cenotes. It is also known as the Lagoon of Seven Colours, as because of the different depths, you can see varying tones in the blue waters. The lagoon is 42km long and on average 1km wide (though 3km wide at the widest point). So it's very long and thin. We had actually seen the lagoon from the bus on the way south to Chetumal, and it is very easy to mistake it for the coast.
Kayaking On Laguna De Bacalar
And so we set off across Lake Bacalar. It was really quiet and peaceful on the lake. It was nice to be kayaking in the cool of the morning before we got the hot Mexican weather.
Kayaking was easy on the lake. Rodrigo basically pointed in the direction we were meant to be going and let us go at our own pace. Though he always kept an eye on us to ensure we weren't veering off course. He would also point out anything of interest, whether it be something within the lake itself or the wildlife that calls the lake home. One interesting inhabitant he pointed out was the snail kite, so-called as its' main source of food is a type of freshwater snail. There were plenty of them flying around looking for a meal.
The peaceful morning kayak took us out into the open water of the lagoon and through mangrove routes. With no one else there and no motorboats on the water yet it was an incredible experience.
The Pirates Channel
After a bit of kayaking, enjoying the tranquil waters of the lagoon, we came to the Pirates Channel. This is a really shallow area that connects Laguna De Bacalar to a smaller lagoon that was used as a hideout by pirates. Throughout the 17th century, pirates would raid the town of Bacalar, coming through Canal De Los Pirates.
Not only is this a historic point on the lake, but it is absolutely stunning. From here Rodrigo pointed out the Fort in the town that was used as a defence, you could just about see it in the distance. There is a small ruin here too, which has some cool street art on it. The ruin looks a little like a boat but is made of rock.
A Break From Kayaking
At the Pirates Channel, the lake is shallow enough to ground the kayaks, so that's what we did. We left them in a patch of vegetation and went for a walk in the channel.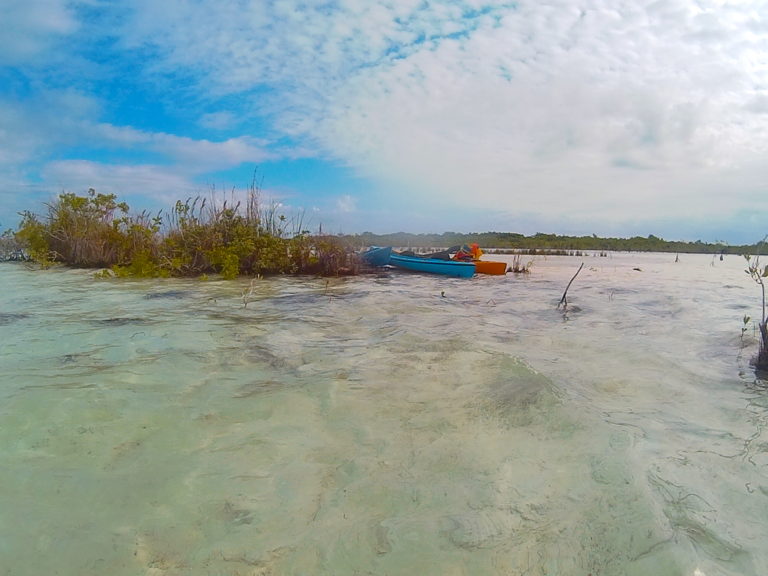 Rodrigo led us to the ruins with graffiti and told us that it is possible to jump off it into the water. Of course, me and Dave were game! We seem to be a little obsessed with jumping off things into water!
You have to be careful jumping off the ruins, so Rodrigo showed us the way up and where to jump by going first. The ruins aren't exactly the safest, with bits of metal sticking up, rough stones and general slipperiness, you have to watch your footing. When jumping you also have to aim for the deeper part of the lagoon. Don't get me wrong, it was good fun! But if you give it a try, be careful.
After the jump, we had some free time here to swim and explore the lake a little bit. It is a beautiful spot, though one of the most crowded spots on the lake when we were there (maybe another ten people). Definitely worth going as early as possible before it gets too crowded.
Back To The Kayaks
After our swim, we headed back to where the kayaks were stowed. Before we set off again, Rodrigo produced some snacks for us. He gave each of us a drink, apple and breakfast bar. And of course, he collected the litter and stowed it safely away.
As we stood around eating and drinking some motorboats started arriving at the Channel. Here Rodrigo had a bit of a moan, and I completely agree with him. He stated that he would prefer it if motorboats weren't allowed on the lake, especially in these shallow parts. Motorboats churn up the water, and in shallow areas, the floor. It can cause problems for the flora and fauna here. If the area becomes more and more popular and people choose to explore by motorboat over less disruptive ways to see the lake, the damage could be terrible. So if you visit, please be sure to avoid motorboats for your exploration.
Cenote Negro
Back in the kayaks, the lake was starting to get busier, so now we had to avoid the motorboats (another argument against them on the lake). We set off across Laguna De Bacalar and soon arrived at the Black Cenote.
Here we stopped in the kayaks and Rodrigo told us a little about the place. It is an open cenote, and one of the three that make up the lagoon. Trees surround the cenote, almost completing a circle around it.
It is called Black Cenote as the water here is much darker than the surrounding lake. It owes it's colour to its depth, which plummets from the 2m of the surrounding lake to 90m. This sheer drop makes the cenote unique in this area. It is also here that the snail kites nest.
We collected the kayaks together and were encouraged to jump out for a swim. As it was getting warmer, it was lovely to swim in the cold, deep water. Though we had to keep an eye out for motorboats coming into the cenote. It's an absolutely beautiful place to swim, though there is nowhere really to rest, due to the sheer drop. Some people were climbing onto overhanging mangrove branches to rest.
One amazing point to look for here is you can actually see where the cenote joins the rest of the lake if you swim towards it. The colour changes so suddenly. I really enjoyed swimming in this area and talking to Rodrigo.
Leaving Lake Bacalar
After our swim, it was time to move on. Getting back in the kayaks was a little fun, but Rodrigo helped us all and made sure we were all in before we set off again (avoiding the motorboats which seemed to not be looking out for kayakers).
This time we were heading to a place where we could ground the kayaks, we went under some mangroves to a shaded area. It wasn't far from the Black Cenote. Here Rodrigo's helper was waiting to collect the kayaks. It was time to move on from kayaking on the lake.
As Rodrigo and his helper loaded the kayaks onto the roof of a car, we had time to dry off and get dressed. Our bags with clothes had been brought along in the car.
Breakfast Or Lunch
We had a short drive next to our breakfast/lunch stop. The tour itinerary states that it is breakfast, but it was getting on closer to lunchtime. So who knows what it was really! But it was food, and after all that kayaking, food was much needed!
The stop was Cocina Orizaba (for reviews click here), it was a cute little place. Very open and airy with a grass roof. There was a fair amount on the menu, though not all was covered on the tour. So Rodrigo pointed out the options that were covered, we could have a meal and a drink. Although the tour didn't cover everything, there was still plenty of choice.
I choose Huevos Motuleños, which was tortillas, eggs and fried plantain with a tomato sauce and cheese. It was delicious and a lot of food. I also had a horchata to drink.
Museo De San Felipe
After breakfast/lunch, we headed to the plaza of Bacalar town. Here is the Museo de San Felipe, the old pirate fort. This fort was built by the Spanish in 1730 to protect the town from pirates and was later used as a stronghold by the Mayans in the Caste Wars.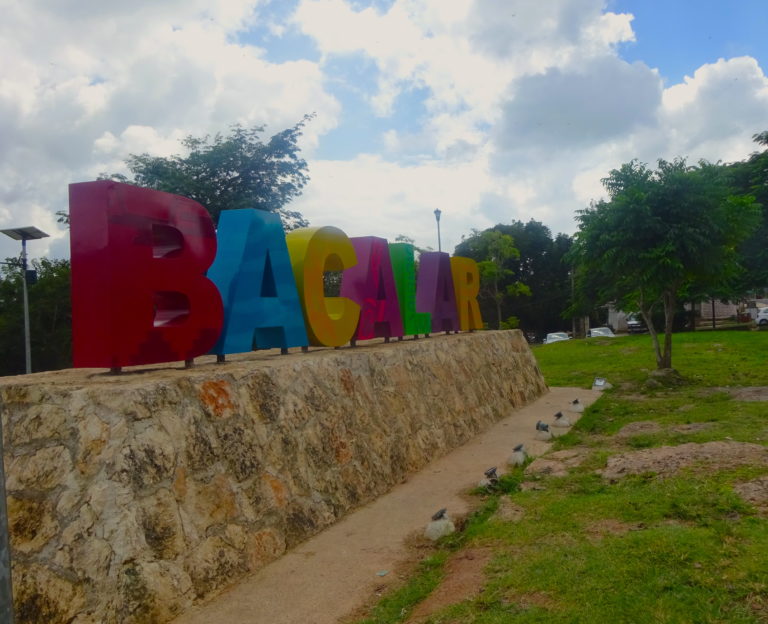 Rodrigo led us through the entrance and into the fort (click this link for reviews). From the fort, you get incredible views of Bacalar Lagoon, out across to the pirate channel. Rodrigo let us have some time to admire the view and wander around a little. He also pointed out a small well, this was once used for horses to get a drink. It is now not so full and has a grate over it. There were also statues of canons around the fort, giving a feel to what it was once used for.
Pirates Of Bacalar
We went into the small museum at Fuerte de San Felipe and Rodrigo gave us a tour. It was a cute, small museum, so not much to walk around, but Rodrigo really knew his stuff and was able to tell us the history of the Yucatan Peninsula, Mayans and pirates.
In the middle of the museum were models of different ships and historic weapons. Around the edges were various information points and videos to watch. Rodrigo walked us around and gave us some information at the correct points. There was also a huge mural on one wall.
There was a map that showed the trade routes throughout Mexico in the middle ages. This showed how important the Yucatan Penninsula was for trade and so why pirates were found here. It's quite interesting that pirates were hired by all countries to capture other counties trade ships. For each individual pirate they were a privateer on one side, but a pirate on the other. And then once agreements were made all pirates were betrayed by their employers.
I really enjoyed one point of the museum that went through different infamous pirates. I was surprised by the number of female pirates included, such as Anne Bonny and Mary Read.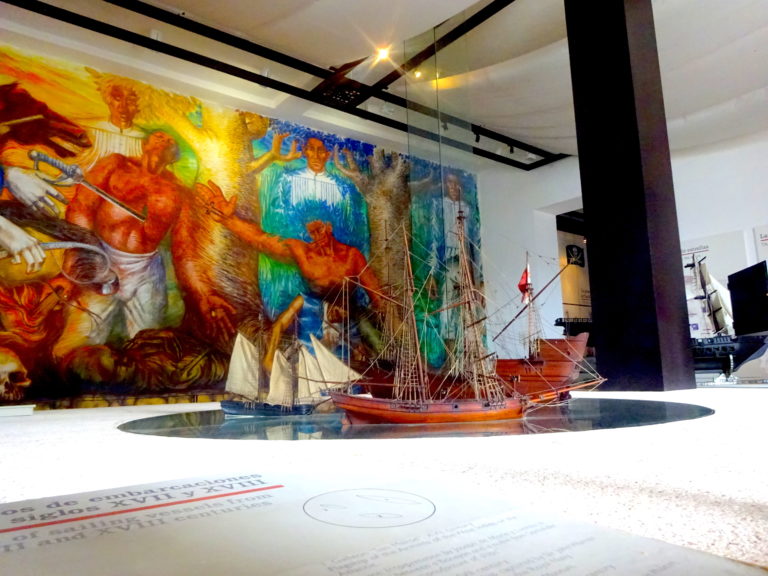 Leaving The Fort
After Rodrigo had filled us with information we headed back out of the fort. I would love to go back to this museum at some point and explore it at leisure. Although Rodrigo gave us plenty of information, I just like to slowly go round museums and digest the information (I'm the sort that will easily double the average time that people spend in a museum).
We walked around the edge of the fort and back to the car. Then it was onward to the last destination of this tour.
Cenote Azul
Just a short drive later and we were at Cenote Azul (for reviews click here). This cenote is "bottomless" and a beautiful inky blue colour, hence the name. It is also absolutely massive.
We went in and found a spot to leave our stuff. Rodrigo's helper would stay with it all as the four of us and Rodrigo go for a swim. From here we could look out to the far shore and it is definitely the biggest cenote I visited in Mexico.
Rodrigo led us to a ledge and we dived in one by one. Once in the water, Rodrigo told us a bit about the cenote and told us that we would have some free time to swim here. He also offered to take us across the cenote.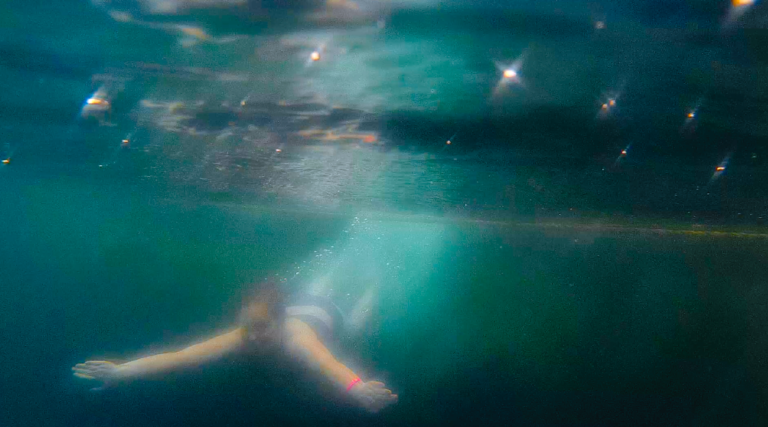 Across The Cenote
Me and Dave jumped on the offer to swim across the cenote. The other couple decided to stay nearer the shore and chill out. So we had Rodrigo and his guidance to ourselves for a bit.
We swam straight across to the other side. It took a while, but it was worth it for how quiet it became not far from the shore. There are also ropes spread out across the cenote so if you need a rest you can hold on to one of them for a while.
Once we had got across we turned around and started back along the shore instead of the centre. This took us close to the mangroves on the shore. At one point a root was close enough to the surface to stand on. So we stood on the root for a bit and chatted.
A Secluded Spot
There was a point as we swam where the shore went out a little bit further. Rodrigo took us into this secluded spot. Here there is a branch of a mangrove that reaches out over the cenote. It is possible to climb up on this branch and jump off into the invigorating waters of the cenote.
Rodrigo showed us the way to climb up and where to jump. Unfortunately, I wasn't able to reach up to the branch so I wasn't able to jump off, but Dave had fun with it.
Once we had swum back to the others it was time to go. So Rodrigo dropped us off at our drop off points (for us it was at our Airbnb). As we drove back we asked about going to Calakmul with him and arranged to go in a couple of days.
As we arrived back in Chetumal the heavens opened. Once we got back into the apartment we were a little dismayed to find that the walkway to the entrance of the flat was a little flooded! Luckily it hadn't managed to seep under the door.
Chetumal Museums
As we had arrived back at around 2:30 pm, there was still plenty of time to explore Chetumal. We'd essentially had a full-day tour, but as we were picked up so early there was plenty of the day left.
So once the rain had subsided we walked into town to explore the museums.
Museo De La Cuidad
First, we explored the Museo de la Ciudad (see reviews here). This is a small museum, and even though all the information was in Spanish, I loved it. There was something special about this cute museum.
When we arrived at the reception, the guy was very excited. I think we may have been the only customers of the day. I'm not sure if the museum had recently been revamped; it definitely had a fresh feel to it.
The museum was open plan, with a layout that subtly separated sections. Although it was all in Spanish, I was able to pick up a few bits (I always enjoy trying to figure bits out) and with the help of Google Translate, I was able to pick up a bit more. The museum gave information on the history and the environment of the Yucatan Peninsula.
It didn't take us long to go through this museum, with the combination of the small size and no English information. But I really enjoyed the time in the museum. It was a charming little attraction.
Outside there were also some sculptures, such as canons. No idea what these were about, to be honest, but I guess it added to the atmosphere of the museum.
Museo De La Cultura Maya
The other museum in town is the Museo de la Cultura Maya (for reviews click here). You can't miss it. Outside is the Alegoría del Mestizaje, which is definitely eye-catching. It depicts a modern Mexican born of a Mayan woman and a conquistador, this intermingling of cultures is a common theme for Mexico.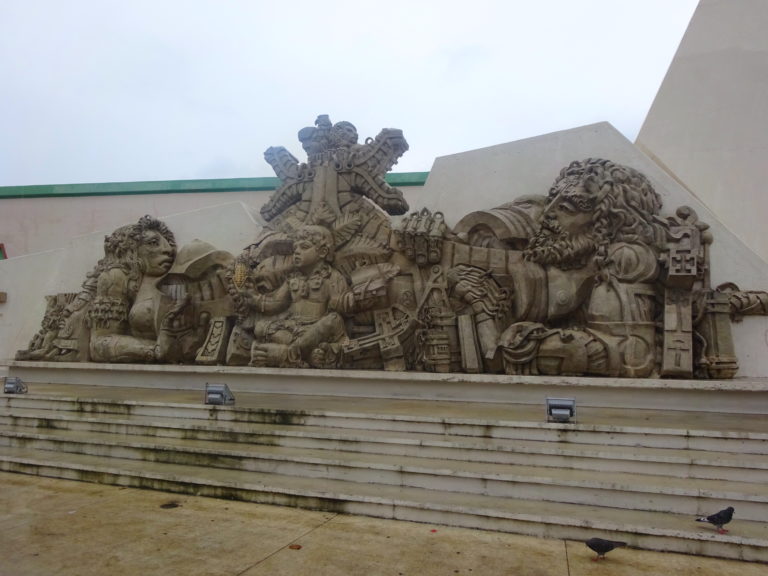 I didn't have a lot of expectation for this museum, as my Rough Guide stated that it was in desperate need of refurbishment. But either I am very easily pleased or it had had its refurbishment as I thought it was a brilliant museum.
One thing that I thought was great about this museum was the layout. In the centre was the "tree of life". This tree went up to the top floor and down to the basement, which is a direct link to Mayan culture. So the top level is all about the Mayans and their beliefs, the ground floor is about earthly life and the basement is the underworld. I thought that this was an incredible way to layout the museum.
Some Bits In The Museum
Now, this museum did have English translations, yay! So I learnt quite a bit here. One bit I found interesting was how Mayans deformed themselves to, well, "fashion" I guess. Like deforming their heads to make them longer and making themselves cross-eyed. A bit more hardcore than modern fashion. These deformations were done when the person was a newborn baby.
As you know, I'm a sucker for myths and legends and the Mayans did not disappoint. On of their creation stories was displayed in the museum. It was believed that the gods first tried to make man from clay, but the rain washed this attempt away. The next time they tried to make man for wood, but this meant that the creation was not able to talk. So these became monkeys. The third time the gods made man from various elements and this was successful.
On the top floor, there were bits about how advanced the Mayans were. It took you through their mathematical system and their astrology. The Mayan calendar was also looked at.
There was also a reconstruction of the mural-filled room of Bonampak. These ruins were on my list to visit, so this was a nice little preview and if you are not going to the ruins definitely worth going to look at.
A Quiet Evening
Once we had finished looking around the museum, there was still a decent amount of daylight left, so we decided to walk along the malecón. It was quite a nice walk and there are plenty of statues to see along the shore. The one of a fisherman was my favourite. And the view over the ocean was obviously spectacular, I mean, how could it not be?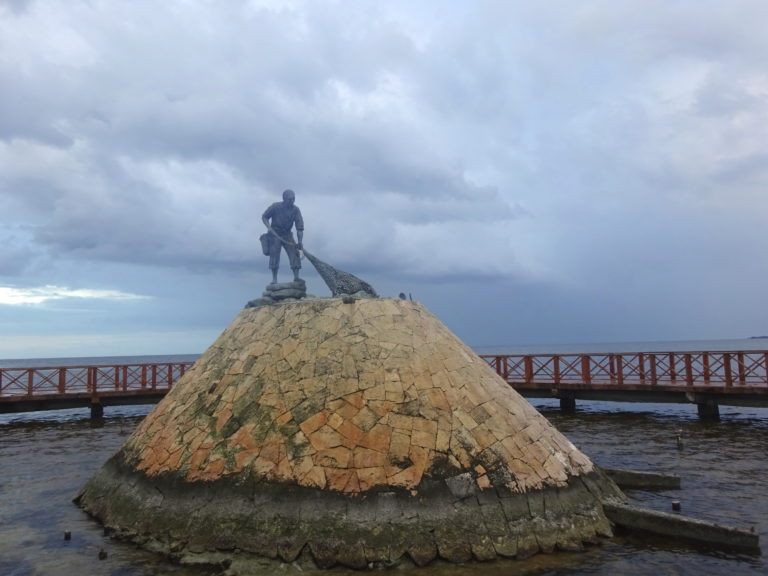 As the night drew in, we headed back to the market from the night before, hoping to have some more amazing tacos. Unfortunately, it was not meant to be. As it was a Sunday there weren't as many stalls and the amazing taco stall had gone. We found another stall to get tacos from, but they just weren't as good as the ones from the night before…
A little disappointed we headed back to the Airbnb, as we were getting a little tired from our early start. But underneath the Airbnb was an ice cream shop, so we decided to treat ourselves after the disappointing tacos.
The ice cream shop was called IceBros (check out some reviews here) and the ice cream was amazing. They make it in front of you! I have never seen this before. So they have what I assume is a "cold plate" and pour the liquid ice cream over the plate. So they kind of make a pancake of ice cream. Once done they roll this "ice cream pancake" up. In a tub, you get four of these rolls. It was absolutely awesome.
A Rest Day
We didn't really get up to anything the next day. As we were trying our hands at being digital nomads at this point, we needed a workday (and a rest day after the adventures of the day before). At some point, Rodrigo got in touch and confirmed that he could take us to Calakmul the next day, which would be a really early start (so I was ever so grateful of the rest day here).
As the Airbnb didn't have much in the way of cooking facilities, we had to nip out for food. Plus we just wanted to get out. We found an awesome burger joint just down the road, called Burger Time (click here for reviews). It was good to have some food that wasn't tacos! I had a Hawaiian burger which was very good. I mean, it was junk food really, but just what I was in the mood for. The fruit juice here came by what seemed to be the gallon too! It was all very tasty.
Calakmul With Bacalar Adventure Tours
The next morning our pick-up was at 6:30 am, so Rodrigo met us outside our Airbnb again and we set off for our Calakmul Full Jungle Adventure. It was just me and Dave going this time.
It is a long drive to Calakmul from Chetumal. But it's a long drive from wherever you go from. It's hidden deep in the rainforest, near the Guatemala border. We spent the drive chatting away with Rodrigo, asking about the Lynx Foundation and his conservation work.
We broke up the drive by stopping for breakfast somewhere. Breakfast was once again included in the tour, though not all options. Rodrigo pointed out what was covered and I choose the chilaquiles. It was an awesome little cafe in the middle of nowhere and the food was good too!
Calakmul Museum
Once we finally arrived at Calakmul Rodrigo parked up and got our tickets. Then we entered the bio reserve.
Want to know more? Read my Calakmul destination post.
Our first stop in the reserve was the Calakmul museum, in Spanish the Museo de la Naturaleza y Arqueología de Calakmul. Rodrigo took us through the different parts, starting with information on the bio reserve itself. Here Rodrigo was extremely knowledgeable, as he told us about the different animals found in the reserve.
Nature Of Calakmul Bioreserve
The whole area is UNESCO and protected. There are even jaguars in the forest (in total there are five feline species). This reserve actually has one of the largest populations of jaguars in Central America. Obviously, I was hoping that we got to see one in the wild, though it is very unlikely.
Read about my favourite UNESCO World Heritage Sites in Mexico
One of the animals he pointed out was the nauyaca snake, one which we luckily didn't see in person. This is a highly venomous pit viper found in Mexico and South America. Because it is very defensive and generally lives near humans, it is an extremely dangerous snake.
There were also fossils of animals that once lived in the area. There was a mammoth and a huge shark mouth.
Rodrigo really knew his stuff on the conservation, biology and ecology of the reserve and the species found there. As this is something that I'm very interested in, I was really into this bit, asking questions and wanting to know more and more.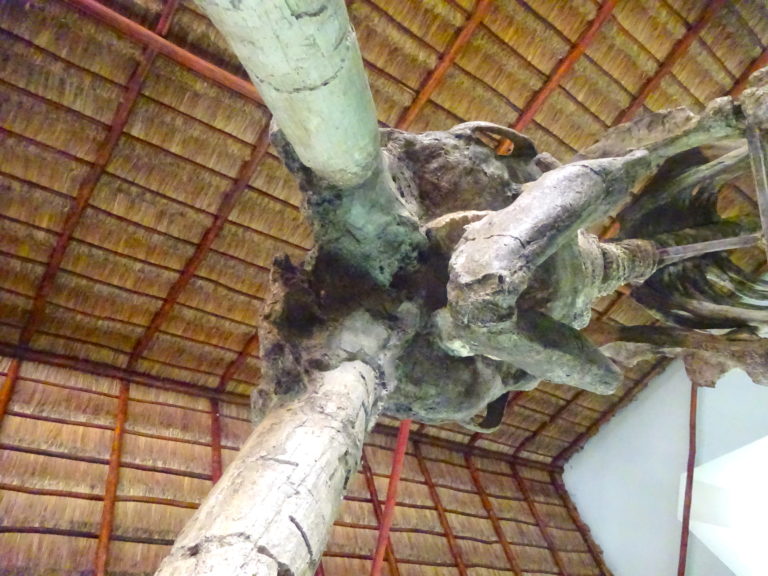 Mayan Culture Of Calakmul
The second section of the museum talked about the culture of the Mayans that once called the reserve their home. It had replicas of the pyramids of the Calakmul. Rodrigo spent some time here giving us an introduction to the ruins we would be visiting.
Calakmul is actually the largest known Mayan site and holds the largest known Mayan structure. The great pyramid here has a base of almost five acres. In just the central area there are nearly seven thousand buildings and more steles and pyramids than any other site. The site also contains the second tallest Mayan pyramid in Mexico.
The Mayans saw the jaguar here as an important animal. Remember the head deformations from the Cultural Museum in Chetumal? It is believed that this was done so that they would look more like a jaguar.
Rodrigo also talked us through some of the symbolism of Mayan culture. This included some points about death, its symbolism and Mayan beliefs surrounding it.
Into The Rainforest
Leaving the Calakmul Museum, we set off on the road again. Here we spotted our first bit of wildlife, an ocellated turkey, which decided to just casually walk alongside the road. There was also another checkpoint before we fully went into the depths of the jungle.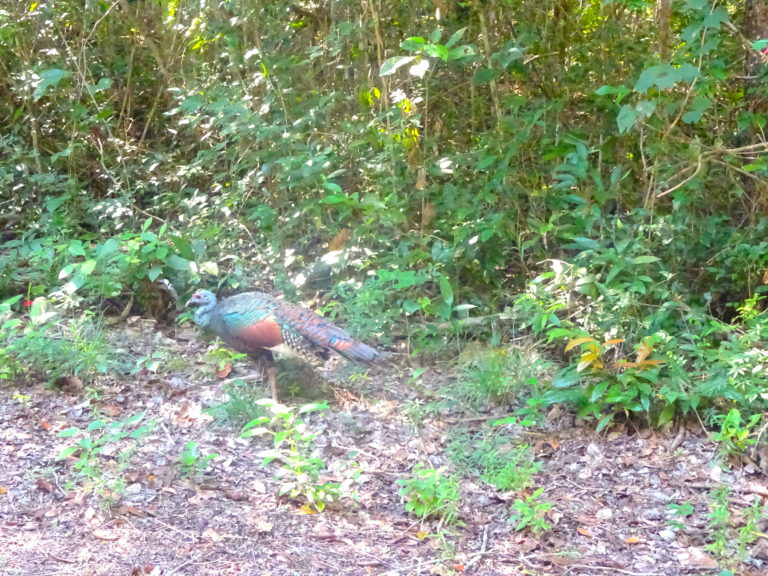 Before we went to the ruins we had another stop. This time it was for a walk in the jungle. We traipsed through the trees, climbing over tree trunks that had fallen down and trying to avoid piles of leaves. Rodrigo led the way using a stick to check for (and scare away) any snakes. A very good idea considering the highly dangerous pit viper!
One important point here, the mosquitos. They were everywhere. I actually began to think they were attracted to our mosquito repellent! Nothing worked at keeping them at bay. I think we used more repellent that day than we had in a week. But to no avail. They just kept landing on us.
The Missing Crocodile
We walked to a swamp in the forest, it wasn't a very long walk, but in the heat and humidity, it was tiring. Rodrigo told us that he brings people to this swamp as normally there is a crocodile sunbathing in this spot. But the croc was not there for us, so we stayed back from the water's edge. Just a little unsettling to be told there's normally a croc chilling and it's weirdly not there.
We walked along the swamp for a bit (though away from the edge) until we reached a bit where the waters were red. I know what you're thinking, but no. This had nothing to do with the missing crocodile. The water was red here due to the roots of a certain tree that grows here. Nothing as exciting as a crocodile!
Walking back towards the car, Rodrigo pointed out some wildlife. There was a very pretty woodpecker on a tree. And above us, howler monkeys called. I didn't realise they were right above us until Rodrigo pointed them out.
Calakmul Ruins
We made our way back to the car and set off to the ruins of Calakmul (reviews of the site can be found here). During the drive, an agouti ran out in the road and ran ahead for a bit. I was quite shocked to notice that we were doing about 40km/h and weren't gaining on him as he ran ahead!
Soon we were at the ruins and made our way into the site, which is also a UNESCO World Heritage Site. There's a short walk through the trees to the site and as we walked Rodrigo pointed out the spider monkeys in the trees.
Structures And Stelae
As we came to the first structures (structures VII and VIII, I think), Rodrigo started to tell us a few bits. Structure VII is a pyramid (I think we only call them pyramids if they are temples), but it is only small (24m in height).
In front of structure VII are five plain stelae. There is another stelae in this area, which is near to structure VIII. This one has some glyphs that can still be deciphered. The glyphs state the name of a powerful Mayan ruler.
Stelae like this are kind of like gravestones. Though they do not state where someone is buried, they do state the life of rulers and priests. So the important and powerful people in Mayan society.
In this area, there were also Structures IV and VI. These form the astronomical complex of the site and so are kind of an observatory.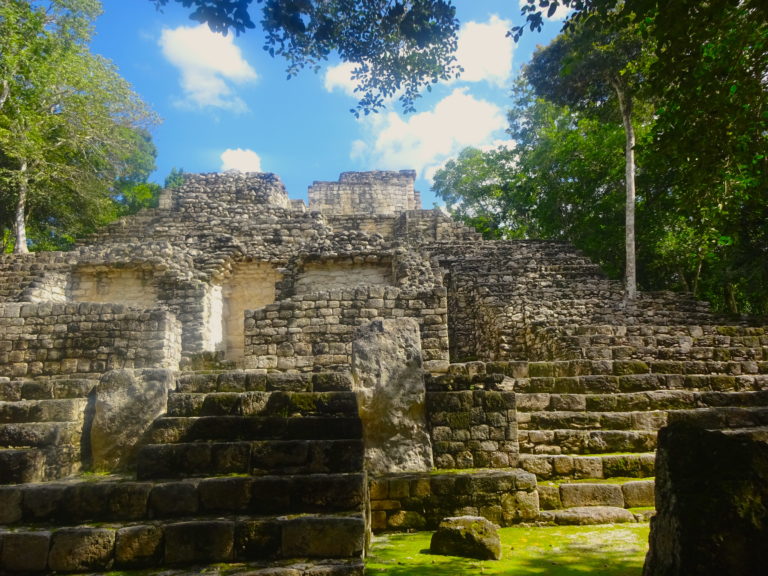 The Great Pyramid Of Calakmul
We next came to the main attraction in Calakmul, the Great Pyramid (Structure II). Considering this is the big one, and you can climb it, I was shocked at how quiet it was. As this is likely to be the busiest part of the site there was barely anyone there. Just a few small groups. If you want to see some incredible Mayan ruins without the crowds of Chichen Itza, Calakmul is definitely the one to head to.
This is the largest structure on the site and the largest Mayan pyramid to have been discovered. Like a lot of Mayan pyramids, structures are built on top of each to make them bigger. So it gives a Russian Doll effect. As Calakmul was a big city and a major Mayan power, it is believed that they had an intense rivalry with Tikal to the south. So I just have this image of one city making their pyramid taller and the other one looking and thinking "we can build bigger than that" and the building bigger going back and forth for years.
We climbed up the pyramid, which was no easy feat. It is over 45m high, so it's a long way to the top. And, like all Mayan pyramids, it is steep. It's one of them where just as you think you're at the top, more suddenly appears.
At The Top
At least the views were worth it. In fact, they were more than worth it. From the top of the Great Pyramid of Calakmul, you look out over the rainforest. It is literally a sea of green as you are above the treetops. Occasionally this greenery is broken up by the top of another pyramid poking through.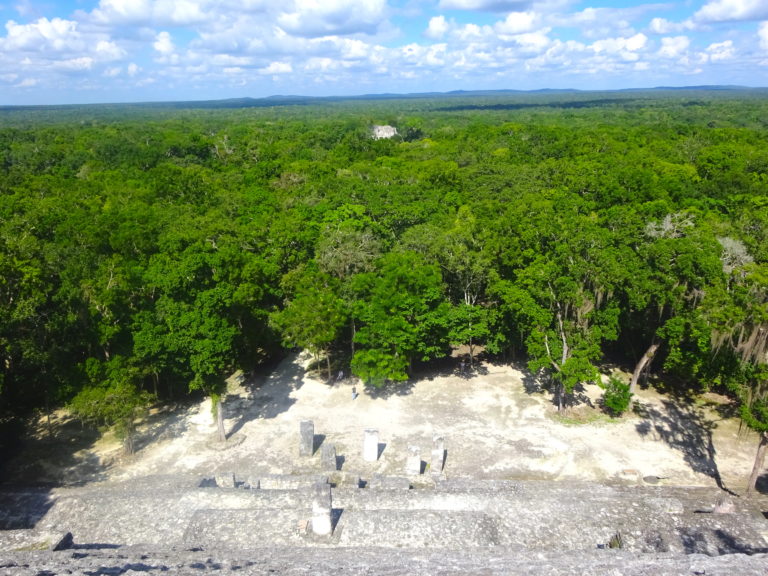 Rodrigo led us around the back of the pyramid, where we had the view to ourselves. It's a bit of a scramble to get around (yes, I slipped), so most people just climb up, look at the view from the front and clamber back down. So we had the view from the back completely to ourselves.
From this angle, you can see Structure I, another large pyramid on the site. From this angle, you can actually make out a yellow stela near the top of this pyramid. This stone reflects the sun at certain times of the day. But as to the reason for this, I can't quite remember.
After we had enjoyed the views for a bit we headed back down. Which is just as hard as coming up, due to the steepness and how small the stairs are. It's easier to go down backwards. Rodrigo told us that the Mayans made their pyramids like this so that you couldn't turn your backs on the gods. You would be cursed if you did that (and I imagine the curse would take effect rather quickly as you lose your footing and tumble down).
Confusing Pyramids
As we reached the bottom of the Great Pyramid, we noticed a turkey to one side. The turkey was laying in the dirt in the sun and looked like he was having a great time. He wasn't bothered by humans at all, no one got ridiculously close, which is good, but he didn't even seem worried at all. The noise of cameras clicking didn't even cause him to blink!
A short stroll later and we were at the base of Structure I. Now here's where it gets a little confusing with regards to the pyramids. Structure I is technically the tallest pyramid in the complex however, as it is on a small hill and on an elevated platform this is what gives it the height. So it rises above structure II, slightly, but is not actually built as tall. Confusing, right? The tallest pyramid is not actually the tallest pyramid, it just reaches a higher height above sea level.
Me and Dave climbed this pyramid too, Rodrigo waited for us at the bottom this time. It was another difficult climb, but worth it. From the top, there is once again a sea of green treetops with the occasional ruin poking through. From here you can see the Great Pyramid too. I was also happy to get a closer look at the yellow stela that we saw from the Great Pyramid.
The Games Area
Back down we made our way across to the Gran Acropolis. On the way, we passed various structures. I thought that Structure XV was really cool, even though it was much smaller than the pyramids, as it had trees growing on it and seemed more square.
As we walked Rodrigo pointed out a woodpecker nest in a ruined tree. He was really good at pointing out random bits of interest. We also had to step over a stream of ants!
But we made it to the next point of interest – the Ball Court. There's not much left of this ball court compared to places like Chichen Itza (where I went with West Adventures, read about that adventure here). It's also much smaller. Although we don't know the full rules of the game, we know that two teams competed and there was a lot of symbolic significance.
Rodrigo told us a bit more about this game. For instance, the players used their hips to send the ball through a ring to score. Here it is also believed that the winners were sacrificed. As being sacrificed was a great honour, people actually wanted to win. Near the ball court, we saw Stela 66, this has a carving of a ballplayer. You can just about make out the image.
Ruins To Ourselves
We had passed into parts of the ruins where very few people explore. So it was literally just the three of us, plus the occasional sound of monkey from somewhere in the trees.
Carrying on with our tour we came to Structure XIII. This one has a stela (and trees) on the steps. You can make out the imagery on this stela (just). This is Stela 88, and the image is that of a queen, though her name is unknown. You can just about see her holding a ceremonial staff, which is a symbol of here status.
We came to the last area on the tour, Chan Chi'ich. There was a really squat, square pyramid here. It had larges circular stones in front of it. I do wonder about the significance of these.
There was also a rocky outcrop which had many symbolic carvings on it. Chaak (god of rain), K'inich (god of the sun) and a jaguar are shown. Though their significance here is unknown, especially as the hieroglyphs can not be read.
Poison And Cure
As we walked back to the entrance to leave the ruins, Rodrigo pointed out two types of tree. These two trees always grow next to each other (or at the least very close), which is handy as one is poisonous and the other holds the cure. They are called chechém and chaka. The red tree (chechém) is the dangerous one and the white one (chaka) provides the antidote. Of course, there is a wonderful myth to go with these trees, which Rodrigo told us:
There once lived two brothers named Kinch and Tizic, who were the complete opposite of each other. One was calm, the other reckless. Unfortunately, they both fell in love with the same beautiful princess. So instead of, you know, asking the girl who she prefers (if any), they decided to fight. They fought to the death and both killed the other, dying in each other's arms. The gods reincarnated them into these trees so that they will always be together.
The Bat Cave
We left the Calakmul Biosphere Reserve and headed back to Chetumal. But we still had one more stop planned. This stop wasn't actually that far from the reserve and I was very excited about this stop.
Pulling up in a bit of forest we took a short walk into the jungle. Soon we came across a few people who were waiting for the same thing we were, the explosion of bats.
We were above a cave, on the edge of a part of the forest above it. Almost a cliff I guess. This is where an incredible natural phenomenon happens every night. What happens is thousands of bats leave the limestone cave at dusk to feed. It is called the Bat Volcano (for reviews follow this link) due to this "explosion" of bats. This spectacle only happens here and in Gunung National Park in Malaysia.
As we waited for sunset, Rodrigo told us about the bats. It is believed that there could be as many as four million bats that call this cave their home. There are eight species of bats that shelter in the cave, which is extremely rare as it is unusual for even two species to share a roost.
I noticed that there were some scientists and film crew setting up nearby. Unfortunately, no Attenborough appeared, which would've been the icing on the cake.
The Bat Volcano Explodes
It was getting darker, and the bat volcano (Volcán de Los Murciélagos in Spanish) started to explode.
A slow trickle of bats started to appear, just one or two to begin with. Not much of an explosion you might think. But within minutes the name Bat Volcano made sense. What began as a slow, small trickle became a mass of spiralling winged shapes. Bats spiralled out of the cave in a huge black mass. They moved so quickly!
Some bats moved away from the main group and came so close. It's amazing to watch how quickly they can react and miss you by millimetres. It wasn't noisy. There were a good few people around (more than I'd seen all day), but we all stood in silence, awed by the sight.
At one point I looked up. There was a gap in the canopy above but it was filled with bats now. What was left of the light was practically blocked. Occasionally a bat falcon would be seen hunting, but we didn't see any successful hunts.
Maybe half an hour later, the explosion of bats had turned into a trickle again as the stragglers emerged.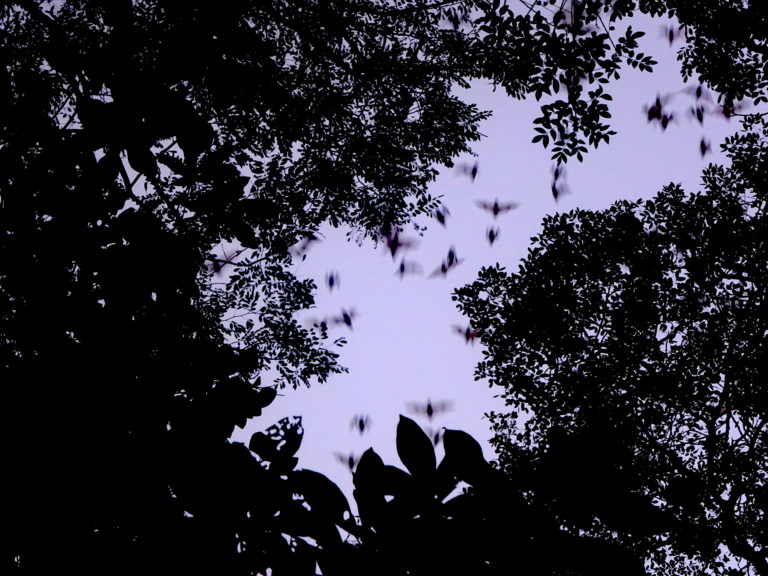 Back To Chetumal
Once the spectacle was over, we made our way back down to the car in the dark. It's quite fun walking through the forest with no light!
Then it truly was back to Chetumal. Though, as it was getting late, we decided to stop for some dinner on the way back. So we returned to the little cafe that we had breakfast in. This was not included in the tour, but as our Airbnb was light on cooking facilities and we still had quite a bit of the drive to go, we were very grateful to stop here. This time I had Enfijoladas con Pollo, which is tortillas in a bean sauce with chicken.
Finally, we arrived back at Chetumal sometime after 10 pm! An extremely long day, but so worth it. Rodrigo dropped us off at our Airbnb and we said our goodbyes. We were moving on to Tulum the next day, so there would be no more tours.
I really enjoyed my time in Chetumal. It was less crowded and less touristy than many of the areas I had so far been to in Mexico. Chetumal also makes the perfect base for having adventures from. It is definitely somewhere I would love to go back to. And I would definitely be getting back in touch with Bacalar Adventure Tours!
Looking to use Chetumal as the perfect base? Check out hostels on Hostel World. You can also check out all the tours available on Get Your Guide.