Food is definitely an important part of travelling. It is often linked to the culture, history and environment of the destination. Nowadays I like to try as much as the local food as possible when I travel. Because of this, I will often seek out food tours (such as the one I did in Amsterdam and the cooking class I did in Oaxaca), they're a great way to have a taste of some good local food, learn some history about both the food and the place, and generally have some good fun. So when in Prague, I joined Eating Europe for their food tour.
Disclaimer: I was given media rates for the Prague Food Tour with Eating Europe, in exchange for honest and unbiased coverage. Therefore all views are my own.
After a morning of just generally wandering around, we went to find the meeting point for the Prague Food Tour with Eating Europe (check out reviews here). The meeting point we were given was a small gingerbread shop called Pernickuv sen. This was about a 10-minute walk from the Old Town Square.
A Gingerbread Man's Dream
The shop was hard to miss! The outside is bright green and covered with gingerbread men images. Incidentally, the name Pernickuv sen means "gingerbread man's dream" (for reviews of the Gingerbread shop, click here).
Inside our tour guide, Vladamir awaited. There was a table set up for us, covered in gingerbread. Once we were all seated, Vladamir began by introducing himself and asking our names. You know, the usual start to a tour. He then went on to dispel some myths about Czech food. For instance, the chimney cake only appeared in the Czech Republic recently, as in not long before 2000. He also told us that absinthe isn't even Czech!
All About Gingerbread
As we sat, surrounded by gingerbread, Vladamir told us about the history of this food in Prague. There are three countries that state that they invented gingerbread, however, it is believed to have come from Armenia over 1000 years ago. The food came to the Czech Republic in the 13th century.
To begin with, the original gingerbread contained only three ingredients, honey, flour and pepper. Nowadays it can contain more than twenty spices. Because of the spices, gingerbread used to be expensive. But in the 17th century, the prices dropped.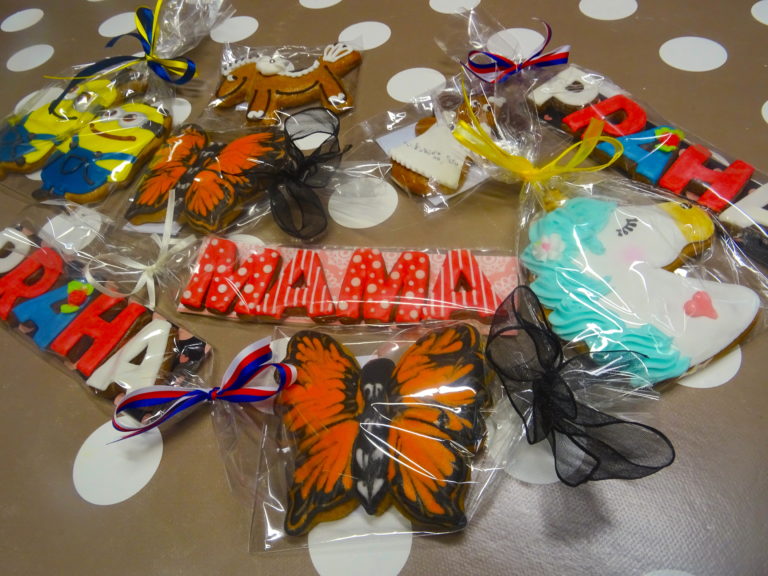 In the Czech Republic, there are three types of gingerbread. You get the sort to be eaten (obviously), some of these are more decorative type that is given as a gift. There is also a purely decorative type, often used for Christmas decorations. These are often not edible. There is asl the sort used to make houses, this tradition comes from the Hansel and Gretal story.
Tasting Cakes
So this tour began with dessert. We were given three cakes to try. The first, which I didn't get the name of I'm afraid, was made to a 400-year-old recipe. Its base was gingerbread, but extra ingredients were added. In the picture, this is the one on the right.
Next, we had some wheel cake (the one on the left). These cakes are normally served at weddings and are normally smaller than the slice we got to try. The one we tried was flavoured with poppy seeds. Incidentally, the Czech Republic is the second biggest importer of poppy seeds.
Last of all was my favourite cake in the tastings, Christmas pastry. We got a bigger size than these normally made to, and ours was vanilla flavoured. This cake was similar to shortbread and was very yummy.
After our tastings, we were given some time to wander around the shop (which isn't very big). The gingerbread here is out of a faerie tale. There are all sorts of shapes of gingerbread, all finely decorated. Rocking horses, men, horseshoes, and more. If you like gingerbread you have to visit this shop. There was also a little scene of houses, it was so cute.
Into The Arcade
Leaving the gingerbread shop, we headed out to our next stop. This would be two stops in one. We headed into an arcade, where there was a big table waiting for us. Both stops in this arcade were too small to host our group, so once we were settled Vladamir went to get our first tastings.
Arcades like this were almost destroyed during the communist period. Luckily they are now coming back and are often dedicated to food.
Traditional Sandwiches
Our tastings in the arcade were from Sisters (see reviews here). This bistro serves traditional open sandwiches. Vladamir told us that pen sandwiches have been around in Prague since 1916, and were sold as a "three-bite sandwich". One shop became very popular very quickly and manage to save the tradition even though fast food was not allowed during the communist period.
Traditionally the sandwiches would have very heavy ingredients. However, Sisters have been making them lighter with a healthier twist. One of these sisters reintroduced farmers markets, which is why she started making the lighter sandwiches, using the ingredients found at the farmer's markets.
We had three sandwiches to try, which came spread across two platters. They looked charming, Sisters definitely put effort into the finishing touches.
The first one that we tried was actually my favourite. It was beetroot and goats cheese with caramelised walnut. I've never had anything like it before! Next was celery root with carrot, which in all honesty was like having coleslaw on a sandwich.
Last was a more traditional, heavy sandwich. This one was potato salad, ham, boiled egg and mayonnaise. It definitely was heavier and much more difficult to eat because of the size!
Traditional Butchers
Once we had finished the sandwiches, Vladamir took the trays back and brought our next tastings. This was from Naše maso (see what people say by following this link), a traditional butcher, so he came back with a platter of meat.
During communism the best meat of a butcher was exported, the butcher would keep the next best cuts for his family and the left overs would be sold to the public. This is why lots of traditional meat from the Czech Republic are sausages and hams.
Vladamir explained to us that Naše maso uses old techniques and no chemicals in preparing meat. The butcher is popular with locals and tourists alike and is one of the most popular butchers in Prague. It is here that many locals come to get meats for special occasions.
Because of their popularity, Naše maso has two separate entrances. One for locals and one for tourists. This allows locals to do their shop without having to wait in a throng of tourists. Seems fair enough to me.
Czech Meat
Our first taster here was old Prague ham, which has EU protected status. You will get much better traditional ham from here rather than a supermarket. Supermarket Prague ham will often add water to give it "juiciness", add phosphate for colour and liquid smoke for flavour. So it is not the same. From Naše maso the meat has been in a smokehouse for weeks and then hung to age. The ham comes from one breed of pig, which is more energetic and so has less fat. Old Prague ham is traditionally eaten by putting it on a slice of bread and topping with a pickle.
We also tried beef ham and Czech sausage. The beef ham started to be made in the 19th century, as the Jewish Ghetto became important, and so it was made for them. The meat comes from the leg as it is less salty. Czech sausage, on the other hand, is over 700 years old. Meat from any animal can be used in this sausage, though often it is 60% pork 20% beef 20% fat. This is traditionally eaten with mustard.
Last of all for us to try was some salami. We were told that in communist Czech when people travelled, they would traditionally take salami with them. So it is tourist food, but not in the sense that tourists come here to try it.
A Short Walk
It was a little way to our next stop, so we started walking off our first three tastings to make room for the next. The street we were on once we left the arcade was Dlouhá, which is a well-known foodie street. Before we went for some tastings, Vladamir took us into a cute little antique shop that doubles up as a cafe and farm shop. Literally everything in the shop is for sale, even the table and crookery used for the cafe.
On our walk, Vladamir also pointed out a few things and told us some bits. For instance, he told us that absinthe has only actually been popular in Prague for the last six years, so the early 2010s. I wonder if that coincides with it becoming a popular Stag Do destination…
But the actual story is that it became popular during the occupation. Everyone was limited to 1 litre per person, but as they could water it down and still have a strong spirit this lasted well.
We walked past Hotel Paris, which Vladamir told us is one of the best examples of art deco. It was built in 1904 and is a five-star luxury hotel. In 1984the hotel was declared a historic monument.
Prague History
Vladamir also pointed out the Powder Tower (for reviews click here) as we passed it. This is one of the original city gates and separates the old town from the new. When built it was actually known as the New Tower. Its modern name comes from the fact that it was used to store gunpowder in the 17th century. The decorations on the tower are from the 19th century.
He also told us a little more about the history of Prague. For instance, the New Town of Prague is 600 years old. During the time of Charles IV, Prague was actually three times the size of Paris. As a town Prague was huge, it would take 40 minutes to walk anywhere. Also, it is actually the old 17th-century moat that is now the main commercial street.
The Municipal House was also pointed out to us. This is now a concert hall. But it is a historic building as it was here that the Czech declaration of independence was signed in 1918.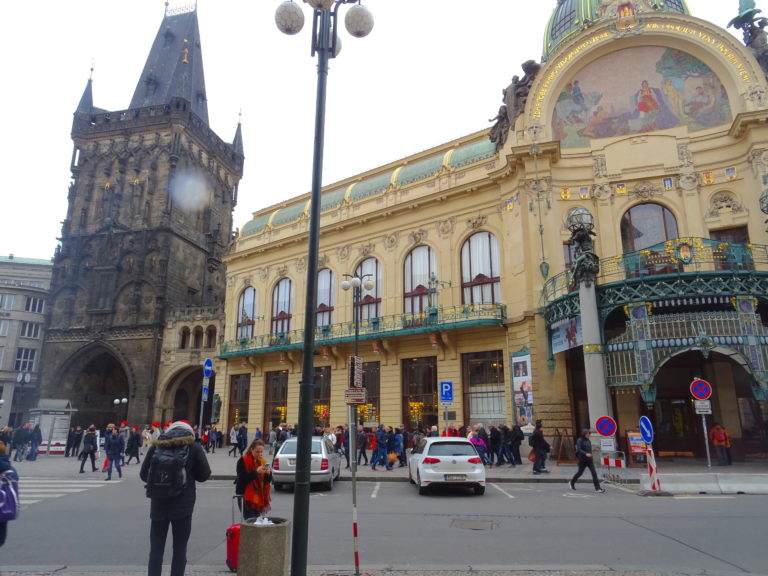 Skewered Food
It wasn't too long before we arrived at our next stop. This was Špejle, which translates as "skewer" (see what people think of this restaurant by clicking here). The food here is served like pintxo, but not all food served here are pintxo, some are tapas.
What this means is all the food has a number of cocktail sticks in, once you have finished eating you collect the cocktail sticks and the number you have dictates your bill. You pay per cocktail stick. There is also no menu here, as the food changes on a daily basis. And once it's gone, it's gone.
Well, tell a lie, there is a menu, dedicated to gin lovers. There are over 270 combinations of gin and tonic on this menu.
We were led to an outside area that had a lovely green wall at the far end. Vladamir explained to us that here they are known for serving Czech food, but with a twist. And with that, he went to get our tastings for here.
Traditional Food With A Twist
Our tasting here was a portion of duck and dumplings stuffed with red cabbage and mixed with cinnamon. Traditionally in the Czech Republic, the wine pairing with duck is beer, so we had some to match. The beer we received is bottom brewed (in all honesty I don't know what this means I'm not a big beer drinker).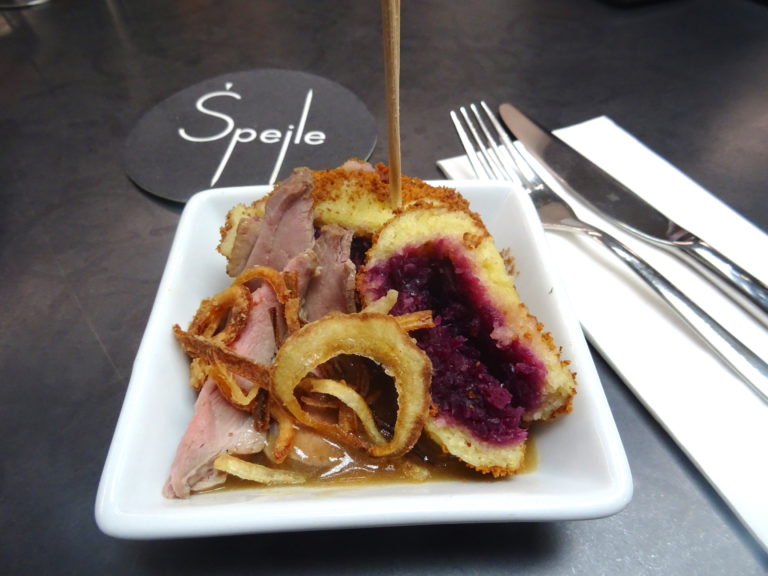 For this portion, only the breast of the duck is used. It is cooked in a vacuum pack, for a long time on a low heat. There was melted gingerbread on the dumplings and caramelised onions.
The tasting was really good and I would love to come back to the place to try more of the foods. We didn't really have time to browse what they were selling, or even see the counter. I'd definitely have liked more time here just to look.
After our first tasting, we had a selection of desserts. There were a few different desserts, but only enough for each person to try one. I ended up with a coconut dessert.
Some Czech Rules
As we had some Czech beer, Vladamir taught us how to say "cheers" in Czech, which is " na zdraví". This actually means "for your health".
He also told us the rules of tipping in the Czech Republic. Tips are never added to the bill but it is normal to tip 10%. However, you should never tip on a card, as the owners of the establishment will keep 80% of the tip. Also, it is seen as rude to just leave money on the table for a tip. So you must actually go up to your waitress/waiter to tip them.
An Eventful Square
Moving on from Špejle Vladamir took us to Wenceslas Square (read what people think of the square here). The square is 700 metres long and has been around since Charles IV, who founded the New State of Prague. Although the square is historic, Vladamir told us to avoid it after about 10pm. This is because it is a hotspot for Stag Dos and so dodgy characters that come with such a scene…
The square has been the site of many historical events, such as the Velvet Revolution.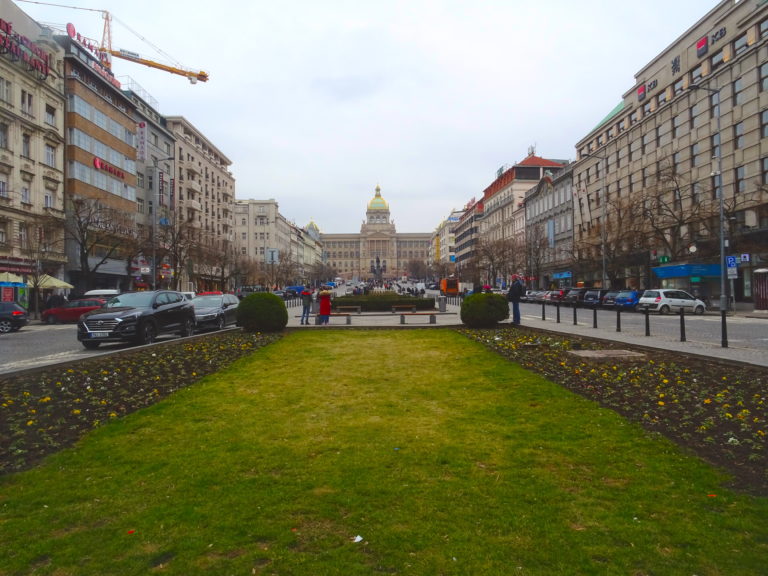 Another event that took place here was a political protest against the end of the Prague Spring. The protest was carried out by a student, Jan Palach. This was not just any protest though, this was self-immolation. Palach set himself on fire in the square, he died several days later from his burns. His funeral then became a major protest against the occupation and a month later another student, Jan Zajíc, burnt himself to death in the same place as Palach. Others followed suit later in the year. There is a memorial for the two students on the square in front of the National Museum.
A Museum On The Square
The National Museum is historical itself, on the building you can see the damage left by the Russian Blitz. After WWII it took seven years to be reconstructed. And for the first time in history, the tower at the top was open. But unfortunately, I did not have the chance to go up the tower during this trip
From the square, Vladamir took us past some tourist shops and pointed out the Czech glass that you can get here. However, it is only tourist that buy this "Czech glass", locals don't.
A Hidden Park
In a short while, we were in a small park, that apparently not many locals know about. Here Vladamir told us a little bout the beer and wine of Czech, for example, the white wine from the Czech Republic is what you should taste. He also told us about becherovka. "Ovka" means to be made of fruit. Becherovka is a unique herbal blend that about 200 years of history, being created in 1807. It is believed to help digestion and it is thought that only two people actually know the recipe, as it is a closely guarded secret.
Vladamir had a bottle of this for us to sample. It felt a bit naughty being stood in a park drinking, despite the number of times Vladamir told us that this was all fine. Guess it's just the English in me! All we needed was a brown paper bag to make the experience seem like we were really being sneaky!
A Hard To Find Church
As we were heading to our next tasting, Vladamir pointed out Our Lady of Snows Church (click here for reviews). This church was meant to be the second biggest church in Prague but was never completed. It also has the highest vault in Prague, and the tallest altar, despite never being completed.
Although you can see the vault and its obvious tourist attraction status, this church is rarely visited. This is not because it is not well known or not encouraged for tourists to visit. Instead, it is simply because people can't find the entrance. There is a private residence surrounding the church, so you have to go through an opening in this residence. The owner actually wanted to build over the church, but luckily was not allowed to. So even if people find the entrance, they're not sure if they have!
Unfortunately, we didn't go in this church on the tour, and I didn't find the time on my trip. It's one I'd like to visit in the future.
The Intellectual's Cafe
After this walk, it was time for another tasting. We entered Cafe Louvre (click here for reviews), headed up the stairs and were quickly seated. As we waited for our tastings, Vladamir told us the story of this cafe, which is now one of the top five in Prague.
Cafe Louvre was opened in 1902 and since then has been the choice cafe of many intellectuals, dramatist and writers, such as Albert Einstein, Karel Čapek and Franz Werfel. Over the years the cafe became the place of a 'melting pot' of intelligent minds. The cafe was seen as so important for Czech culture that it survived Nazi occupation.
However, after the Communist Takeover in 1948, the cafe was seen as being decadent and too much of a free-spirited place. Therefore the cafe was closed and all furniture and equipment seized or destroyed. It was after 1992 that the cafe was restored and renovated. They made the cafe as close to the original as possible.
Candle Sauce
Cafe Louvre is known for its very traditional Czech cuisine, without any twists. This is how it has always been done. So we were to try a very Czech dish Svíčková. This is sirloin with a creamy vegetable sauce, cream and cranberries served with bread dumplings. We also had the choice between a glass of Czech wine or a beer from a microbrewery, Bernard, which is actually now a huge brewery.
As we were served Vladamir told us about this traditional dish. The dish is also known and often translated on English menus, as "candle sauce". There are a few stories as to why the dish has this name. Vladamir told us it is because the vegetable sauce, when cooked properly, takes at least four hours to make. So you would burn a four-hour candle to time the cooking. The sauce is actually 80% vegetable, which is a lot!
When eating this dish it is important to remember a few things. The first is to not to eat the lemon (which you can't see in the picture as it is under the cream). This is purely used to keep the steak and cream together. Secondly, remember the bread dumplings, although they look like bread, are not bread. They are dumplings. So don't do the English thing of using them to mop up the sauce. Eat them as dumplings, not bread.
What's With The Map?
In Cafe Louvre is a real quirky thing. You will see a large map on the wall. This map is absolutely genius and is from the cafe before it was shut (though I am not sure if it is an original or remake).
The map has buttons and lights. If you press a button it turns on one of the lights. The light shows the location of the pub/cafe that you have selected. As Cafe Lourve traditionally closed at 23:30, many of the customers would not be ready for home. So this map allows them to check the location of the nearby watering holes and whether they are open or closed at the time. There is also a picture of the establishment so that the drinker can recognise where they are going and a phone so that they can ring to check if there is a table free. This allowed customers to plan their drinking schedule.
Essentially this was the first Google Map of Prague. And it was created eighty years before the internet.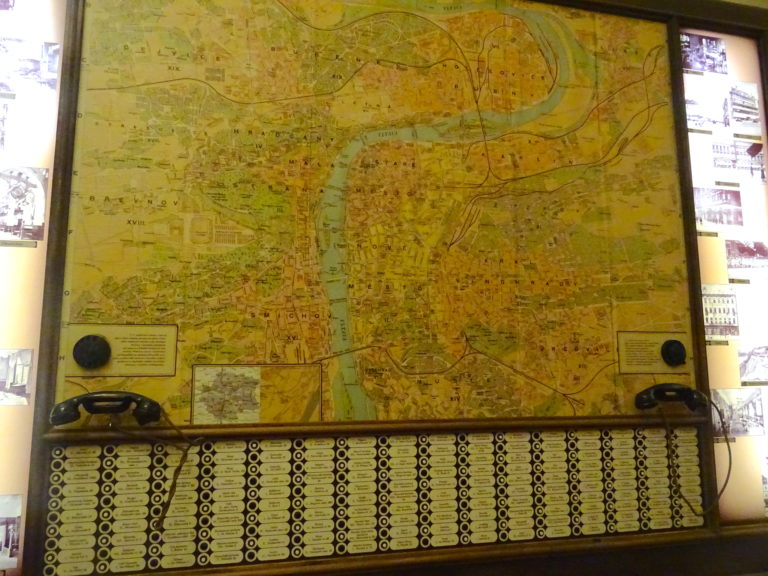 Another Dessert
So we came full circle with the tour, as we ended with a dessert, just like we began with a dessert. Our last stop was Creme De La Creme (follow this link for reviews).
There are a few ice cream parlours of this brand in Prague and they are known as being the best places for gelato in the city. The owners learnt how to make gelato in Italy and brought their learnings back.
Gelato In Prague
There are two ways to make gelato. You can either make a universal base and then add the different flavours, or you can make a special base for each flavour. The latter technique takes the longest time and is the hardest to do. That is how they make gelato at Creme de la Creme.
They have a variety of gelatos, in fruits, herbs and more. In fact there are sixty flavours, some are seasonal and so are swapped out throughout the year. They also do sorbets, vegan gelato and sugar-free gelato. The vegan gelato is made with a combination of dairy-free milks.
We ended our tour with two gelato flavours, both were delicious. One was poppy seed (which in all honesty, I didn't think would be too nice, but it was delicious). The other was some sort of Czech herb. Although Vladamir even spelt it out to me, I can not find exactly what it was. It was seeboterum, so if anyone knows what that is please let me know as it was amazing and I need more of it in my life.
Full And Satisfied After Touring Prague With Eating Europe
As this was the last stop we had come to the end of the tour,  so Vladamir left us all to finish our gelato. But before he left he gave us all print outs with his recommendations in Prague. This included tourist sites, shopping, more food and drinks.
And with that, we all slowly left our table in Creme de la Creme and went our separate ways. Completely stuffed and with new knowledge of Czech food me and Dave went off to explore more of Prague.
You can book your food tour of Prague with Eating Europe by following this link. For other Prague tours, check out Get Your Guide.