It was coming up to 12:30 pm, which was time for our tour of the Jordaan District with Amsterdam Food Tours. I'd never done a food tour like this before, so I was keen for it to start. I believe that the food of a country is an important part of the culture, and so should be fully experienced. I was curious as to how four hours of food could be interesting and to be honest I was amazed at this tour. It turned out to be much more informative than I imagined.
Disclaimer: I was hosted on the Jordaan Walking Tour with Amsterdam Food Tours in exchange for honest and unbiased coverage. And so all opinions are my own and uninfluenced by anyone else.
The Jordaan District With Amsterdam Food Tours
The meeting point was outside Café de Prins, which is near the Anne Frank House. Well, across the river and a short walk. Opposite the cafe, just off the bridge, I spotted the Amsterdam Food Tour logo. So we headed over and joined the group.
Once we were all gathered – there were eight on the tour in total, which is two less than the company's maximum of ten – our guide started. Jelte introduced himself and gave us a little overview of the tour. He also did an icebreaker, which, in a small group, I think is important.
On the tour, we would be visiting the Jordaan District. Jelte told us that the Jordaan area used to be the working man's area. Across the river, where the centre is, was where the rich people lived. So the rich and working men were kept apart by the river.
Poffertjes At Café De Prins
After the introductions, we quickly headed into Café de Prins. The cafe was a bit dingy, but that created an atmosphere. We headed straight to the back where a table had been set up for us. As we sat Jelte took a drink order from everyone, I went for tea, but there was plenty to choose from.
Waiting for our food, we were told about the cafe. It was originally a house but has been what is called a "Brown Cafe" for over 100 years. Brown cafes get their name from the colour of the furniture.
We didn't have long to wait and soon a portion of what looked like mini pancakes were placed in front of everyone. There was some kind of syrup on top and a sprinkling of sugar. Jelte told us that these are Poffertjes. They were a typical "poor man's" dish until the start of the 19th century when they became popular. Poffertjes are also a traditional dish at dinner parties. In Dutch dinner parties, these are the first dish, as a dessert. Bringing a dessert out first means that the children can join in with this treat before going to bed. I think that's a great idea.
What we had was a portion of Poffertjes covered with maple syrup and powdered sugar. They were delicious. Really sweet, but since I have a sweet tooth, that suited me very well.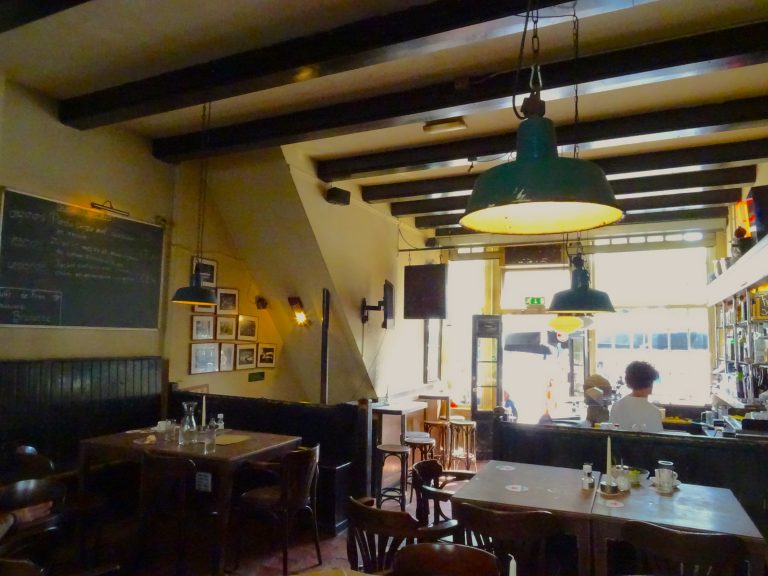 A Walk On The Streets Of Amsterdam
Walking to the next tasting, Jelte stopped along the banks of Prins Canal; as he had said before, this canal used to separate the rich from the poor. He pointed out a few things (and got shouted at by a random woman on a bike). Did you know, the canals in Amsterdam are generally ⅓ mud, ⅓ bikes and ⅓ water. That's a lot of bikes that end up in the canal.
As we carried on Jelke pointed out the Tulip Museum. Obviously, tulips are important for Amsterdam. But what I didn't know is that you can actually eat the bulbs. Not that we'd be trying them, I can't image how you'd eat them. Is it like eating an apple, or do they need cooking?
Urker Viswinkel For Fish
The next stop was the tiny fishmongers Urker Viswinkel. The shop was so tiny that we couldn't all go in, but Jelte encouraged us each to go in for a quick nosey, a few at a time, as he got our tastings.
First, we tried some typical Dutch Herring, the pickled sort. Jelte told us some interesting bits about the herring. For instance, the herring is preserved in salt so it is actually cooked before it is brought to shore and then pickled in barrels. You should only eat herring with over 23% fat, as that is the real stuff. Also, the pancreas was left in the herrings, which means scurvy was not an issue for Dutch sailors.
Jelte came out with a little tray with the herring, the herring had little Dutch flags in them and were surrounded by pickles and onion. The correct way to eat the herring is to use the toothpick to pick up some of the onion, then the pickle and then you eat. There was plenty for everyone and we all had at least seconds.
Another important point of eating herring – you must always have some liquid with herring as "fish must swim". And so Jelte had some tulip vodka for us to wash the herring down with. The vodka was surprisingly tasty.
At this point, I thought we would be it for the fish, but Jelte headed back in and came out with more fish. This time it was Kibbeling. This is deep-fried fish, "Fried Cod Cheeks" to be precise, though it can be made with hake or haddock as well. The fish chunks came with tartar sauce. They were very salty but so good. Once again there was plenty to go around.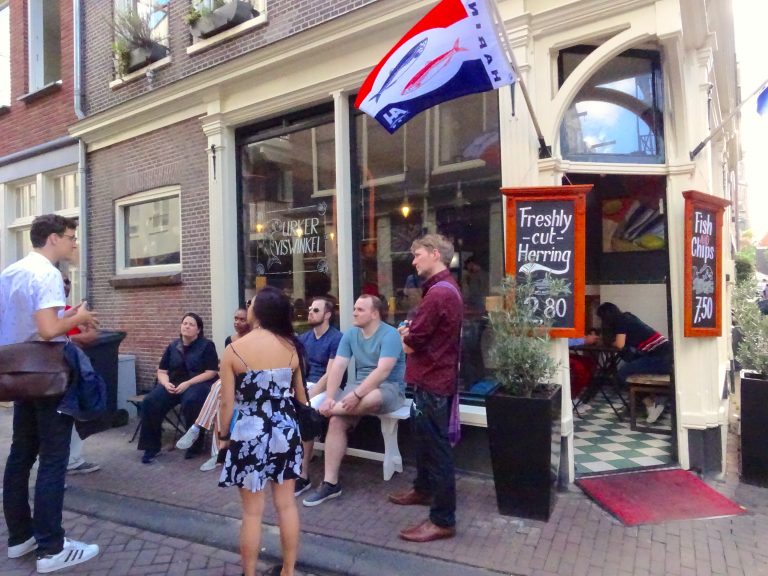 Stroopwafel At Tom's
Our next stop was so far away, took forever to walk there… Only joking, it was just a few doors down!
We stopped at Tom's Bakery, which has a bakery and deli. Here Jelte pointed out packets of Stroopwafels. We were about to try these.
Stroopwafels are a very thin waffle, filled with caramel. Jelte told us that when eating in a group you have to have a competition. You break the stroopwafel in half and pull apart slowly. The winner is whoever makes the longest string of caramel before it breaks. I have no idea what you generally win, but it was fun.
To be honest, I wasn't a big fan of the Stroopwafels. They were ok and I loved the competition, but they certainly weren't my favourite food on the tour. But that's just my personal taste.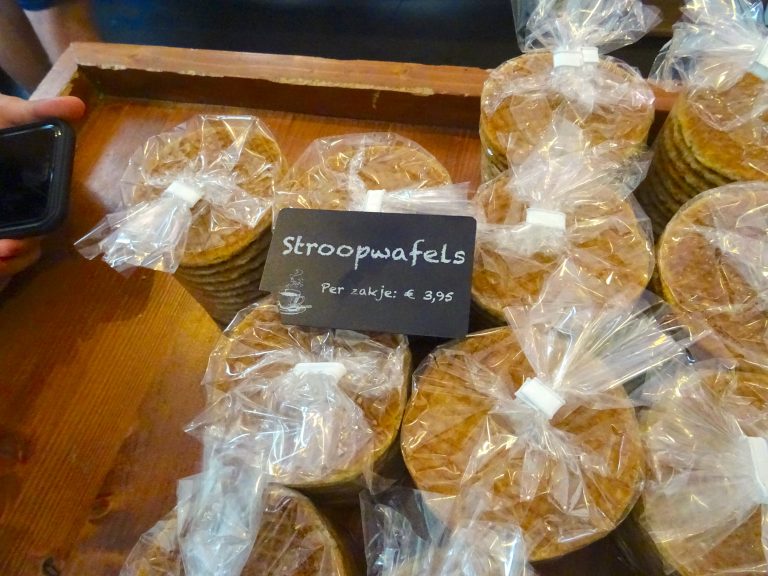 A Short Break From Food
After the stroopwafel, we had a short break from food, which I was very grateful for. Jelte walked us around the area, telling us histories and stories.
For instance, did you know that in Amsterdam the large windows of houses aren't just to let lots of light in; they were to show piety as a Protestant. Basically, when the country became Protestant it was fine to look into people's front rooms to check that they were Protestant.
Jelte took us to an area with very tall houses. These are actually separate houses built on top of each other. They were built for workers during the Industrial Revolution and there could be six families in one house. The families would rent the house for twelve hours at a time, so people on opposite shifts would share the house.
Bitterballen And Beer At Boca
Next, we went into a cosy little cafe called Boca's. Sitting around a table at a window on the front we eagerly awaited our next tasting.
Jelte brought a bottle of beer for each of us. This was elderflower beer, brewed by Gebrouwen door Vrouwen which translates as "Brewed by Women". Can you guess why? Yep, it's brewed by women. Two sisters set up the company in 2013.
Now, I am not really a beer drinker. I tend to find them too bitter. But this elderflower beer I liked. And I mean really liked it.
As we sipped our beer our next tasting appeared, Biterballen. These are a beef meatball, deep-fried for about six minutes and served with mustard. Jelte told us not to bite into them, but instead break them in half and let the insides cool slightly; I'm glad he gave us this tip, the steam that came out showed how hot the insides were!
And these Bitterballen were delicious. Literally, melt in the mouth. So good. I think these were my favourite food on the tour. Luckily there was plenty of the meatballs to go around.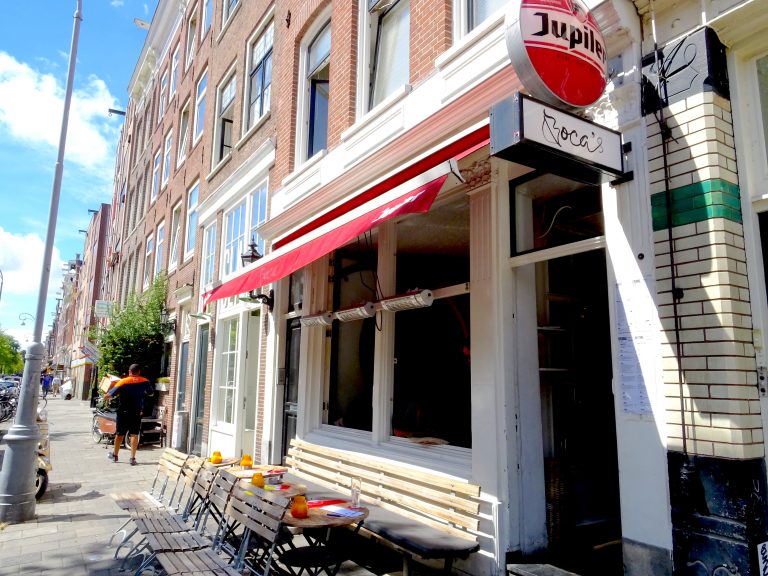 The Legend Of Amsterdam
Another short walk and a tale followed Boca's. We stopped in a small square, surrounded by houses. All the houses had big protestant windows. It was quiet here. Peaceful. Above an entrance to the square was a shield. The shield had an image of two men and a dog on a boat. This shows the Legend of Amsterdam.
The legend goes that the two men and dog got caught in a storm whilst out at sea. Thinking that they would not survive the men prayed to God. As they prayed they promised that if they were saved they would build a chapel from their boat where they land.
The boat ran aground on the shores of the river Amstel. The brothers kept their promise and built a chapel. This is now the site of Amsterdam's Old Church.
What the significance of the dog on the boat is, I'm not sure…
Louman – A Traditional Butcher
Our next stop was Louman, which is a traditional butcher established in 1890. The butcher shop was quite big, with lots of raw and cooked meats on display, plus a menu on the wall.
Jelte brought a rather big selection of meats to the group. There were four tastings each (though there was more than enough of each tasting, so some of us got extra). First, we had Grillworst which is a sausage made from a mixture of beef and pork, spiced on the outside. This was really good.
Ossenworst was the next sausage. This used to be made from ox but is now a beef sausage. The meat is spiced and has a smoked, silky flavour. This sausage was usually found in the Jewish quarter.
A dried sausage, Droge Boerenmetwurst was next. This is a dried pork sausage spiced with clove.
Lastly, we all had a taste of Achterham, which is smoked ham. Most butchers have their own version of this and make it purely to show off.
This butcher is so popular that it is able to completely close for two weeks over summer. The family go off travelling to find inspiration for their products.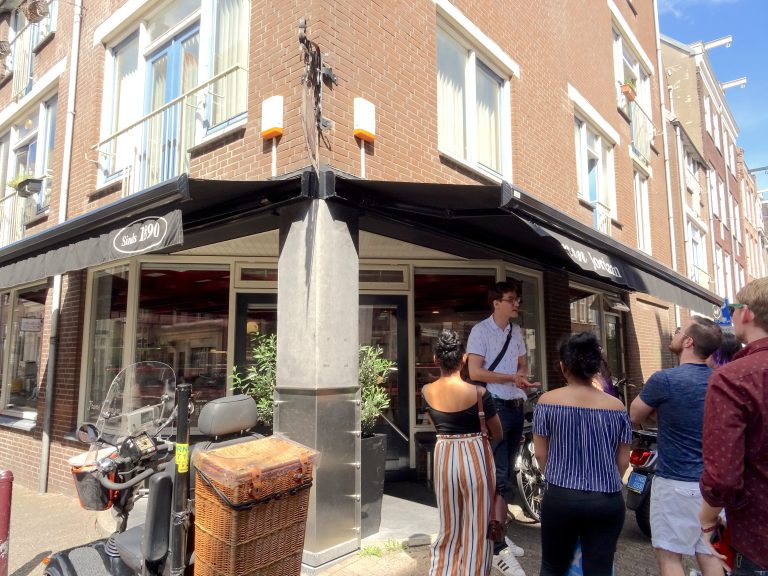 JWO For Cheese
A few doors down we stopped at JWO. This shop was so small that our tasting was had outside, but at least there was a bench!
The shop is a delicatessen which has a range of meats, cheeses and foods from all over the world – I even spot a brand of chutneys that are fairly local to me!
Here we tried cheese. Did you know, good cheeses need 10 litres of milk to make 1kg of cheese?
I digress… Here we tried Gouda and Jetle taught us how to pronounce it correctly, well he tried to anyway. The first gouda was Meshanger, which is a 4-month gouda. This one was quite creamy. A nine-month gouda was next, Septemberkaas. This cheese is not pasteurised and so can't be exported. The Septemberkaas had a nuttier flavour than the Meshanger.
Last we tried a 2,5 Oude Boerenkaas, which is two and a half years old. We tried this the 'hippy' way, which was fashionable in the 1970s. To do this you get a toothpick and pick up some jelly, ginger with nuts and the cheese. Sounds a bit weird, but it was really nice.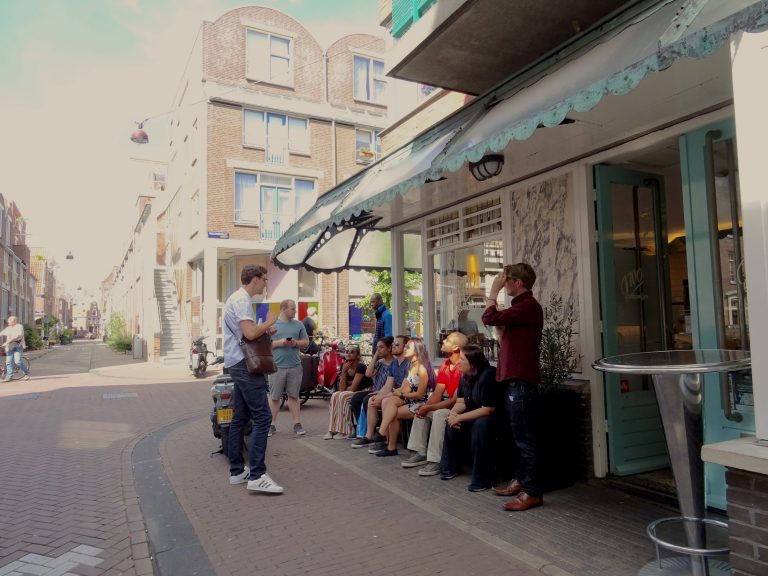 Brewers' Canal
Another break from the food, thankfully. I was definitely getting a bit full by this point! This time we had a walk along the Brewers' Canal. This canal has been voted the most picturesque in Amsterdam and along the banks, old warehouses can be seen. The old warehouses have big wooden shutters, as wood was much cheaper than glass back in the day. Now they have glass windows too.
Want to know why it's called Brewers' Canal? You guessed it, breweries used to be lined along the banks. They also used to make the beer form the canal water…
Swieti Sranang Satay
After our short walk, we stopped at Swieti Sranang. You'd be right in thinking that this doesn't sound Dutch at all. Here you can find fusion food, a mix of old Dutch colonies such as Indonesia, Suriname and India.
At this deli, we tried Satay Chicken (Satay Ajam) with plain and spiced crackers (Kroepuk) and cabbage (Ajar). It was important to use the crackers to scoop up as much sauce as possible! The sauce was definitely the best bit, so tasty.
Café Papeniland
Our last stop was another "Brown Cafe", Café Papeniland. The name Papeniland is actually a curse word for Catholics! This cafe was a bit dark but still felt cosy. As we all sat down Jelte took drinks orders from us all.
As we sat around chatting our last tasting appeared, traditional Apple Pie. Jelte told us that it is the crust here that makes it traditionally Dutch. Also, Dutch apple pies use two types of apple. I couldn't finish this pie. I was already pretty full and the pie was so filling too. Not to mention the fact that the 'taster' was easily a full portion. I actually dread to think how big their portions are if this is a taster size!
We stayed here for a while, chatting. Jelte pointed out a letter on the wall from Bill Clinton, who visited in 2011. During his visit, the owners refused to clear out the pub and close it. So Bill Clinton had to mingle with the locals to get his apple pie.
Jelte was also happy to give recommendations for where to go next. As me and Dave had a few hours before our flight he suggested we go to the hidden church in an attic. We had been recommended to do this by family, but as they couldn't remember what it was called we hadn't been able to find it. Luckily Jelte told us where to go.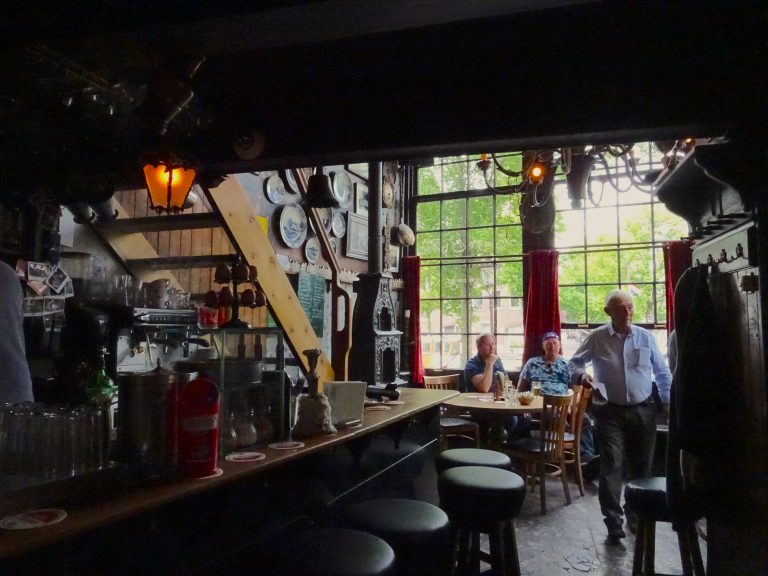 Finished And Full
Slowly, we all dispersed. Very full of food and information. This was the first walking food tour I took part in and it certainly set the bar high for any future tours I do. If you want a taste of the Netherlands, the Jordaan District Food Tour with Amsterdam Food Tours certainly gives you enough to fill you up for the rest of the day.
You can read about the rest of my Amsterdam adventure here.