I love Amsterdam, it is a beautiful city with so much history. There's lots of museums and plenty to do in the city. So when Dave had a stag do over there, we decided that I would meet him out there afterwards and have a city break. We decided to stay for two nights and as it is an expensive city we thought about getting the I Amsterdam City Card. But I find these city passes can be a bit hit and miss, you either really get your monies worth, or you really don't. As there were quite a few museums we wanted to see and our hotel was a little out of the centre, we decided to give it a try.
Disclaimer – I was gifted I Amsterdam City Cards in exchange for honest and unbiased coverage. This post is about what I did in Amsterdam and so all opinions are my own
Arriving In Amsterdam
My journey to Amsterdam was from London, a little unusual for me, a Northerner. But as I had met up with a few other travel bloggers the day before, I was in London. I'm telling you this as I flew from Stansted Airport and I just wanted to say how it was the tiniest little airport! I really didn't expect that from a London airport!
On arriving in Amsterdam, it's really easy to get to the city. You get to the centre by train and the ticket machines are easy to find. Although I did end up helping an American, so maybe it's not as easy to all as I found it. Me and the American then sat next to each other on the train to the city. It was nice to have company on this journey.
The train ride passed quickly and in what seemed like no time we were at the main station. So here we said goodbye and went our separate ways.
I met Dave by the I Amsterdam store in the station, where he had picked up our City Cards – I had arrived too late and the store was shut, so I was happy Dave could get them. After meeting up with a little-worse-for-wear Dave, we headed off to explore Amsterdam.
The Quirky Hotel
As I'd been cooped up all day (train, flight, train) I didn't fancy getting the tram to the hotel, even though the tramline was right next to it. I fancied stretching my legs; don't you after a day of travelling? Dave said that the walk takes about half an hour, so walk we did.
Our hotel for the next few nights was Llyod Hotel in Amsterdam East. When we arrived, my first thought was it was huge!
Dave had checked in earlier, so we were able to head straight to our room, which was on the top floor. We had one of their budget rooms and it was awesome. A quirky attic room, I was about to type "small attic room", but it definitely wasn't small! There were loads of extras in the room, much more than I expected for a budget room, and much more than I'm used to! Tea, coffee, toiletries, towels and even dressing gowns. What luxury for a backpacker! They also gave us plenty of information on Amsterdam and a map with the hotel marked on, so useful! (Want to know more? Read my Full Review).
A Riverside Walk
It was early evening, so still plenty of time for adventuring! So we checked out what we could do with the I Amsterdam Card and choose to head to the A'dam Lookout (check out reviews on TripAdvisor), which is near the train station. I still didn't fancy the tram (silly of me, since it's included with the City Pass, I know…) But this time we decided to walk along the river.
It was a pretty walk, there's something about walking next to the water, don't you think? Anyway, we had realised that the A'dam Lookout was actually on the other side of the river and no bridge in sight. As we got close to the train station, we noticed a crowd near the banks, as we went to look, we realised this was a ferry crossing.
Slightly confused, we looked to see if there was any way to buy a ticket. There wasn't. Nothing nearby at all. But as the ferry arrived, we all piled on (bikes and scooters too) and there was no way anyone could come around and sell tickets. I am assuming this is a free service or included with transport tickets. I really hope so anyway!
A Lookout And A Swing
It was easy to get to the tower from the ferry, simply follow the crowds! I had been told about the A'dam Swing at the top of the lookout. As we got close we could see the swing just coming over the edge. To us, this didn't look too appealing. It may be the highest swing in Europe (at time of writing) but it didn't look that exciting to me.
So we got to the A'dam lookout and bought our tickets. With the I Amsterdam cards we got a small discount.
Climbing the first flight of stairs, this attraction obviously gets more crowded as there were some interesting sculptures. Such as a chair made from Gibson guitars. There was a small queue, but this, it turned out, was for the photo they do before you can go up. And no, this can not be avoided. I hate these things, you know where you pose and they photoshop you onto the edge of the tower or something? I just don't get them. Wish it could've been avoided so we didn't have to waste the photographers time…
To The Top
After the stupid picture was taken we managed to get into the next lift. Obviously, they squeeze you in, but that's ok. You're only in the lift for 20 seconds and in that time you travel from the 1st to 20th floor. Pretty quick! There's also a cool light show in the lift, made me think of Willy Wonka. Plus a member of staff giving you all sorts of information about the tower before you start making your way up.
Once at the top of the lift, there was an indoor bit to walk around and the actual top deck itself. Inside they had some cool miniatures, one had a cool light show on it. There's also a restaurant.
Outside on the top deck, you get some great views of the city. There are also some slightly higher decks that you can climb for an even better view. But the best bit was the 'hang out' area near the bar. Lots of bean bags to relax on. So we grabbed a drink and sat up here chatting after we'd walked around the deck. We decided to hang around until sunset as we thought it'd be a great view. Unfortunately, the weather wasn't so good so it was a disappointing sunset. But the evening view as the city started to light up was great to stay around for.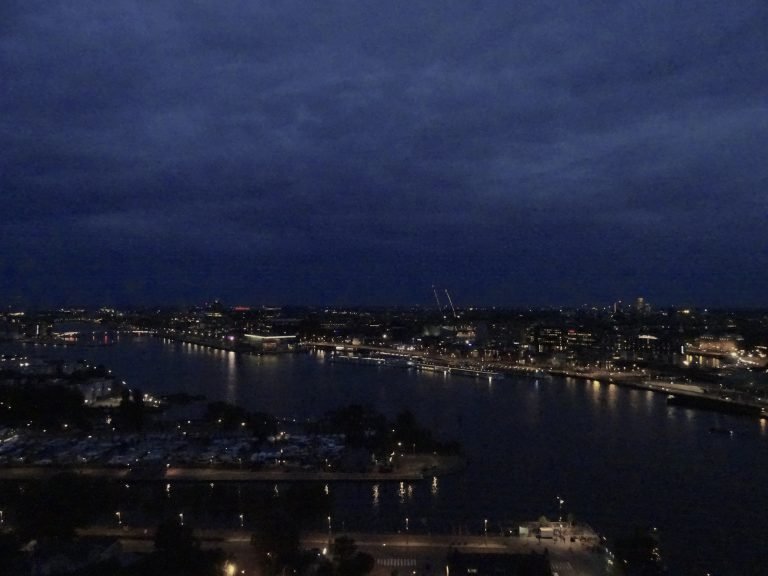 A Bit More Exploration
Taking the lift back down we were treated to another light show. Then it was back across the river and onward to explore the city. Once across the river, the A'DAM tower made a pretty sight all lit up.
We decided to just wander around for the evening, as we were both quite tired. So we ended up getting some frittes with mayo and getting lost in the city. A city at night is always pretty, don't you think?
And Amsterdam is no exception. Churches were lit up, giving them an eerie glow. And of course, the Red Light District looks good at night. Although I always find it a weird place to walk around, it's somewhere you can't miss in Amsterdam. And weirdly, it does look really pretty lit up at night.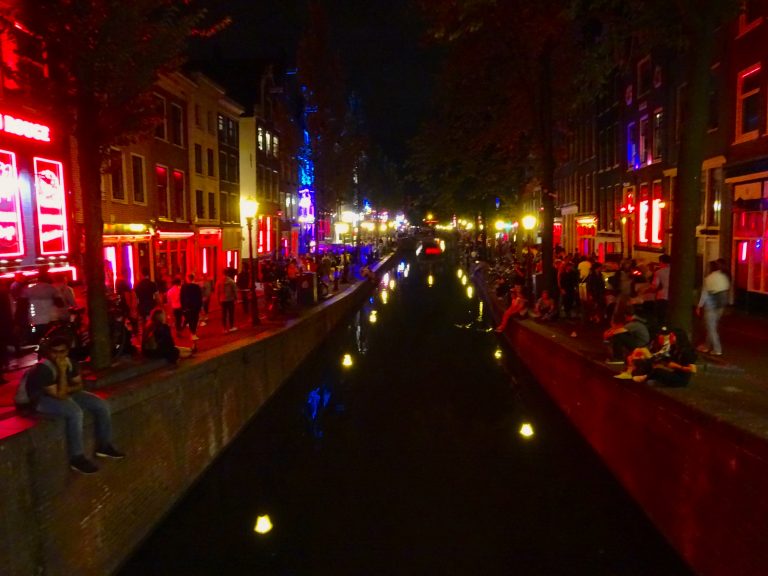 Rise And Shine
As usual, we had lots to do the next day (I always go a bit crazy with the planning)! So we were up nice and early. I didn't realise that our room in Lloyds came with breakfast, so that was a nice surprise!
The breakfast was in a temporary room, as the main breakfast room was undergoing some work, but it was still a lovely place for breakfast. There was loads of choice. Meats, cheese, pastries, fruits and more. Don't you love a buffet breakfast for starting the day?
Anyway, after filling our stomachs we headed out into the city. The nearest tram stop was just behind the hotel, so we headed there to get the transport into the city.
Our I Amsterdam cards included public transport, though I always wish public transport came with instructions. They do tend to have their own quirks in every city that no one tells you about! And Amsterdam is no exception. The trams only have one door for entrance (though any door can be used for exit). The entry is in the middle of the tram and you have to walk past a payment booth – so you literally have no chance of fare dodging. Though with the I Amsterdam card all we had to do was tap the card on the touchpads. Easy. But when it's your first time trying to jump on quickly… This is why I think public transport instructions should be given out at every border!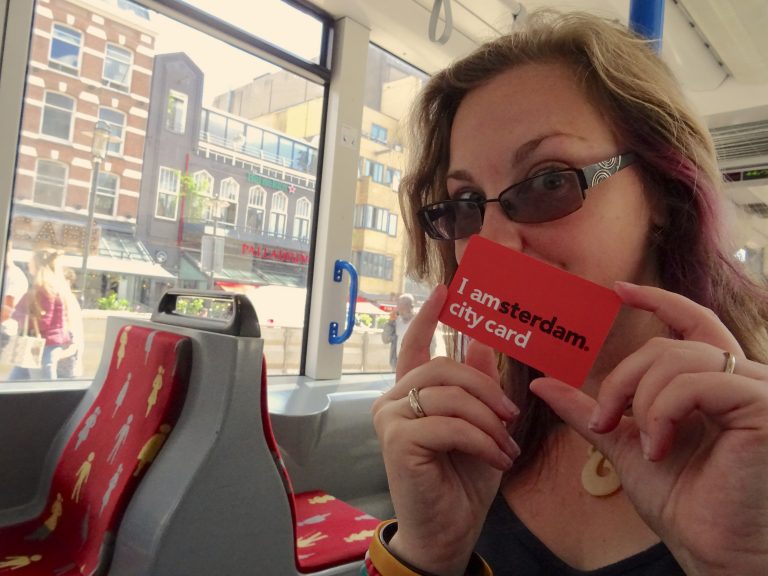 A Free Walking Tour Tour
When we first visited Amsterdam a few years ago, we joined our first ever Sandemans tour (have a look at their reviews here), which got us hooked on free walking tours. As this was so long ago, we had decided to do this tour again.
So we went to the meeting spot at the National Monument on Dam Square. Here we met other people waiting for the tour and Kendra, who is from the US, who would be our tour guide. I won't give you the full ins and outs, you'll have to do the tour yourself if you want to know everything, but I will tell you of a few highlights.
First Kendrawent through the usual health and safety stuff, with an added random fact. Do you know what a white male's most likely cause of death is in Amsterdam? It's drowning in a canal; can you guess why?
On The Tour
So Kendra took us around the city, down alleys to the Government Building, to the University and to old churches. Stopping along the way to tell us stories. One thing I did note was that she told us a different story about an old church than our guide did a few years ago. I wonder which is correct?
She pointed out the reliefs on buildings. These used to show what trade the person who lived there did. A dark note, she pointed out one that symbolises that they worked in the slave trade.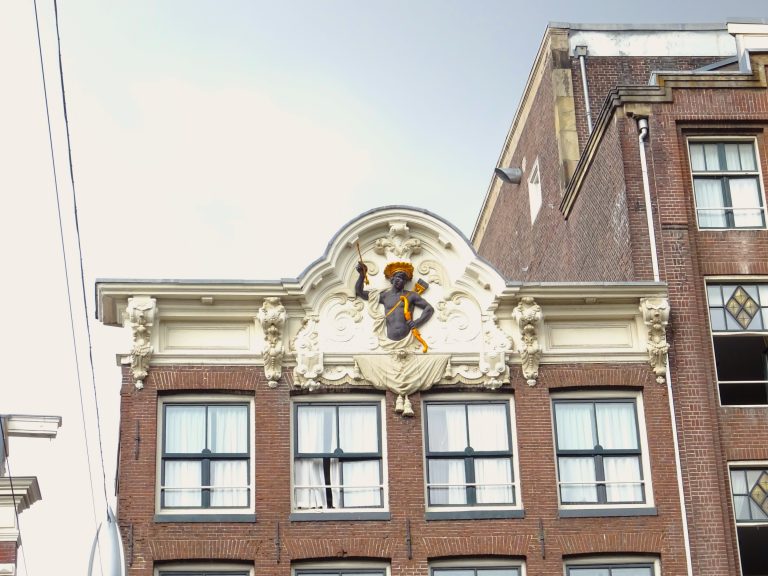 There is a lot to see in Amsterdam and Kendra showed us quite a few points in a short time. It was different from the last tour I did with Sandemans in Amsterdam, but that's what I like about these tours. You get a different guide and you get a completely different tour. We saw some of the same sights, like the thinnest house in Amsterdam (built because of the tax was on the width of the houses), but also some different places such as the Old Jewish Quarter. Check out reviews of the tour on TripAdvisor, just follow this link.
A Walk, A Downpour And Some Soup
After our tour, we wanted to make use of the I Amsterdam card by heading to the Jewish Museums. It was about a 30-minute walk from where we had finished, so we decided to take a stroll through the city. Though first, we took a quick detour to see have a quick look at the Anne Frank House. We hadn't bought tickets but were keeping an eye out for the few that are released on the day. No such luck for us though. Maybe next time.
Anyway, so we set off on our walk. On the way, we realised that we were a little peckish. Luckily we spotted Soup en Zo (see some reviews here) on the walk, and we thought soup was just what we fancied. So we headed in, just as it was beginning to rain. I am so glad we went in, I had a pumpkin and cumin soup and it was delicious. It was quite cheap and you even get bread with your soup.
We got our soup in takeaway cups, thinking that we'd carry on with our walk. But literally, as we stepped outside the heavens completely opened! So we waited out the downpour under their canopy.
A Bit Of History
Finally, we got to the Jewish Quarter. Not too wet, but the sky looked like it was about to pour down again. Luckily, we wanted to go inside.
We found the Jewish Historical Museum (check out reviews here), you can't really miss it with the Star Of David outside the door. With the I Amsterdam Card, it is free entry to all four of the museums in this area.
There's a lot to see in this museum. You start in a Synagogue, where you can learn lots about the Jewish faith, traditions, rituals, symbolism and scriptures. There is a lot to read in this section, I didn't read it all, there was too much even for me! But I did find it very interesting. We had also been given an audioguide, so there was even more information available!
The next part of the museum was about Jews in Amsterdam. The Netherlands are quite an accepting country, so Jews were able to settle here easily. Amsterdam also had an unofficial rule of as long as you were discreet you could essentially have whatever faith you wanted.
The Bad Part
I'm assuming with a Jewish Museum in Europe, you can guess where this is going. And it did World War Two. The next part of the museum was very, erm, well it was interesting, but not in a good way. It told of the persecution of the Jews. There was quite a bit of reading, but it was hard to read emotionally. There were also videos to watch, interviews and footage of the war.
The information went on and told of Jews in hiding and the return of them to the city. There was a great art piece in the centre of the room, that had images hanging down. Images of people, quotes and more.
The museum dealt with the hard subject rather well. Let's face it, it has to be remembered, but it's not nice to learn about.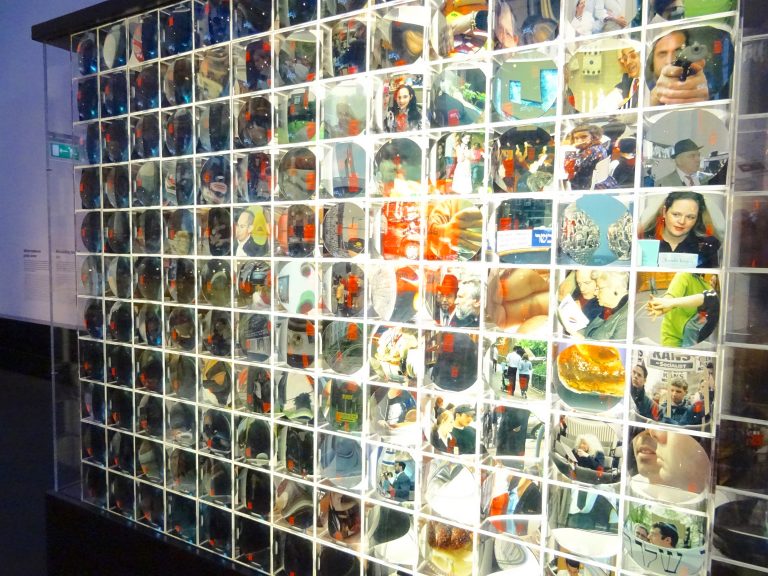 A Portuguese Synagogue
Nearby the Jewish Historical Museum is the Portuguese Synagogue (check out reviews here). You get an audio guide when you go into the Synagogue, and men have to put on Kippah.
The audio guide had lots of information on the building itself, as well as some bits about Jewish traditions, such as weddings. I found it really interesting. Like did you know that there always has to be a defect (I can't remember why though)? And there was a bit on the banister of the first floor which wasn't finished correctly. And there always has to be one candle lit.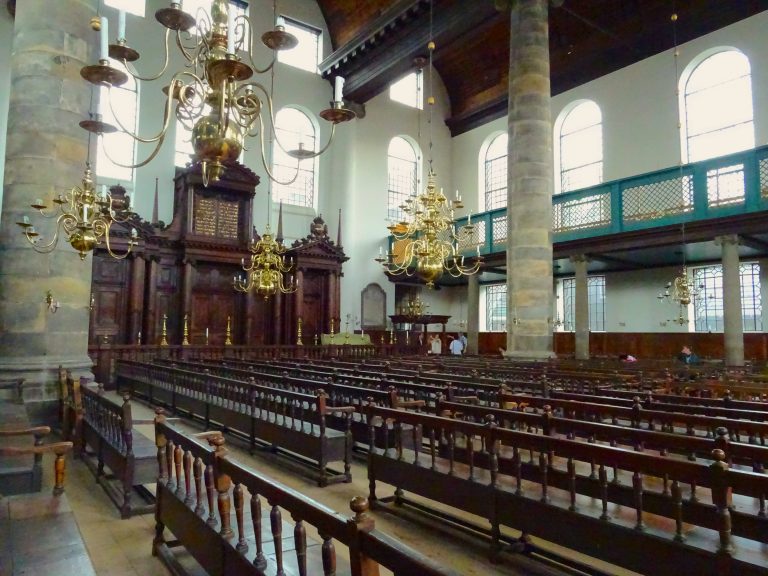 We didn't stay in the Synagogue too long, as we were conscious of time and wanted to check out the other museums here. I could have easily spent more time here though if I had been able.
Another Museum
Next on our list was the Jewish Cultural Museum (for reviews, follow this link). At the time of my visit, this museum was still being built, so there were only a few areas that I could explore, but they were hard-hitting.
One room had computers, where you could look up Jews that were killed in the war. Their names took up an entire wall.
Opposite this room was a room full of displays of children's toys, clothes etc. These were all from children that were murdered in the war. Each display told the children's story. The displays also had a picture of the child. It was devastating. Some were teenagers, some were babies. Even though 18,000 Jewish children were murdered (and this is just from the Netherlands), less is generally known about them compared to the adults. I really like how this museum used the word "murdered", the directness is so important if you ask me, rather than just saying "killed". Being blunt drives it home.
The Suitcases
Down some stairs was another display, a piece of art that I don't think I will ever forget. There were lots of suitcases, in different sizes. Each suitcase represented a child and the size of the suitcase showed the age group. So the smaller the suitcase the younger the child. Each suitcase was a murdered child from just one school. There are 172 suitcases.
You can move the suitcases around and children from schools visit and do just this. It is such a powerful display and heartbreaking to walk around it. So simple, yet so powerful.
The Memorial
Last in our Jewish Quarter exploration was the Holocaust Memorial (reviews can be found here). I think we saved the most powerful till last and not on purpose.
Inside the building, the names of the murdered Jews can be found along one wall. Actually seeing how many names there are really drives the horror home. It's a countless number to look at. There was a display upstairs, but there really wasn't much to it, to be honest.
The memorial itself is outside and it is powerful. It's just a column, that's it. I tend to find simplicity more moving than anything else. It's all it needs really. Along the walls were flowers with messages left, just adding to the feeling of the place. They were generally messages of hope and peace (well, those that were English anyway).
I'm not sure if we were meant to, but we went behind the memorial and there was a gate, so we went through. Here were some pictures from the War. I'm not sure if this was being made when we saw it.
And that was it for our Jewish history afternoon, so we left. And it turns out we were just in time as the memorial was closing.
The Evening
I was a bit emotionally drained from the museums and memorials, so we decided to head back to Lloyds for a rest for a bit. This time we took the tram, as we were quite a way from the hotel and it looked like it would rain again at any moment.
When we got back, it had just stopped raining. So we headed to the outside bar for a drink. It was really quite, think the weather was putting people off. But it was a lovely area to relax in for a bit.
After a few hours, we decided to head out into the night. We had just started trying to go a bit more plant-based with our diets and Dave had found a place that he wanted to try. It was quite a way from the hotel so we hopped on a tram and headed to the Vegan Junk Food Bar (go here to check out reviews).
This was the first vegan burger I tried, I had a fake chicken burger. Now I know a bit more I assume it was seitan. But whatever it was it was huge and tasty. The place was so hipster and not subtle at all. There was a lot of artwork based around the whole 'don't kill animals'. The burgers going for a junk food vibe, so they were big and 'dirty'. You know what I mean, loads of stuff piled on, sauce dripping off. So good.
After eating our fill, we headed out and caught a tram to the city centre. It was our last night, so we went and explored a few bars, the streets and even a cafe. Basically, we had some fun.
Just One Big Queue
The next morning was our last in Amsterdam, but at least we had the whole day. So after another amazing breakfast from Lloyds, we headed out to explore some more. Luckily Lloyds let us store our bags for free, which I love, I absolutely hate having to have my bag with me when I'm exploring.
Anyway, we had a couple of things booked for this day. The first one being the Van Gogh Museum (check out reviews here). I'd been here last time we went to Amsterdam and really enjoyed it, so wanted to have another look.
This time, we had to book a time to enter online before we went (even with the I Amsterdam cards, don't just show up). I'd booked an early morning slot. I assumed that when you book you just go straight in. How wrong was I? You still have to queue to get your tickets. Not what I expected at all. But at least I had fun watching people just try to go straight in and be told to queue.
So my advice; whatever time slot you book, get there early. You'll still have to queue.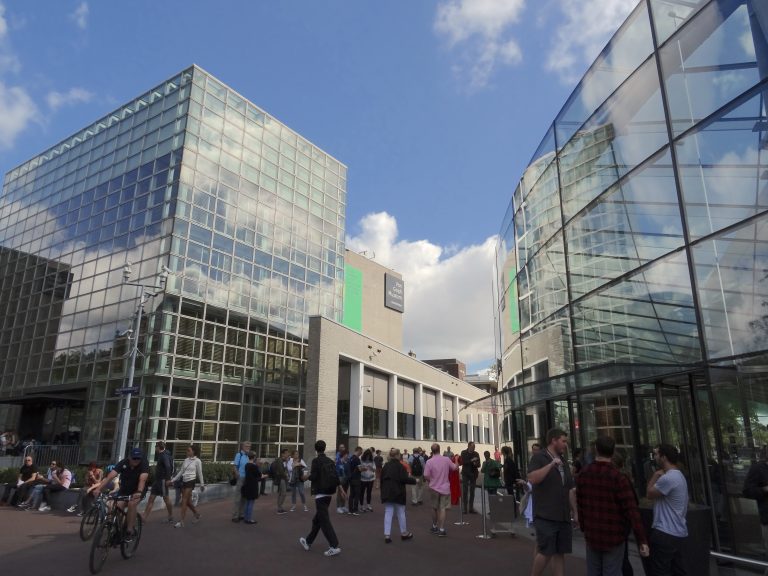 A Pet Peeve Of Mine
Finally, we managed to get into the museum! And thankfully still within our time slot for entry. As no pictures are allowed to be taken in the museum, due to the fragile nature of the paintings, I left my camera in the cloakroom. No point carrying it around if it can't be used right? I also assumed the staff would make you. Once again, I got this wrong.
And this bugs me so much. If you don't want people to take pictures, why not tell people that they have to leave their cameras? It's not enough to have signs everywhere stating that photography isn't allowed. People will always think that the rules don't apply to them, no matter how many languages you write it in and if you have an image clearly showing that it isn't allowed.
People were walking around with proper huge cameras. Much bigger than my single shot. And you know how many people I saw take a photo of a delicate painting? Six. One even used flash! And one even did it in direct view of a security guard. I can't believe that they don't enforce this rule more considering the sensitivity of the paintings.
I know if you make people leave their cameras, people will still take photos on their phones, but it might just get through to some people. And more security that actually does something when people take pictures might hep to.
Anyway, rant over.
The Van Gogh Museum
Besides the people taking photos, I love this museum and I'm glad I went here back this time. The museum starts with a timeline of Van Gogh's life, which as I know very little about the artist, I found very interesting. Did you know, Van Gogh started painting at 27 years old, with no experience?
Anyway, the museum goes on and shows his paintings (obviously) through different stages in his life, whilst describing the influences and what makes the painting. For example, did you know in his famous Sunflowers there are only actually three shades of yellow? His famous style is his energetic brushwork and powerful colour contrasts.
It's not just about the art though, but also his life. You can listen to letters to and from Van Gogh, to get an insight into what was happening. One thing I found amusing was on a sign it actually said "people had to use post" when explaining it took a while for letters to get somewhere. My initial reaction was "duh", but then I realised, most people use email now. Literally, kids might not know about the post. Scary thought!
Later Life
There's quite an interesting part about Van Gogh's later life, and addressing the 'ear incident'. There's actually an analysis of his mental breakdown where it tries to say what mental illness it was, but we will probably never know for sure.
When he was in the asylum, he actually copied paintings. But if you look closely you can see mistakes, such as his copy of a painting of a ladder, where his painting has an extra step. Not the easiest thing to spot!
Van Gogh's Work
There was an extra special room at the time of my visit, where Van Gogh's drawings were displayed. The pieces are rotated regularly due to their extremely sensitive nature (luckily I didn't see anyone take pictures here). I found this bit quite fascinating though, seeing the line drawings.
Another thing I found interesting was that there's evidence that Van Gogh reused paper. So there are drawings on top of drawings.
Do you know what Van Gogh's last painting was? Many people believe it is "Crows", but this is just a myth. The idea that Crows was his last painting is simply romantic, which is why the myth has stuck. The romantic notion makes the myth stronger than reality. However, I did miss what the actual last painting was…
Dreams And Sculptures
This was the end of the main museum, so back in the entrance hall we noticed the temporary exhibition of the time "Dreams". So we headed in. Photos were allowed in this part, but I still didn't have my camera back from the lockers, sigh… That'll teach me for obeying the rules. But at least I had my phone to take some mediocre images.
I think this temporary exhibition was my favourite part of the museum. It was really surreal, like walking through a mad-mans head (think that's what they were going for). They had large walk-through exhibitions inspired by Van Gogh. It was meant to also be inspired by his last years when he was mentally ill. The main exhibition I remember is a load of sunflowers. The whole exhibition room was in various shades of yellow.
Back outside we walked around this area for a bit; looking at the sculptures outside. There was a really cool sculpture of an astronaut with some sunflowers and a chair. Don't ask me what it was about, but I thought it was really cool anyway.
Nearby was the I Amsterdam sign. But if you want a picture, don't bother trying to get one with this one. The crowds! Seriously, you have no chance, unless you don't mind the crowds in your photos (or you're a very good editor).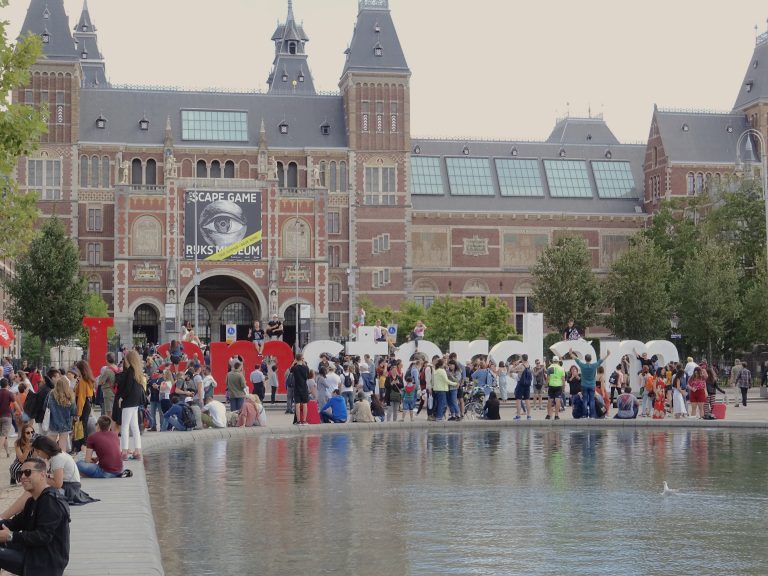 A Short Walk Around
Although we had decided to leave the Reikstmuseum this time, due to time constraints, we could still admire the building. And if you don't manage to go in, make sure you walk through. It is beautiful It's another one you need to book a time slot for to actually go in. But if you like architecture, it's worth just nosey-ing around the outside and the road that takes you through part of the building. The details are beautiful.
We had a food tour booked, but still had an hour or so, so Dave and I decided to grab the tram back to the centre and wander around. Just walking around the city and you will find some pretty views, lovely bridges and pretty building. And that's exactly what we did. Amsterdam really is a beautiful city.
Our food tour started near the Anne Frank Museum, so we headed to that area. I decided I wanted to see the Anne Frank Statue which is near here (read some reviews by following this link). And you will not believe what a mission it was to find!
It shouldn't have been so hard, it is on the Westermarkt square, so should be easy to spot. We must've walked past it so many times. You know when you can't find something, so you quickly Google it to see exactly what you're looking for? Well, I did that and suddenly realised the statue was pretty much right in front of me.
I think I was expecting a bigger statue. But then again, a small, simple statue is all that is needed. And I suppose it is small as she was still a child when she was murdered. I just feel stupid for walking past and missing it.
An Interlude
After this, it was time to find where our food tour started. You can read about that tour by checking out my blog here. In the food tour, we explored the Jordaan District, ate lots of food and were given lots of information about the city and the food.
This post will carry on with what happened after the food tour.
A Hidden Gem
We took our guide's, Jelte's advice and went to find the church in the attic for our last few hours in the city. And what a great recommendation!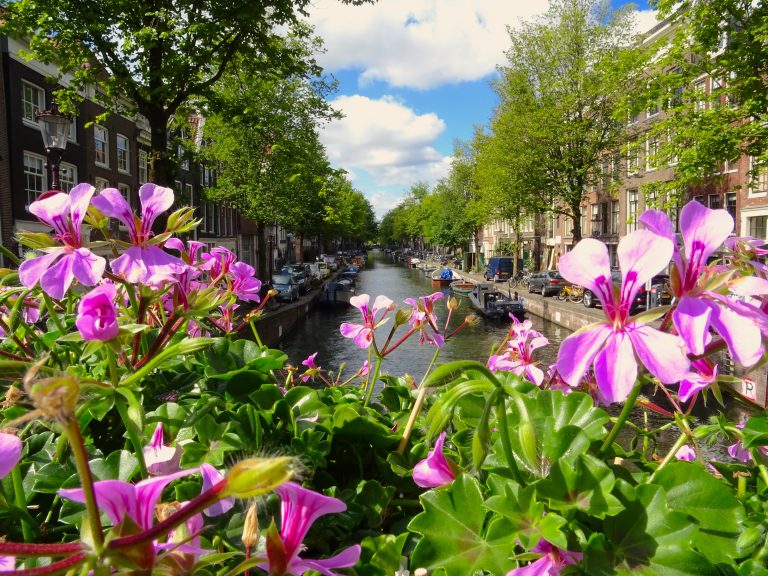 He was able to point out exactly where this attraction is, which I was grateful for as I think we'd walked past it on our first night (seeing a theme on this trip, are you?) Anyway, so we got there! Yay! And it turned out this attraction, which is called Our Lord In The Attic (check out the reviews here) was free with the I Amsterdam card. Bonus!
So we grabbed our audio guides and headed down some steps into the museum. Slightly confusing, as I always thought an attic was upstairs… But it turned out to be quite a big museum.
A History Lesson
The first room had a model of the buildings and some information on the church. It was built in 1663, as Catholics were forbidden from holding public services. But services hidden in an attic were all good.
In 1887, the church of St Nicholas took over the function of the church, and so the church in the attic was no longer needed. It took 250 private donors to buy the house and so keep the church where it was. It then opened as a museum in 1888.
From the first room, you then go through the old house, which is well preserved. The old rooms are stopped in time. The old front door is no longer used, but you walk past this and it has a view onto the canal.
There's plenty to see in this museum. Old pottery, preserved rooms, a box bed. Although the church is the main attraction, be sure to stop and read about the house and the story of how and why the church was built.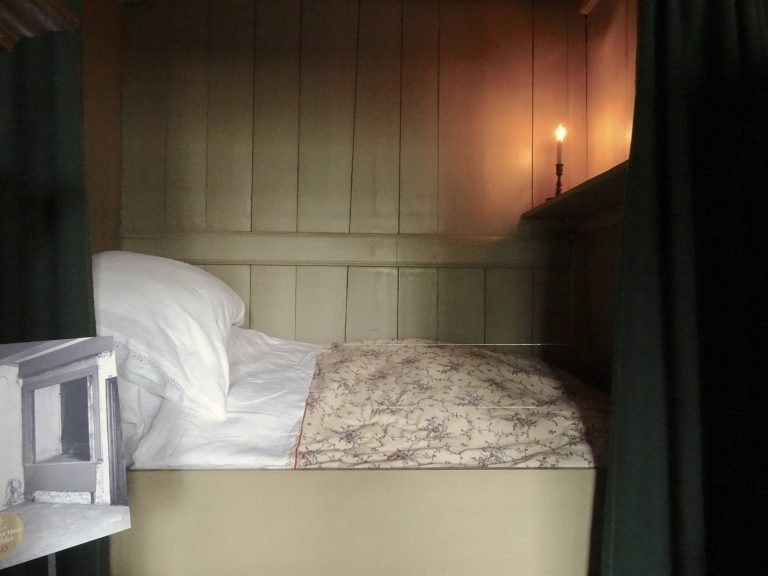 The Main Attraction
On the way up to the attic, there is an old font where holy water would be on the stairs and not long after this point you are in the chapel. All I can say is WOW. Honestly, photos can not do it justice.
The chapel takes over three floors of three buildings, it is huge. There are beautiful religious paintings displayed on the wall. The altar is incredible, the lectern actually slides aways and can be hidden. There's even an organ. And from the windows, there are brilliant views out over Amsterdam.
There are bits behind the altar and at the bottom end of the chapel. Such as a side chapel dedicated to Mary. You can also see an old hidden door, which was wallpapered to hide the fact that it was there. Climbing stairs you can get onto the galleries and get a view from above the chapel.
It really is impressive, from the outside you wouldn't have a clue that it's there at all. And if you ask me, it's definitely something you should see when exploring Amsterdam with the I Amsterdam Card.
The End Of The Adventure
Heading down from the chapel, we went through an old kitchen and a bit more of a museum. But as it was close to closing time, we didn't hang around these areas too much.
Back outside we knew we didn't really have time to do anything else in Amsterdam. We were still full from the food tour, so we decided to just get the tram back to Lloyds Hotel to grab our bags and head to the airport. And that's exactly what we did.
So. Did I save any money with the I Amsterdam City Card? In all honesty, I didn't, I was just below breaking even. However, I did a couple of things, the food tour and the Sandemans tours, that weren't covered. I also didn't eat anywhere that gave me a discount, so I didn't take full advantage. We figured that if instead of walking to the hotel and back on the first night if we'd done a boat trip instead, we would have saved money with the card. Literally all our own fault for simply not doing the math to begin with.
My advice, if you do get a city card, fully research what you want to see. Prioritise what is on the city card and only do other things once you have saved money. It is easy to save with the cards, you just have to be clever about it. Just one more activity and I would've saved money with the I Amsterdam Card.