In the USA I had decided that I wanted to get to a National Park. I had limited time in the US (and limited funds left after Mexico), so knew it wouldn't be an extended National Park trip, but just a taster. I had been to America before and explored Death Valley and the Grand Canyon. This time I decided Yosemite from San Francisco was the best option. After a quick bit of research, I found Extranomical tours, who do a one, two and three-day tours to Yosemite. Due to my limited time and funds, I went for just the two-day trip. So here's the story of my adventure to Yosemite with Extranomical Tours.
Disclaimer: I was hosted by Extranomical Tours on their Two-Day Yosemite tour from San Francisco in exchange for honest and unbiased coverage. Below is the story of my experience and all opinions are my own.
A Long Drive
Talk about an early morning! Me and Dave were getting picked at the Hilton, just a short walk from our hotel, at 6:20 am. Tired and groggy we followed the instructions of where to meet and waited for the bus to arrive. Soon other people joined us, all waiting for the Extranomical tour.
We didn't have long to wait and soon the bus appeared. It turned out we were the last pick up, so we found seats and were soon on our way. As he drove our driver told us what to expect on the day ahead. He was very talkative and pointed out anything and everything along the way. Well, for the first part of the long drive, then he let us sleep for a bit. A supermarket stop for breakfast later and we were all awake and he was talking again.
Not long after the supermarket stop, we began to climb into the hills. The road wound around and around, offering tremendous views of the area. Soon we entered a forest in the hills and pulled off the main road for our first real stop of the day.
Sequoia Trees
We had stopped at Tuolumne Grove, where Giant Sequoia trees can be found. Pointing the trail the driver sent us on our way.
At the start of the trail was some information. You know, the usual, maps and stuff. But what really caught my attention was the tree stump that used the rings to show the different ages of the trees. So you could 'guess-timate' how old the trees are. Part of it was cut out as well, so you can walk into the stump, it gives you a deeper sense of just how huge these trees are.
The way the driver had described the walk, I was ready for a difficult hike, but it was much easier than he made out. I think he was making it sound harder in case there was snow.
It wasn't difficult to find the first sequoia tree. Not only was it massive, but there were also plenty of people surrounding it! I think quite a few people turned back at this point, but don't, there's plenty more to see.
Inside And Out
Following the path to the right, we soon came upon a dead tree. Our driver had told us to look out for this one, as it had caught fire. Not much is left of the tree and you can walk through it, in fact, the path goes right through the tree. Inside ants have made the tree their home and it is an incredible way to see how huge the tree is. Looking up the sunlight comes through the top, but only a little. It's quite an eerie experience.
Did you know, giant sequoias are actually fire resistant? The outer bark is thick and spongy to protect the inside. As fires are common where they grow, they have adapted to cope with this threat. So it is rare for a sequoia to die from fire, though many show scars.
So how did this tree die from fire? Chances are it was struck by lightning and the inside caught fire.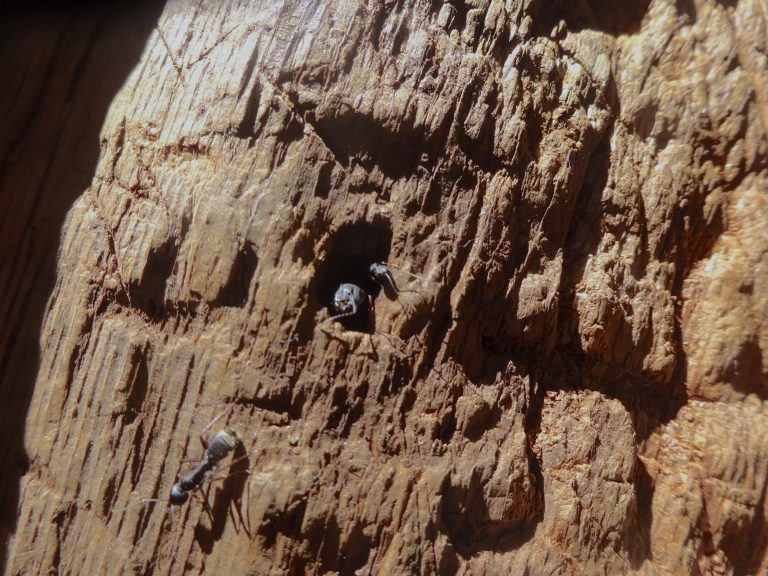 A Tree That Falls
Sequoias have shallow roots, this helps them to take advantage of the area's unique hydrology. The roots spread far and wide, but not deep. This may be good for absorbing water and nutrients from the soil, but it also has a major disadvantage, they can easily be toppled in strong winds. Even heavy snow loads can topple these giants.
A toppled tree is found just off the path. This gives another sense of how big the trees are as it is possible to climb in this tree. You can go all the way through what is left of the tree (so long as you don't mind getting dirty knees). Though it definitely isn't a good activity for the claustrophobic!
Heading back in the loop of the path there was another tree showing fire damage. The damage had actually gotten inside the tree, but not killed it. So you can stand inside, the scarring is quite interesting to see.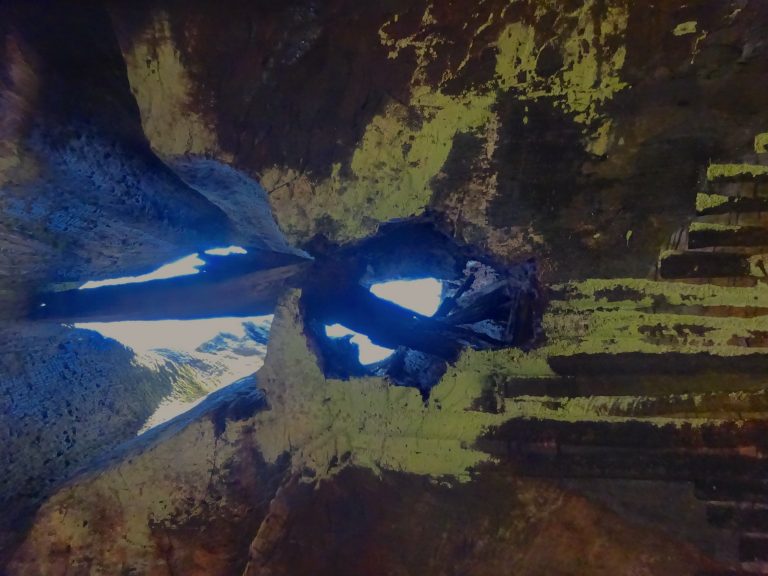 The Iconic View
Back on the bus, it was just a little further to the next stop, the iconic picture stop for Yosemite. The one you see everywhere, but it's got to be done, right? You must know the one I mean, Tunnel View.
From this viewpoint, you can see many of the main attractions of Yosemite National Park. There's El Capitan on the left, Half Dome and Bridalveil Falls on the right. It is an incredible panoramic of the park. There's even a little miniature of the view so you can figure out what is what.
Left For Twenty Four Hours
After admiring the iconic viewpoint we headed to the next stop. Here those doing the two day Yosemite trip would be left, those doing the one day trip had an hour here. Does that make sense? Basically, how these trips work is at Yosemite Falls those on the one day trip have an hour, those that are staying for a night or more get off and are left to their own devices. When the same happens the next day, those that have been left have a seat on the bus. I think it's a really clever way of arranging the tours.
So at Yosemite Falls, our driver gave us the low-down. He told us to be here the next day for pick up. As we wanted to do some walks before heading to our accommodation, he advised us to store our bags at the Lodge (if they will let us, which luckily they did). He also gave us maps, told us about several walks in the area and, of course, told us how to get to our accommodation.
There were a few groups getting off, but me and Dave were the only ones with accommodation in the park. Listening to the advice for those staying outside Yosemite I will say it is worth paying extra to stay in. The last bus to get outside the park was 6 pm, which seriously restricts you. I was glad that we didn't have to worry and had complete free range for twenty-four hours.
Waterfalls and Meadows
Leaving our bags at Yosemite Lodge (thank you so much) we headed first to Yosemite Falls. This is the highest waterfall in the park, though it is technically three waterfalls in one. The path was obvious and easy to follow. The falls could be seen from quite a distance, along with the hordes of people heading there.
At the falls there was a small 'wet zone' on the bridge. Always fun! There's something about getting soaked from the spray of a waterfall. Or is that just me?
One thing did annoy me at the base of the falls. People. Well a certain type of people, the people that think rules aren't for them. There is a fence to keep people on the paths, but oh no. Plenty of people had climbed the fence and off the path to get closer to the falls. The Rangers (I assume) had even piled logs to try and block the path that had been created by people, but this still wasn't enough. Drives me mad. Why do people not understand the importance of sticking to the path? Especially in National Parks?
So, to stop 'Scrappy-Doo' (as Dave calls it when I get on my high horse about such things) from coming out, we carried on along the path. There was a loop we could follow, and since we had plenty of time we figured why not. The loop took us through a forested area and there were some great views. It was so quiet, barely anyone else was doing the loop. We crossed a small stream and then the road and came upon a wildflower meadow. It was the wrong season for the flowers, but it was still lovely, as the open space was framed by the cliffs.
Full Circle
Carrying on the loop now took us along the road. This lead to Yosemite Village, where there is a shop and a small museum. We had a quick look in the museum but decided to keep walking it didn't look like there was much there. Plus we wanted to get to our accommodation before it went dark and had no idea how much further we had to walk.
Carrying on the walk we meet a new friend. A very confident squirrel was happy to let us watch him go about his day! A few minutes of walking later and Yosemite Falls came back into view. We came across the falls at a completely different angle, and I think it was the prettiest view of the falls (probably due to the lack of people).
The Rudeness Of People
After spending some time at the falls again – well, why not? The park was getting quieter at this point. Anyway, after spending time at the falls we decided to make our way to our accommodation.
We were staying at Half Dome Village, our guide had told us that we would have to catch the free shuttle to get there. So we went to collect our bags and got in the queue at stop 8.
I was actually quite shocked that there was such a queue! Luckily the shuttles were regular. The first one came and we couldn't get on. But the funniest (and annoying) thing happened. There is a back door on the shuttles, for people getting off only. An older couple behind us in the queue tried to get on this way, even though it clearly stated that there was no entry. The bus driver kept announcing it too and would let no one else on until they got back off. So they couldn't say that they didn't realise and had to get off.
Then the worst thing happened. The people at the front of the queue let them on! Why? And why would you reward such entitlement by making them entitled? Really don't understand and Scrappy-Doo nearly came out… The mind boggles. Seriously? Why let those rude people get away with it. If they had a valid reason other than just wanting to get on sooner, fine, but I completely missed that. If they had a valid reason I doubt they'd try to sneak on the back and would instead ask politely.
Half Dome Village
The shuttle bus we got on was rammed. It's amazing how many people can cram on when they want to. So we began the journey like sardines. Luckily the journey went quickly as a teenager sat near us was amazed by our English accents, so started chatting to us, just to hear the accents!
At stop 13, we hopped out of the sardine tin. We had arrived at Half Dome Village. Heading to reception we were quickly checked in and given a map of the site, with our tent cabin marked. We were quite a walk from the reception.
So we started what looked like the trek to our tent cabin. As we passed the social area we saw a very exciting sign. It was Shakespeare's Birthday and to celebrate Half Dome Village was putting on a production of A Midsummer's Night Dream. We had a few minutes before it would start so we picked up our pace to get back.
Luckily the map just made the camp look much bigger than it was, and we were soon at the cabin. However, it wasn't as simple as just throwing our bags in and heading back. Oh no. As there are bears around anything smelly had to go in a bear-proof container outside the cabin. This meant food, toiletries, literally anything with a scent.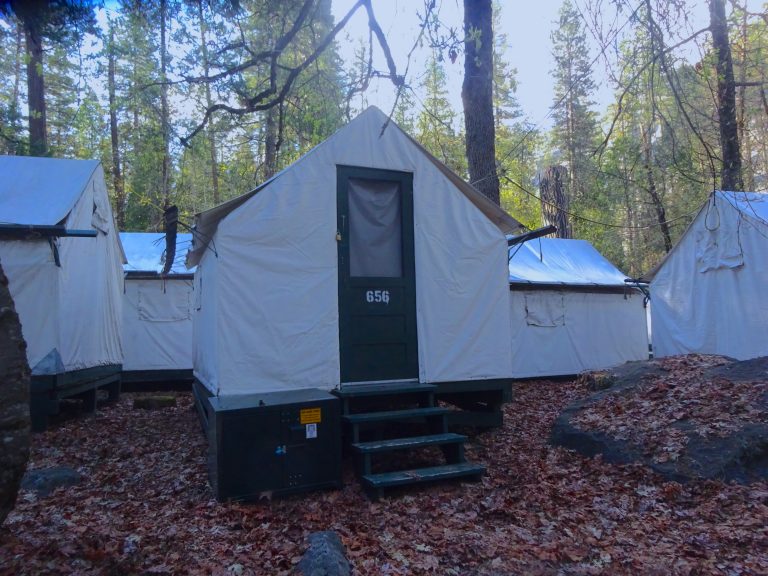 #YosemiteShakes
To make things simple, we decided to just throw our bags in the bear locker. We'd deal with sorting out later, in the dark. Can you tell my Shakespeare obsession was in control?
Soon we were back at the stage finding seats. Unfortunately, we had missed the first few minutes, but I was soon sucked in. The production was of one of my favourite Shakespeare plays – A Midsummer's Night's Dream. There were a few changes to the play, songs were sung and it was based in Yosemite instead of Greece, but I loved it nevertheless. The actors were brilliant and although the stage and costumes were basic, it was perfect.
The woman who played Puck definitely stole the show. The character often entered the stage via the audience, causing trouble as (s)he went. Picking up children, ruffling hair and making jokes at the audience's expense. Hands down the best part of the show.
If I ever make it back to Yosemite, I really hope it is on Shakespeare's birthday again. Seeing this play certainly made my obsession worse, which encouraged me to explore more Shakespeare when back in the UK.
The Pavilion
By now I was beginning to feel like I was in an American Summer Camp – you know, the ones you see in the films? And as the play came to its conclusion I realised that it had grown dark. And that I was hungry.
There were a few options for food in the camp, but me and Dave decided to try the main hall – the Pavilion. Inside was a lovely warm fire, lots of tables and a canteen style area to get food.
It wasn't a bad deal. You choose your 'main' part of the meal and then two sides. It's all the same price doing this. I choose the fish as the main part, then had sides of potato gratin and stewed veg. The portions were big and the food delicious. There was even a bread roll to accompany each meal. Now I really was feeling like I was in an American Summer Camp!
The next morning we were up early and headed back to the Pavilion for breakfast. A different part of the Pavilion was open for breakfast. From here I got a bagel and coffee. You have to toast your own bagel though! And funny thing… My bagel got stuck in the machine! Just typical! But the staff just gave me another one for free. You'll never guess what happened… The new bagel pushed my original one out of the machine. Woohoo! Free bagel!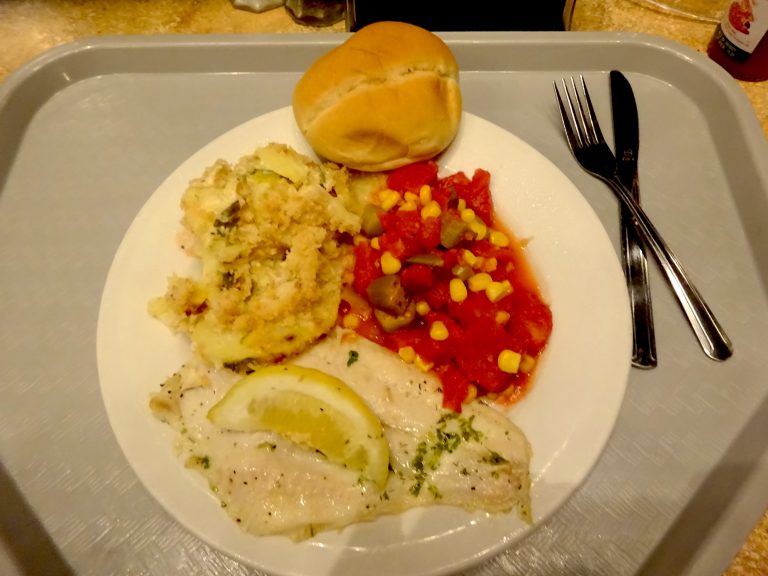 Reflections
We planned to be out all day before catching the Extranomical Tour back to San Francisco, so we had to check out of our room. When we asked about luggage storage, the staff ummed-and-ahhed a bit. They don't actually have a lot of storage. Luckily they decided to let us leave our bags in a bear locker near reception, although it did not have a lock. I'm glad they did, it would've ruined the day having to carry everything around.
So after storing our bags, we caught the free shuttle. We had a couple of walks that we wanted to try and fit in before pick-up at about 3 pm.
We took the shuttle bus to stop 17, where we could walk to the Mirror Lake. Once we reached the stop, at the start of the path was a wonderful sign. It warns you that the area is mountain lion territory, with advice about what to do if you see a mountain lion. I guess it's useful, but I find it amazing as I don't have large predators to worry about when walking back home.
The walk was much shorter than I expected. We walked along a river for a bit, past a bridge and were soon at the lake.
It's a pretty lake, but is not actually a lake, but instead a shallow pool in Tenaya Creek. Regardless of this, it is still a pretty place, with the surrounding peaks reflected in the waters. Me and Dave stayed here for a while exploring the area before heading back.
Vernal Bridge
The next sight to be seen was Vernal Falls. This was just one shuttle stop back, so we decided to walk along the road to reach it. The walk was worth it, along the way we had some great views of Half Dome.
We didn't make it all the way to Vernal Falls, just to a viewpoint of it, Vernal Bridge. The walk looked short, but it turned out to be a fairly difficult climb, with some rather steep sections. It was a bit weird, as from the start of the trail it was actually Nevada Falls that could be seen (which is further away), but from Vernal Bridge, it is Vernal Falls that can be seen.
The trail was busy – it's definitely a popular trail! I was amazed at how many people didn't have suitable footwear or were trying to push prams up the trail. With the number of people, I was amazed at the amount of wildlife seen on and around the trail. Another confident squirrel and a beautiful bird with blue plumage are the two that I really remember.
We decided to turn around at the bridge as it was now past half one, and we had no idea how long it would take to get back. It is a shame, I would've liked to go further, but we didn't have the time. So we headed back down, which was a bit quicker than the walk up and caught the shuttle bus back to Half Dome Village.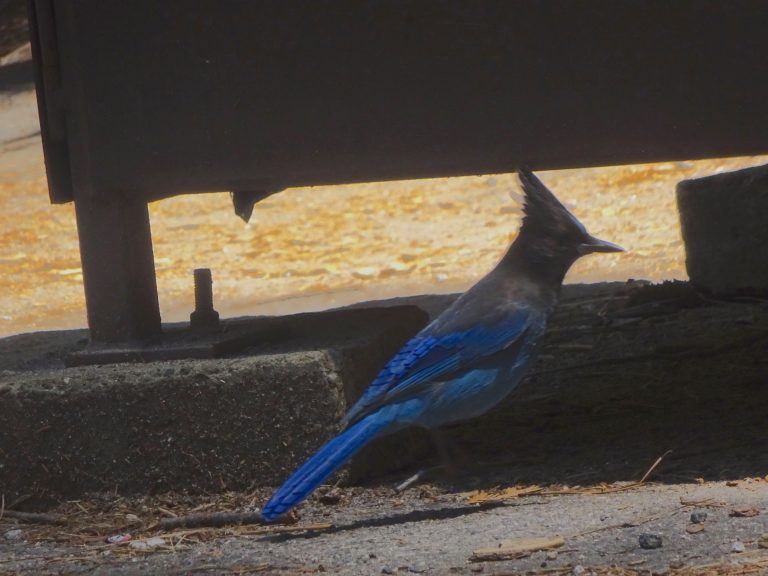 A Visitor At The Village
Arriving back at the Half Dome Village we had a pleasant surprise. We noticed that several people were crowded around one area of the path, looking out onto the grass. Naturally, we went for a nosey.
Laying down in the undergrowth beneath a tree was a doe. She was very well camouflaged and quite hard to spot. Luckily she wasn't shy, so soon got up and wandered around the grass area. I could have stayed and watched her all day as she grazed in the sun and then rested under the tree. She was so pretty. And definitely had no fear of humans.
We stayed watching the doe for quite a while. I have no idea how long, but we had to drag ourselves away too soon. Seeing her made the trip for me, I very rarely stumble upon wildlife like this. The only thing that would've topped this would've been seeing a mountain lion (from a safe distance).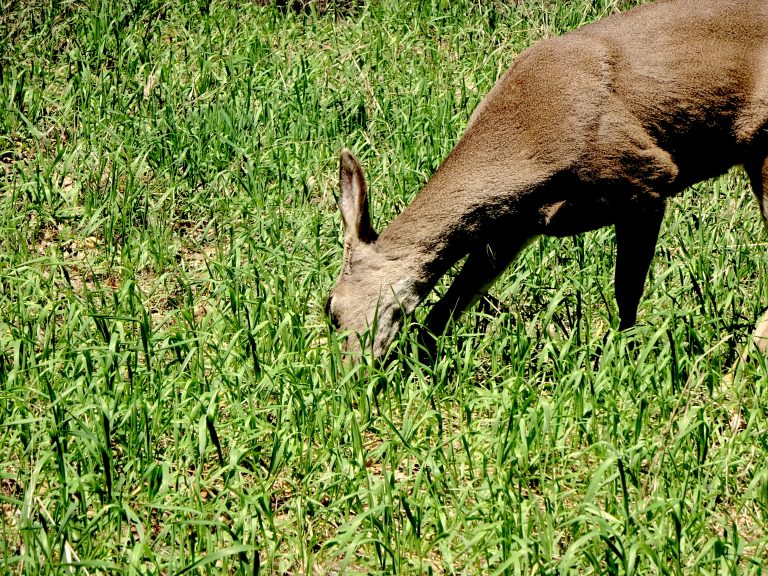 A Bit Of A Rush
We decided to grab some lunch before heading back to Yosemite Lodge. There were plenty of options at Half Dome Village. Our first thought was to get a burger, but this was very popular. There was a massive queue that after ten minutes hadn't budged! Since we were short on time, we had no chance of getting a burger before we had to leave.
So we headed to the pizza stall. This was popular the night before but was now quite. The price of the pizza though, for us it was far too expensive. Luckily here they also did soup. I had a vegetable soup which hit the spot. It was cheap, filling and tasty, just what I needed.
After the lovely, warm and comforting soup me and Dave headed to the shuttle stop. Here we waited. And waited. Then we waited some more. I was starting to get a little anxious when a shuttle finally arrived. We had waited at least fifteen minutes, doesn't sound like much, but we'd only ever waited a couple of minutes before this time.
I also thought that it wouldn't take too long to get back, the same amount of time as getting here, surely? How wrong was I?
On the way back, just before Yosemite Village, the bus takes a detour. It heads out to the Majestic Yosemite Hotel, this added on quite a bit of time. Now I was really starting to worry about getting back in time! We were so close when we headed to the Majestic, but now so far away.
Panic Over
Luckily we made it to bus stop number 7 and we could see the Extranomical Bus. We literally jumped off the shuttle and ran to the bus. We were just in time – our new guide was there waiting for us. And just a few minutes later the group that we were joining started shuffling back on to the bus. At least we'd made it, even if it was with just minutes to spare.
Minutes later we were on the road again. Although it wasn't for very long. We stopped off after a short journey to a viewpoint of El Capitan.
Specks On A Rock
Our new guide told us that he'd stopped here especially as it was rumoured that climbers were tackling El Capitan today. So we all lined up and stared at the rock, looking for any sign of movement. Our guide had brought binoculars and handed them out.
It wasn't long till someone shouted out that they could see the climbers. The binoculars got passed around so that everyone had the chance to see them – our guide made sure of that.
The climbers were quite high up, about two thirds. It was impressive. Even with the binoculars, they were just a speck of colour and movement against the rock face. Looking at the monolith it looks so smooth, how anyone climbs it is beyond me!
Water Levels
Our next stop wasn't too far either, Pohono Bridge. Across a lake El Capitan, Sentinel Rock, Cathedral Rocks and Bridalveil Falls could be seen. Personally, I thought this was better than Tunnel View, it was quiet and the lake in the foreground added to the view. The only negative was that Half Dome Couldn't be seen. But I guess you can't have everything.
Here there was also an interesting sign. The sign simply said "Flood Water Level 11.00pm 1/2/1997, with a line underneath. This shows the maximum height of the Merced Flood in 1997. At its peak on the 2nd January, the water level at Pohono Bridge reached 23.45 feet.
This flood is arguably the National Park's worst natural disaster in history. The flood stranded 2,100 visitors in the park, although luckily there were no human fatalities. However, the park itself didn't do so well, with many trails and bridges being damaged and about half the accommodations destroyed. It was quite the eyeopener to stand under the sign and realise I couldn't reach the flood water level even if I jumped. I mean, wow, that is a lot of water!
Back To San Francisco
The rest of the journey back to San Francisco was uneventful. We had another stop at the supermarket along the way and as me and Dave had booked into the Green Tortoise we grabbed some food to cook later.
Going over one of the bridges into the city we were treated to a beautiful sunset, but other than that there is nothing to tell. Me and Dave were some of the last ones off the bus, so we had a bit of a tour of the city.
Being dropped off right outside the hostel door, we were glad. The last two days had been long ones, so we were bone weary and ready to settle in for the night. So we thanked our guide and headed up into the hostel.