Looking for somewhere to stay in San Francisco? Why not check out the Green Tortoise Hostel? Green Tortoise has a hostel in Seattle as well as San Francisco, the San Francisco hostel was opened in 1974 and has been "Connecting Worldwide Travellers and Adventurers" since then. The company also runs adventure travel tours, which include trips to Alaska, Mexico, Yosemite National Park as well as cross country adventures!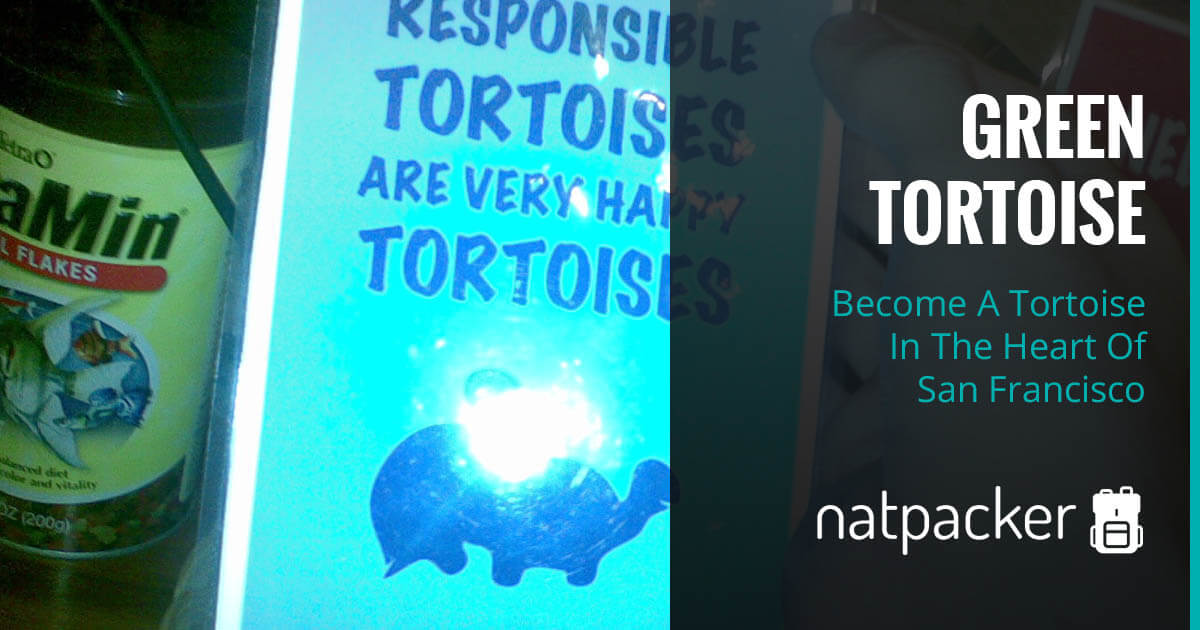 Green Tortoise Hostel San Francisco
The Green Tortoise Hostel is a well equipped hostel, with plenty of freebies, making it a good choice for any traveller (especially those on a budget). Located right on the edge of both Little Italy and Chinatown, there's plenty of places around to eat. Plus, it's close to Fisherman's Wharf, where there's loads to do, for example visit Alcatraz. The Hostel claims to be the No. 1 Party Hostel in San Francisco, so obviously has a fun vibe and plenty of events planned like Pub Crawls and Beer Olympics.
The Hostel has a 24 hour reception to take phone calls or to give help and advice. Although the doors are locked after 7.30pm, there is no curfew, all you have to do is ring the bell (if checking in) or show your key as proof that you are staying there.
Here's a little more information about the Green Tortoise San Francisco Hostel:
Rooms At The Green Tortoise, San Francisco
Whether it's a dorm or private you're after, there's rooms to suit everyone's needs. Cheap and cheerful dorms (well, as cheap as San Francisco gets) or there are also private rooms. Bedding is provided in all rooms, however there are no ensuites.
Bedrooms
Dorm Rooms
Four to Eight people dorms (two to four bunk beds);

Co-ed or Female;

Some co-ed rooms have double beds available.
Lockers underneath each bunk
Private Rooms
Three types available:
Standard Private (Double Bed);
Twin Bed;
Triple Bed (bunk beds – double on bottom, single on top).
The Bathroom Situation
Bathrooms make a big difference in a hostel. In the Green Tortoise there are no en suites, but there are ten bathrooms throughout the hostel. Each bathroom is single occupancy with a toilet, shower and sink in each. The bathrooms are all different sizes (it's like they squeezed them in where they could), but they all have the same facilities. In busy periods i.e. in the morning, you may have to wait or go on a magical mystery tour of the hostel to find a bathroom, but generally you will find one free.
Communal Areas
A hostel's only as good as it's communal areas! The Green Tortoise Hostel has great social areas and lots of facilities that make it a great hostel. Here are some of it's features:
Laundry Area
Self explanatory really…
Internet Lounge
Use Free of Charge;
Printing available;
Headsets available to hire.
Kitchen
Fully equipped;
Large;
Guest fridges, pens, labels and markers to label your food;
Open 24/7.
Dining Room/Ballroom
Open 24/7;
Large;
Free pool table;
Stage complete with instruments.
Meals
The Green Tortoise, like many hostels, provides free breakfast, but this hostel also goes one further… It provides dinner three times a week!
Breakfast
Everyday;
Served 7.30am till 10am.
Dinner
Served Monday, Wednesday and Friday;
At 7pm;
Hostel asks for volunteers to help prep – you could even help out;
Volunteers meet at 5pm.
Other Services
There are plenty of freebies, including the meals, provided at the Green Tortoise in San Francisco. There are also items to buy or rent and they can also act as a mini travel agent and are able to book a few bits for you.
Freebies:
Breakfast;
Dinner (three times a week);
Tea and Coffee;
Fully equipped kitchen;
Ballroom;
Pool table;
Wifi (everywhere);
Computer lounge;
Massage chair;
Dry Sauna;
Laundry room;
Incoming calls.
Available to rent:
Alarm clocks;
Power adaptors;
Hairdryers;
Skype headphones.
Available to buy:
Laundry soap;
Earplugs;
Locker rental;
Padlocks.
Bookings for:
Green Tortoise Adventure Tours (obviously – they'd be silly not to…);
City and Wine Tours;
Airport shuttle.
The Green Tortoise in San Francisco is a well located hostel with loads to do in and around the hostel. With plenty of freebies, including meals, this hostel makes a great base to explore San Francisco and maybe book your next adventure with Green Tortoise Adventure Travel. There's plenty of events you can join in to make new friends. Although the hostel does have a 'younger vibe' don't be put off if that's not your thing. There's a friendly, fun atmosphere and private rooms are available if you want a bit of privacy and peace.
Stayed at the Green Tortoise Hostel in San Francisco? What did you think?