Considering how close to Manchester I have lived practically my entire life, it's shocking that I have never really explored the city. Sure, I've been there, done a few of the main attractions such as the MOSI. But mainly my experiences have been constrained to shopping trips, the occasional teenage night out and the Manchester Christmas Markets. So I challenged myself to REALLY explore Manchester. Get to know this local city. Discover Manchester's hidden gems, beyond the shops and main tourist spots. And you know what? I think I succeeded.
For me, it's a short train journey to Manchester. But if you are looking to spend a few days and don't want a hotel check out these serviced apartments Manchester.
Disclaimer: This is a collaborative post, in which I was gifted spending money to explore Manchester. The spending money was gifted by Hotels.com, but all views are my own.
Want to know what I discovered on my trip? Here are my favourite hidden gems in Manchester that I found:
Tourist Attractions
Manchester has its fair share of tourist attractions. There's the Football Museum, the Cathedral and the MOSI to name just a few. Here are what I thought were hidden gems:
Invisible Cities
Invisible Cities is a social enterprise. They train those that have been homeless to give tours throughout cities. Any profits made are reinvested into the community (mainly to help the homeless).
I took Danny's Off The Cobbles Tour (at the time of writing there were two tours to choose from). Danny is an adopted Manchunian who spent four and a half years on the streets. Now he does these tours and helps at the Booths Centre. He writes poems about his experiences and these were weaved into his tour.
It definitely gives a different perspective of the city, as you see it through the eyes of someone who has been homeless. You see what they see. Danny took us to various spots, told us the facts, but also what it meant for him when he was homeless. It was certainly an eye-opener of a tour; sometimes heartwarming and sometimes heartbreaking.
He took us to some big attractions, such as the cathedral, but also some really hidden gems, such as:
St. Mary's Church
This church is known as Manchester's Hidden Gem. As in THE Hidden Gem. And it certainly lives up to its reputation. Danny told us that he's had local people on his tour who didn't know that this place existed. Even though the hidden gem is signposted, it is easily missed.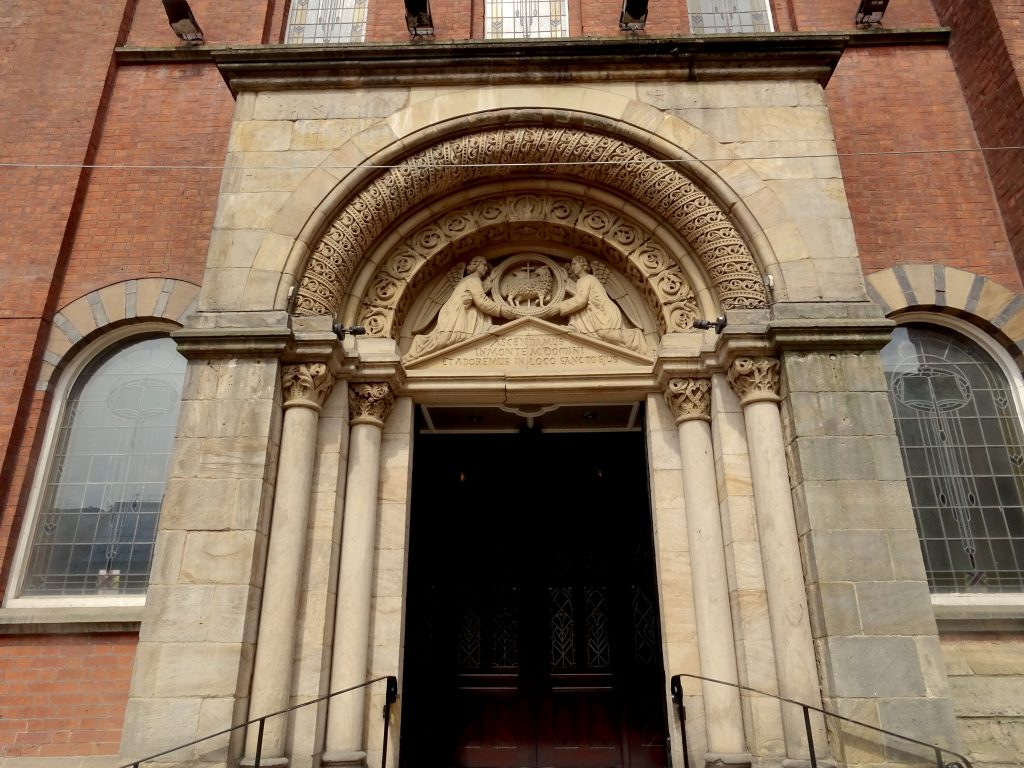 You can find it on Lincoln's Square and luckily the tall buildings that had been built up around it have recently (at time of writing) been knocked down. From the outside, it doesn't look like much, and with Danny that was all I got to see as Mass was on. On his recommendation though, I made sure I came back.
And I'm so glad I did. Inside is just, well, breathtaking. Marble and Caen stone, life-sized figures, Victorian carvings and paintings of the Station of the Cross. It is simply stunning. Not something I expected to find in a small church hidden in a city.
Tunnels
Danny took us through three tunnels, these are Boardman's Entry, Dalton Entry and Mulberry Passage. The first we went through was Mulberry Passage, which is near St Mary's. In these tunnels are various artworks. The artwork is inspired by John Dalton, known as the father of science, who is known for devising the atomic theory. So you will find things like chemistry apparatus in the decorative roundels, as well as more obscure nods such as umbrellas.
Homeless Jesus
Just outside of St Ann's Church is a statue on a bench. The statue is laying down and for all intents and purposes looks like a homeless man sleeping on a bench. But if you look at is feet you will see holes, the only giveaway that the statue is of Jesus.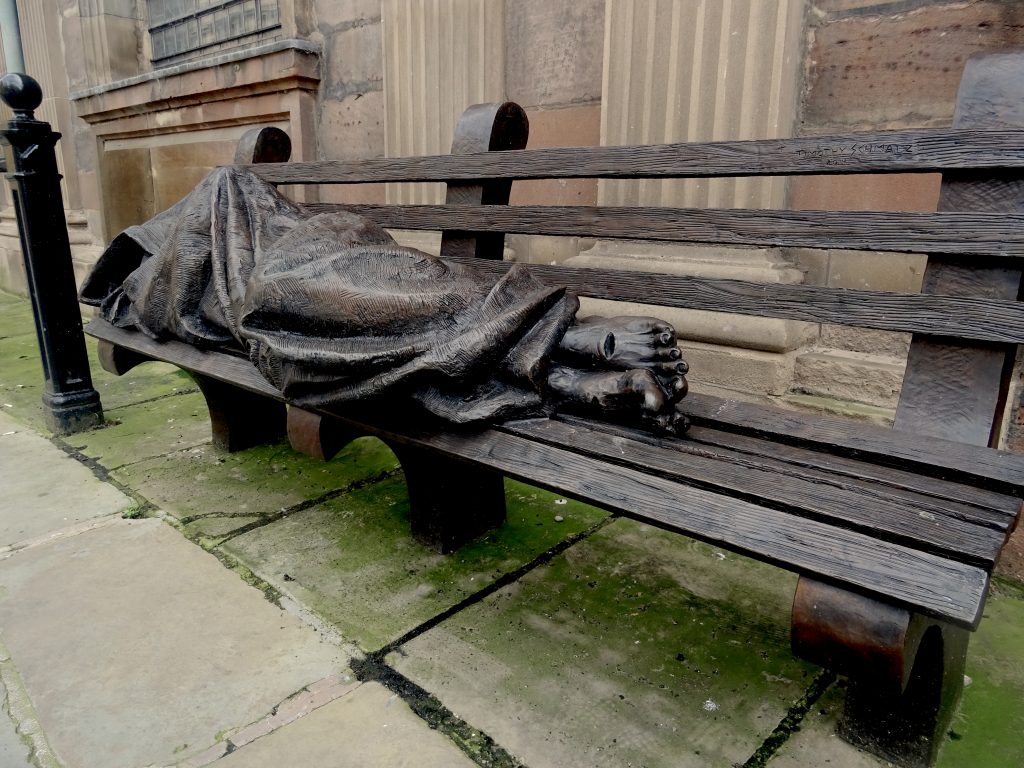 The theory is that if Jesus was alive today he would be homeless. It is inspired by the escalation of homelessness in British cities. There is room for one person to sit on the bench, literally at Jesus' feet. Alongside the sculpture can be found quotes from the parable of the sheep and goats.
This sculpture is part of a unique worldwide sculpture project, where the same piece is to be installed in a number of global cities. This one is the first to be installed in England and was donated to St Ann's church anonymously.
Street Art
Danny took us to various pieces of street art around the city, but the one that I think really must be on the list of the hidden gems is found on Ducie Street.
This massive piece of art was completed by 40 people which either were homeless or had experienced homelessness. It was done with the help of Joel Bergner, a New York graffiti artist and activist. It took four and a half days to complete and was revealed to launch the International Arts and Homelessness Summit and Festival in 2018. Titled The Doodle on Ducie Street, each picture tells a story as it was painted by a different person. One thing really stands out in this mural, and that is the number of keys painted. There are so many as a key is what every homeless person dreams of.
If you want to find out more about any of the above hidden gems, and more about the city in general, why not join Danny on his Off The Cobbles Tour.
John Rylands Library
John Rylands Library was founded by Enriqueta Rylands in memory of her husband, John. It took ten years to build and was opened to the public in 1900.
Inside the architecture is neo-gothic and just stunning. There are little details carved everywhere. The historic staircase and the reading room (which has the layout of a church) are incredible. There are also other rooms that hold some of the library's unique collection of books and exhibitions. At the time of writing it was a Peterloo Exhibition.
Considering my obsession with books, I am shocked that this is the first time that I discovered this library. Visiting this gem is a must for book lovers, history lovers, architect lovers and anyone who likes beauty.
Letter From Lincoln
Another one for the history lovers. Did you know, in 1863 President Abraham Lincoln wrote to the people of Manchester? Well, you do now! He wrote thanking the people for their anti-slavery stance. The workingmen of Manchester refused to touch (and so work with) cotton that had been picked by slaves, despite this being their trade and income. This was obviously costly to the workers, who, refusing to work, faced starvation.
Unfortunately, the location of the original letter is not known (or at least the people that I asked did not know). But luckily a copy has survived and you can find it in Manchester's Central Library.
Emmeline Pankhurst
Like any city, Manchester has its fair share of statues. But for me, there are three that really stand out. Firstly, there is the Emmeline Pankhurst statue "Rise Up Women". This is the second statue of a woman to be placed in Manchester, the first being Queen Victoria.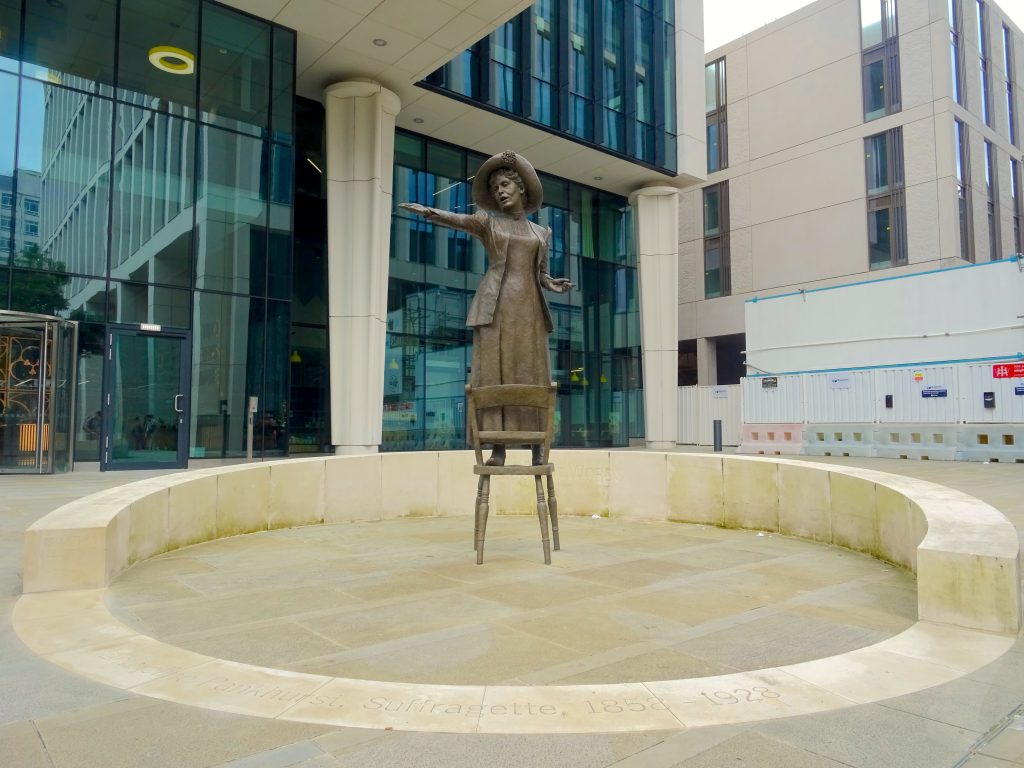 Found in St Peters Square, the statue shows the Suffragette standing on a chair as if rallying a crowd. She was unveiled in 2018 after winning a vote for who the statue should be.
Emmeline Pankhurst was born in Moss-Side, and so seems an obvious choice for a statue, being one of the most important figures in history. Behind the statue is carved a Suffragette slogan "Deeds Not Words". It's great to see important women immortalised.
Alan Turing
Although Alan Turing was not born in Manchester, he lived in Manchester towards the end of his life. He is the famous code-breaker who figured out the enigma code in World War II and the father of modern computers.
In 2001 a statue was erected in Sackville Park. Weirdly, for a statue, he is actually portrayed with his supposed suicide weapon – an apple. It is believed that he laced an apple with cyanide to end his life after being convicted for "gross indecency", after sleeping with another man. In 1952, homosexuality was illegal and it was in Manchester where this happened. He has now been pardoned for this (a bit late if we're going to be honest).
His memorial is worth seeing, as he is an important figure in modern history. I also like how the Pride Flag has been added in front of the statue.
Vimto Statue
A bit of a more lighthearted hidden gem for my last statue, the Vimto Statue. Personally, I did not know that Vimto was invented in Manchester, in 1908. Found in the originally named Vimto Park, this is the original site of the Vimto factory.
The oversized wooden monument was unveiled in 1992. It shows a bottle of the drink, plus fruits and herbs that go into making the drink. The monument is carved out of sustainable wood and is just a fun hidden gem in the city.
Food And Drink
It's not all about the tourist attractions when it comes to hidden gems. Here are some of my picks for eating and drinking.
V Revs
Hidden away in the Northern Quarter you will find V Revs, which is an awesome vegan diner. It's a small place, so you do have to book, but you'll be glad you did.
On offer are vegan burgers, hotdogs and mac 'n' cheese. And there's lots of variety. Everything is plant-based and filling. Here I also had my first vegan dessert that was delicious. I never would've guessed that the chocolate brownie was vegan.
The Wash House
Ok, so I'm breaking the first rule of the Wash House here, by talking about the Wash House. I won't tell you where it is, at that is part of the fun of the Wash House.
It is truly a secret bar, the front looks like a laundrette. To get in you have to book a time slot online. When you arrive in the laundrette, you have to pick up the phone and ring in to confirm your booking. Next, you are taken through a hidden door. The laundrette is literally "a front".
Inside is a cocktail bar. A lot of thought has been put into the cocktails, so they are definitely something special. In the menu are themes, such as famous people and industries. All the cocktails are named after something in these themes linked to Manchester. For instance, you can have an Emmeline Pankhurst, an Over The Top or a Danny Boyle. There are over forty cocktails to choose from.
And don't expect to just get a glass with your cocktail in. It seems like every cocktail (I say seems like as I couldn't try them all, so am only presuming) comes with instructions and a history lesson. My personal favourite of what I saw was my friends drink, she had an Emmeline Pankhurst. Based on the Suffragette, the drink had to be "strong yet feminine". The colours are Suffragette colours and it is so pretty, I won't give you the full details, but it had a perfume bottle full of green absinthe to accompany the drink.
Corbières Wine Bar
On Half Moon Street, you will find a passageway leading down some stairs, these lead you to an underground wine bar, Corbières. It's a really cool wine cavern if you can find it! The bar has been going for more than forty years and is a great little place.
Inside they also have "The Best Juke Box in the UK". The jukebox is famously retro, with mainly older music available to play. It is certainly an atmospheric place. You can also get food, such as paninis here until 5 pm.
An independent subterranean pub, with a great atmosphere and retro music. Definitely, a hidden gem to seek out.
The Peveril Of The Peak
Found a little out of the city centre towards Deansgate is Manchester's City Centre's only 'detatched' pub. You can literally walk all the way around this pub that sits on an 'island' between Chepstow and Bridge Water Street.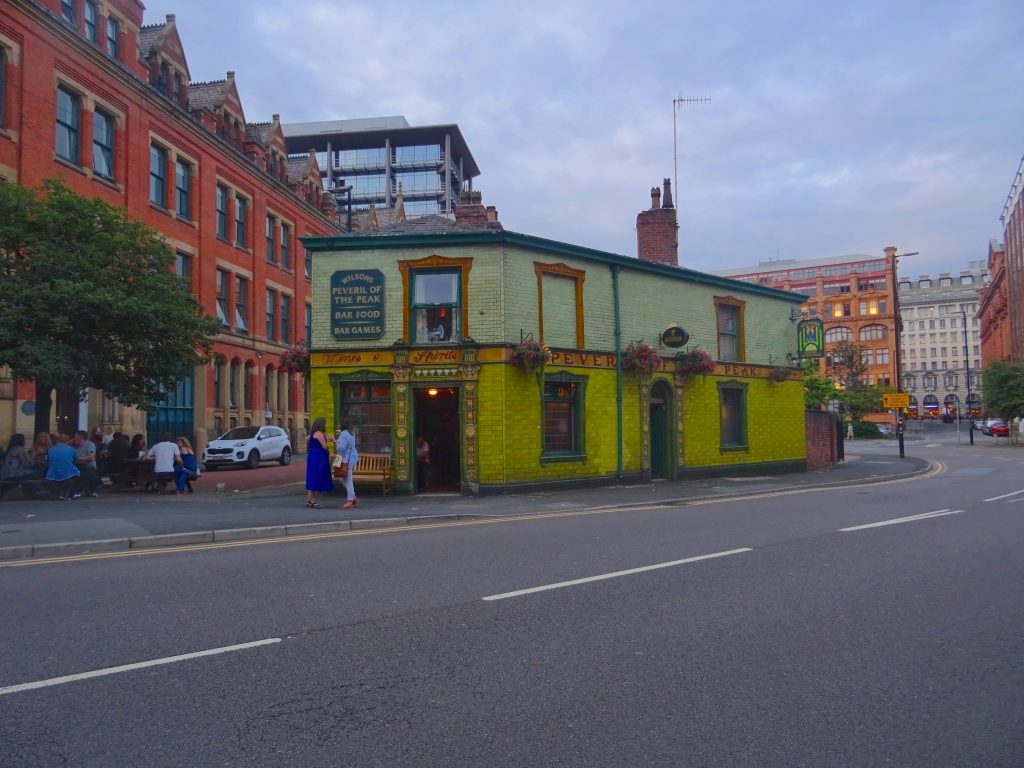 The Peveril Of The Peak is not named after the nearby Peak District castle, but actually after a stagecoach. It is a Victorian Irish pub and so dates back to the 19th century. Not only is it a good pub to hang out in (and get drinks cheaper than the centre of the city), but the building itself is also of interest.
Cladded out in green tile the pub is hard to miss. These tiles have caused it to be the subject for many urban artists. Inside you will find original benches, stained glass windows and bells; it is definitely a throwback to a time long ago.
The Britons Protection
Another old Victorian pub that dates to the 19th century, The Britons Protection is actually the oldest pub in Manchester. It's not far from the Peveril, being on Bridge Water Street, and is bigger than it looks from the outside. One for whisky lovers, the pub stocks more than 300 whiskies. They also serve food, in the form of good ol' fashioned homemade pub grub, but literally at lunchtime only.
It's not just the fact that it's the oldest pub or the fact that it's a true local pub that makes this a hidden gem, but also the murals in the corridor. Here you will find paintings of the Peterloo Massacre, The Britons Protection is the only place in Manchester to commemorate this slaughter. As this historic event took place right outside the pub's door, it's fitting that the murals are here. If you go to wet your whistle in this old pub, be sure to take a look at the artwork.
And that's it for my list of Manchester's hidden gems. Have you been to any of these? If there are any more you think should be included, please share them in the comments!
Also, if you're staying in Manchester for a while and fancy a hidden gem out of the city, take a look at Jodrell Bank.