Where's the best place to Honeymoon? There's no answer to that! It has to be a decision made by the happy couple. We had many ideas, since we were both taking three weeks off. India? Venice? What did we choose in the end? Scotland. We love Scotland, and since we were up there for our Wedding, why not? It also meant we'd be able to make it to another Wedding. So we hired a Wicked campervan (we'd seen them in Australia and New Zealand before and always wanted a go) and went with no real plan other than see as much as we can!
And just to warn you, this is a long one! It didn't feel right to split it into separate blogs!
The Search For The Dolls
The day after the Wedding we hitched a lift to Edinburgh with my parents. Since we didn't know what time we'd get there, we'd arranged to pick the van up the day after so we had a little time in Edinburgh. We arrived in early afternoon, so we went and checked into the hostel (Castle Rock) and put our bags down.
One of the things we missed on our last trip here was seeing some dolls that were found in a cave on Arthur's Seat. We heard about these on the 'Darkside' Tour run by Sandemans. No one knows why these dolls were there, there are a few theories, like being part of 'spell work' but the theory that caught my attention was the theory that they were made and buried as a mock burial by Burke and Hare (of West Port Murders Fame). Seventeen victims and seventeen coffins, it's a nice fit, so I wanted to see these dolls. We were told that they were on display in the Museum of Edinburgh, but when we tried to go there on our last visit, it was shut. So we headed straight there.
The Museum of Edinburgh is a good little museum, it focuses on Edinburgh history. There was a good deal of information on Greyfriars Bobby and lots of interesting items. After exploring the museum we went into the courtyard (which we knew wouldn't contain any dolls, but since we'd wandered through the rest of the museum, seemed like the thing to do). The courtyard is small and scattered with artifacts, but I really liked this part!
By now we'd come to the conclusion that the dolls were not here, or they were just very well hidden, so we went to ask at the front desk. The very helpful lady informed us that they are kept in the National Museum of Scotland, she then gave us a map and showed us the quickest way there.
We hurried to the National Museum of Scotland, as time was getting on and I was determined to see these dolls. We've been around this museum a few times before, but have still not explored it all. This place is a labyrinth, so we went straight to the front desk to ask for directions as we didn't want to miss them. It turns out they are amazingly easy to get to… Just go up to the first floor, go through the pink tunnel, take the lift to the fifth floor then go down the stairs to the fourth floor and they're on that section. Yeah, simple.
So we finally got to the floor and area where they are kept. We began to meander around, there was basically one corridor to follow around, this led us to an area all about death, where I blindly walked past the dolls I so desperately wanted to see! After hearing a shout of "They're here" I turned around and walked back to where Dave was standing.
I must say, after the massive adventure of finding the dolls, I was a little disappointed with the display, only eight dolls were on show (but after some research I have discovered the other nine are destroyed, or not in good condition), which the display didn't explain. There was only a small sign about them, pretty much saying what I already knew and the light was very dim (probably for dramatic effect) which made them quite difficult to see properly. A bit of an anticlimax really, I'm glad both the museums were free (well, donation)!
The museum was shutting down for the night, so we tried (and failed) to retrace our steps (we got in the wrong lift) but we did find our way out. Although I do wonder how many people need help to the exit at closing? Do they open a path through the museum that leads directly to an exit?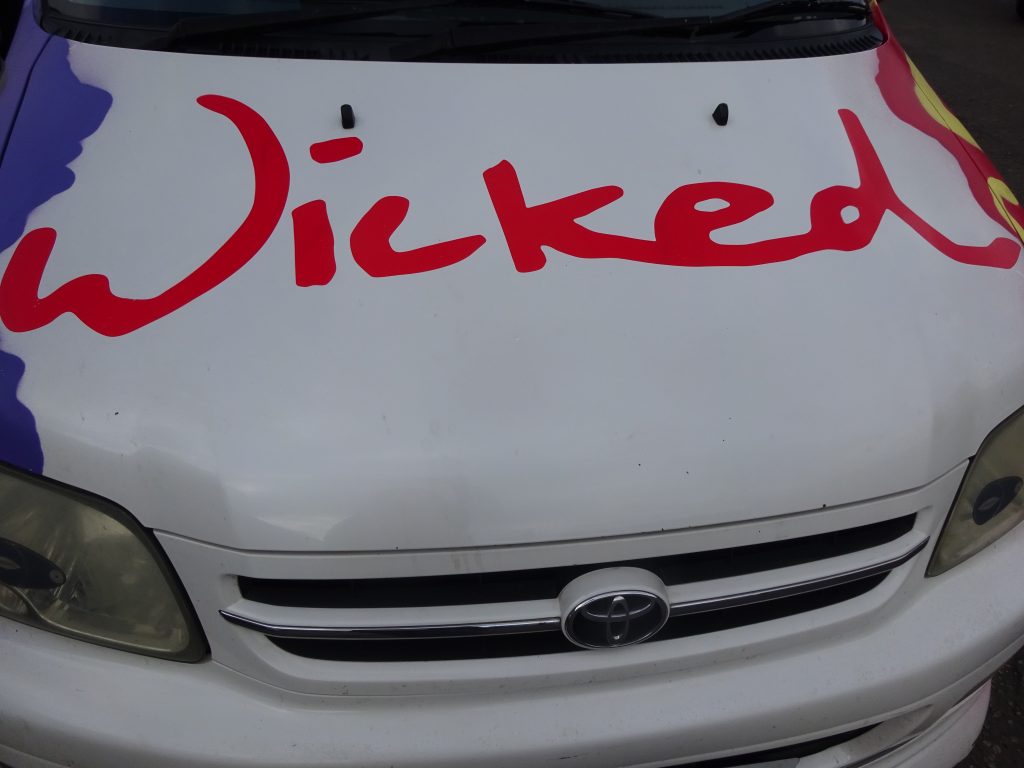 Mead And A Map
By this time, we were both starting to get a little tired, we'd had a long day the day before and an early(ish) morning. So we decided to get some food. We went to the 'Royal Mile' as the hostel that we were staying in entitled us to a discount at this pub. I had fish and chips, which was just your general 'pub grub' really, wasn't in the mood for much more! If you're after 'pub grub' it's quite a good pub really, especially if you get the discount!
Whilst we were eating we realised that we needed two vital items for this roadtrip – Mead and a roadmap. Mead as I have heard that the term 'honeymoon' comes from back in the day couples would drink only mead for a month (or a moon's turn) after their marriage (although I think I read this on a bottle of mead, so it may have just been a sales tactic, but it worked). Our plan obviously couldn't be to drink only mead, what with the drink driving laws, so our plan was to just have a swig every night. A road map was needed as we couldn't remember if the Wicked would come with one, so better to be safe than sorry!
So we headed down to the New Town to see if we could find a cheap road map, which we did, and we managed to get some mead down there too. Success! Then we headed back to the hostel to have a bit of a planning session then bed.
The Van And The Road
Waking up a little later than planned meant that we missed breakfast in the hostel, at least it wasn't free… So we checked out and headed down to the George Street in the New Town, which was where we needed to get the bus from to take us to the Wicked pick up site.
Trying to get the first bus was a complete failure. Trying to get on we realised that we had no change – with contactless being so popular at the moment, why do buses not have this feature? So it was a hunt for breakfast to get change. Here we had another failure. We always try to support local businesses, but we couldn't find any 'little guys' that weren't eat-in places and didn't want to venture too far from the bus stop, so we made do with a Greggs. To be fair, a cheap bacon buttie and a coffee, Greggs is good for it. So armed with change we headed back to the bus stop and this time were met with success!
Once off the bus we followed the directions on the Wicked website and still managed to go down the wrong road! But luckily the road still headed in the right direction so we were able to figure out how to get there.
Upon checking in to Wicked there was some paperwork to fill out before being introduced to the van. And there it was, covered in memorials and slogans, just what we wanted. We had a tour of the features, like how to change the table to a bed, were given instructions on how to use an automatic and the handbrake which was activated by your foot. All very confusing for me! And then we were off! And then we realised there was no bedding… We needed supplies anyway, so a quick stop was required before hitting the road properly.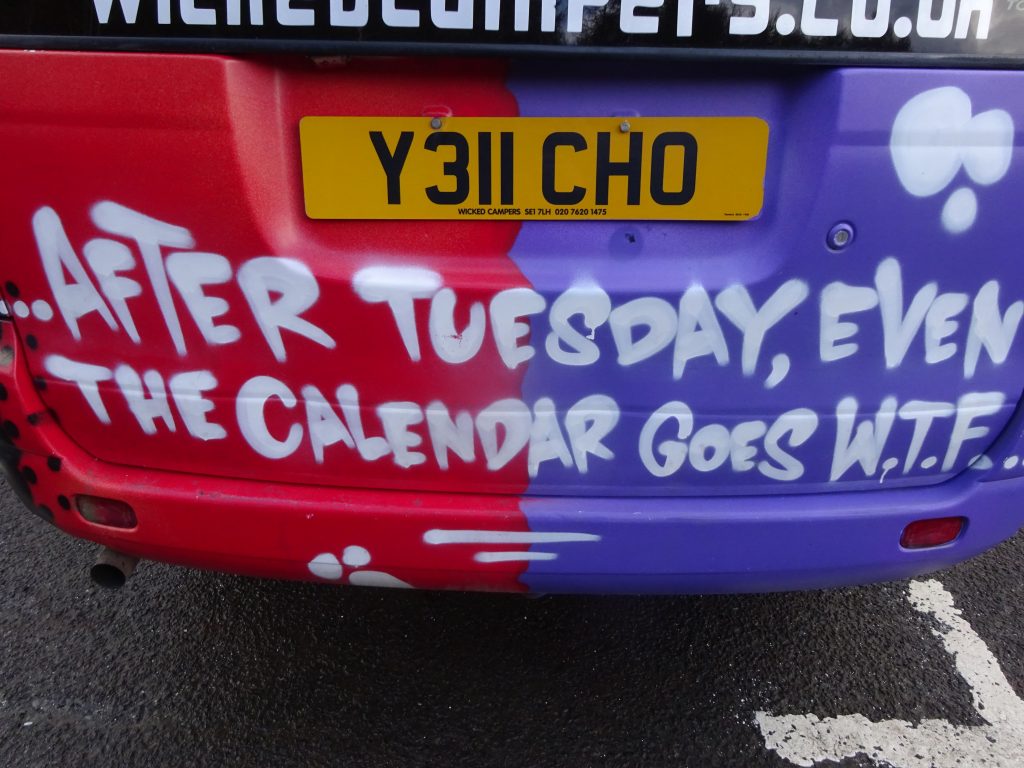 Backtracking
The decision had been made that we needed to head back up to Pitlochry, as although we had been up there a few times wedding planning, we'd not actually seen anything up there! And as we didn't have the entire day it seemed a logical choice as it wasn't too far.
The guys at the Highland Fling Bungee had told us about a viewpoint not far from them, called Queen's View, so it was decided that this was a must see. So up the windy road we went! The road took us into Tay Forest National Park, in which the viewpoints and carparks are well signposted.
From the carpark it was just a short walk up to the viewpoint itself. From this spot you have a great view of the Glencoe mountains and Loch Tummel. Queen's View is so called, not because of Queen Victoria, who made it famous, but more likely it is named after Queen Isabella, the wife of Robert the Bruce. There are some nice little touches around too, like a caterpillar carving on the railings and messages like 'Reserved for Royalty' on the benches.
Leaving Queen's View, we noticed a sign for another viewpoint not too far away, so we headed there. However, upon arriving at Allean Forest, we discovered that it was a bit of a longer walk, one was an hour, one an hour and a half, which we didn't have time for. So we had a quick look around and headed back down to the Killiecrankie. I was determined to finally see the 'Soldiers Leap'. Soldiers Leap is a spot where Donald McBane, fleeing the battle of Killiecrankie and Jacobite pursuers, made a leap across the river Garry, clearing 5.5m (16 feet).
The actual National Trust centre was shut, so we made do with looking at a few window displays. And due to floods, a few of the paths were closed. So we had a wander round those that were open. Luckily the path to Soldiers Leap was clear, so we were able to get there. The pass of Killiecrankie was very quiet and peaceful – though it could be because of the time of year and time of day, but whatever the reason, it was an enjoyable walk.
We finally reached Soldiers Leap, which looked like a very dangerous jump to make! Queen Victoria declared it 'impossible', and I have to say, it does look like a very difficult jump to make, but I'd reckon the adrenaline McBane had pumping through his body helped him to clear the jump!
By now dusk was starting to set in, so we decided it was time to find a place for the night. We'd seen a campsite up the road, so thought we'd give it a try. Unfortunately we were too early in the season and it was closed (this is a recurring theme on this trip). We knew of one other campsite in the area, so we decided to try that. This was Blair Castle Caravan Park, which is practically opposite Atholl Arms Hotel (where we had our Ceilidh), so talk about backtracking!
This site was open and we just caught the receptionist. So we had a park for the night! So we cooked our burgers, watched the sunset (well kind of, it was completely overcast so there wasn't much sun) and even saw a murder of crows (should I just say group? I like actual terms) I guess they were 'flocking', if they were starlings it would be a murmuration, but they were crows and not quite as amazing as a starling murmuration, but mesmerising nonetheless. A great end to our first day in the van.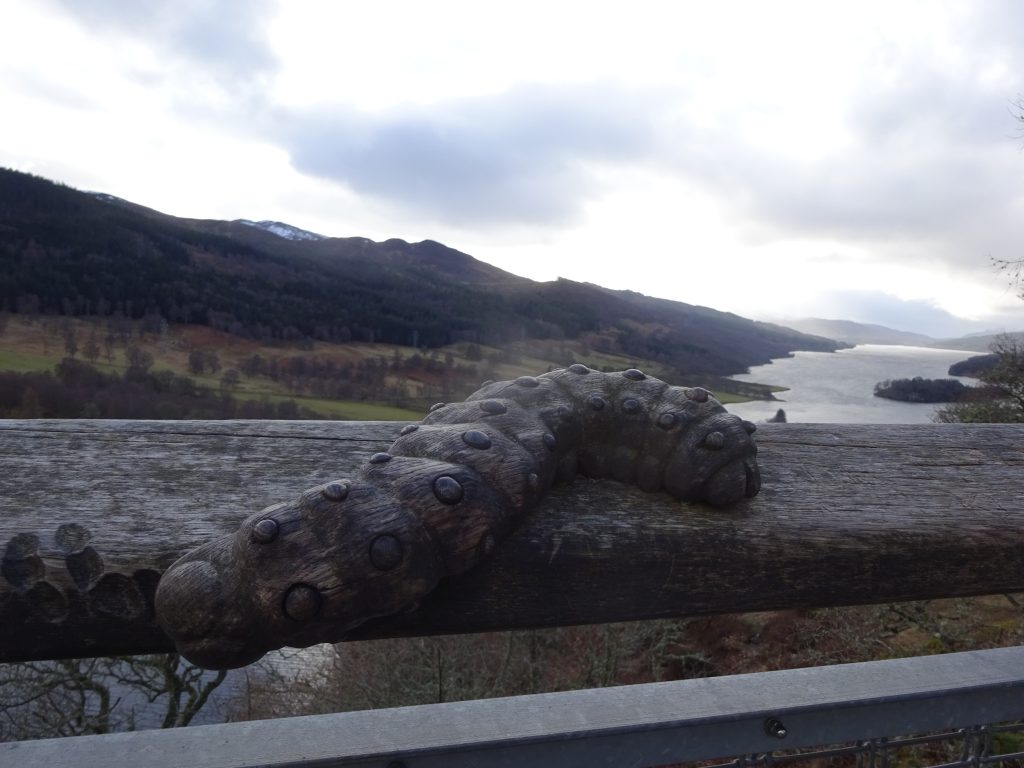 SNOW!!!!!!
Guess what we woke up to in the morning? A covering of snow. And since we don't get much snow back home, we got a little over excited (and then worried about driving). We breakfasted on bacon butties and decided our plan was to end up in Aberdeen tonight, going via Stonehaven which had Dunnottar Castle nearby, stopping at anywhere that looked interesting. We packed up, brushed the snow off the van and headed off.
Low Season – A Joy And A Curse
After being on the road for a couple of hours we hit Arbroath. As we got to the town, we could see a big old looking building, so we decided it was time for a pitstop.
The big old building turned out to be Arbroath Abbey. It was a lovely looking Abbey, the building was a lovely red colour. However, low season meant we could not go in for a proper look around. As although the Abbey is open all year we happened to arrive at the time of the lunch break in the visitor centre. With not a lot of daylight at this time of year, we decided not to wait for an hour for it to open again. But we fully saw the outside!
We needed to grab a few things and wanted to stretch our legs a little more, so went for a walk into the town itself. It was quite a strange town as the first stretch of the main street was completely dead and the second half quite busy. Really confused me!
Back on the road we realised we were actually on a Tourist Coastal Route. However, there was not much coast to be seen!
The next stop was Dunnottar Castle. Dunnottar Castle makes a very dramatic first impression. The castle ruin is set on a three sided sheer cliff that juts out to sea. It is a short walk from the carpark to the castle itself , with only one entrance it seemed like a very defensible castle – be great for a zombie apocalypse! On the walk there was a field to the right and we saw some very clever seagulls following a tractor, took me a few minutes to figure out what they were doing and why they were following the tractor!
Anyway, back to the castle. So you go through the castle entrance and follow it round to the booth where you pay for entrance. So we paid our dues and went up into the main part of the castle. With it being low season, there were only a few other small groups looking around the castle, so it was nice and quiet.
We went left from the booth, up some stairs, which took us to a view of a war memorial in the distance, which is apparently on the summit of 'Black Hill' and if you walk from Stonehaven to the Castle you walk past it. There was also an area called 'Lion's Den' which allegedly was the home of an Earl's pet lion. Up some more steps and into a building was an information point, with several displays which had lights on sensor, so you have to get close to read the information. There was also a bird's eye view model of the castle, which I always find interesting.
We fully explored the castle, going into every room, looking out from every window. The drawing room had been refurbished, can't remember what century to though… But it was quite interesting. There was also a room with a sundial and sigil on the wall. Some great views of the cliffs to be seen too! The castle has a very bloody history, with stories like the imprisonment of a group of Covenanters in 1685. But there are also some happier stories like the Scottish Crown Jewels being protected here by a small garrison for eight months against destruction by Cromwell's Army. I fully enjoyed nosing around Dunnottar Castle and learning of its history.
Whilst walking from the castle back to the van we noticed a gate to our left that you could go through. There was a path which took us over a couple bridges and back along the cliff, so that we were opposite the castle. This gave a great view of the castle. It was only a short walk but on the way back the heavens opened and in typical Scottish weather style we were pelted with rain, sleet, snow and hail all at once, not to mention the wind! So we arrived back at the van a little worse for wear!
Since we were so cold and wet, we decided not to drive too far but to nip into Stonehaven for a hot drink and a wam. I'd checked the guidebook earlier and there was apparently a cafe called 'Maggie Mays' that did amazing hot chocolate. Although we failed at finding it for a few minutes, so got even more cold and wet! It was on a corner near the main carpark, and we happened to check every corner but the correct one…
We finally managed to get into Maggie Mays and order a hot chocolate each. The woman behind the counter also realised how soaking we were and offered me a towel -I thought she was joking, but no, the hot chocolate came with a towel! A very nice, personal touch, meant I could at least partially dry my hair! Over the hot chocolate (and drying) we had a rethink of our plan. We decided Aberdeen probably wasn't the best idea with the van, as campsites tend to be a little out of the cities, so we wouldn't see much. We would do that on another trip at some point. Instead, we decided to head to the Cairngorms.
By now, the weather had improved i.e. it was just rain now, so we finished our drinks and got back on the road. We had decided to head towards Ballater and Braemer, as there were a couple of campsites that way, stopping at Balmoral Castle.
At Balmoral Castle, we hit the curse of low season – the castle was shut until April. Total fail. But nevermind! The next castle along was Braemar Castle, which was shut too. However, at Braemar they allowed you to still visit the grounds, so we went in for a bit. The castle, in my opinion, does look a little weird. It looks as though one tower was built and then extended over the years, I would like to go back when it's open and explore its history.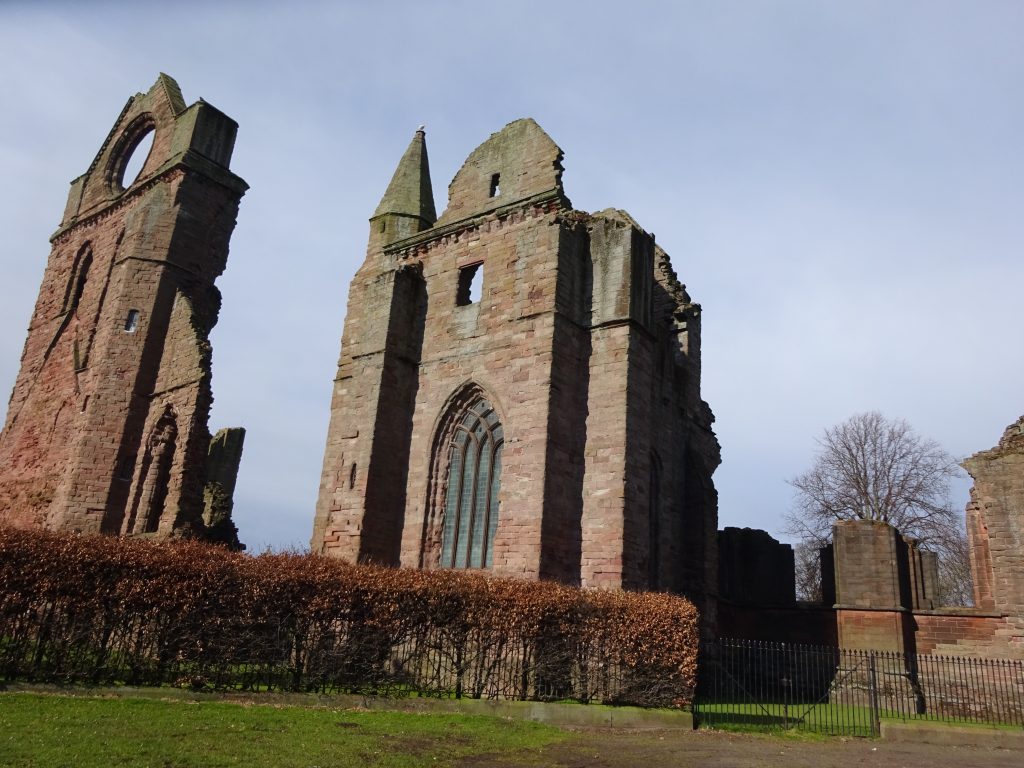 One Small Issue With Wickeds
By now, time was getting on a little, so we decided to head to a campsite. The guidebook had one listed just south of Braemar called 'Invercauld Caravan Club', that stated it was 'year round' so that was where we headed. On arriving we went to the reception to ask if there was a pitch available, the answer we got was a bit of a shock. This caravan club had a 'No Wickeds Policy'.
WHAT?! Yes, some Wicked Vans are maybe a little over the top and even offensive for some people, but this caravan club had had regulars complain about Wickeds, so during low season, with no one there, they still turned away a Wicked Van, that was actually very subtle compared to others I'd seen.
The guy one reception was very unhelpful too, as if we should have known he wouldn't let us in. We asked if there was another campsite around and he just said 'Yeah, thirty miles down that way' as he waved his hand in the direction of the road. Thanks. So we turned around on a very thin road, took a bit of maneuvering, and headed back to Ballater, thinking we would get some food before heading out thirty miles in a nondescript direction!
Arriving at Ballater, we noticed a small carpark, with no restrictions. Being English, freeparking seems so wrong! And as the Wicked isn't the most subtle of vans, it's obvious what you're doing. But it is completely legal in Scotland, so we thought we'd give it a go. There were some spaces that were slightly hidden by trees from the road and as long as we got on the road early, it'd be fine.
Now, obviously, cooking in the carpark would completely ruin the subtle angle we were going for with the free parking, so we decided to walk into Ballater and find a pub for some food. After a bit of walk around we found the Balmoral Bar. The bar was quite cheap for food and was typical pub grub. I had a venison burger and for what you pay, you get a lot of food. The pub had a 'local pub' feel to it, and everyone was friendly. We ended up chatting to some locals for a bit.
The next day dawned and we were up and off pretty early. So early and so quickly that we took the wrong turn! There's pretty much just one main road, we could go left or right and still messed up! Too early for map reading… Luckily we realised when we went past Balmoral Castle! So we hadn't gone too far by time we turned around.
So on the correct road, heading in the correct direction, we kept an eye out for picnic spots as it was time for breakfast. There were a few picnic spots signs, saying 'in x amount of yards' but we either kept missing them, or they didn't exist…
Once we took the turn towards Tomintoul, there was a sign stating that the road ahead was closed, which worried us a little. Luckily at this point a picnic spot appeared so we were able to eat and plan.
Eating bacon butties, we watched several cars go past and only one came back. Was the road really closed? If we believed the signed it was a very long way round, so much that it would drastically reduce the time we could spend in the Cairngorms, may even be worth missing the national park and heading for the coast… But we wanted to go to the Cairngorms, and as only one car had turned around, the decision was made to chance it.
Roads, Walks and Lochs
The road was open! Yay! Looked like the snow gates had been closed, but recently reopened.
I was driving at this point, and the roads turned out to be great fun! Windy and hilly! At this point I did think a manual would've been better! The views were great too (when we weren't in the clouds and fog so could see the views) everywhere was covered in snow.
We reached Tomintoul and decided to stop for a break. On the carpark where we stopped there was the 'Old Fire Station Tea Room' so we went in for a warm and a coffee. The lady in here was really nice, asking where we were heading and making sure we had plenty of leaflets about the surrounding area and the Cairngorms. It was quite a quirky tearoom too, it was cafeteria style and really took the 'old fire station' angle seriously. Firemen uniforms were hung around the place and a Fireman Sam toy was in residence.
I'd seen in the guidebook that there was an estate nearby that was worth a walk and we wanted to stretch our legs as we'd done a lot of driving the day before. Luckily just outside the tearoom was an information board so we could figure out where to go! We headed to the Tomintoul Circular Path on the Glenlivet Estate.
The walk was an easy stroll through well managed grounds. Although we didn't see any reindeer that reside here, the hills in the distance covered in snow more than made up for it! The well managed grounds becomes forest before hitting the road again, where we could either head back to the car or walk further on the circular. We decided that at this point it was time to be getting back on the road, so we walked down the main street (which I think is all of the town) back to the van.
The next stop we made was the Speyside Centre in the Cairngorms. This was basically a big shop/garden centre, but it was fu to have a nosey round. The had a Heather Centre, so there was a lot of heather for sale. But the best bit was the Wildlife area, basically a circular area with a big tree in the middle with lots of bird feeders. There are viewing areas on either side, so we stayed here for a few minutes to see if we could spot a red squirrel – no luck, but we did see quite a few types of birds, but nothing rare.
After a bit more driving, we arrived at Aviemore by the afternoon. We had decided to stay around here tonight so we could get a few walks done and have a good break from driving. So we headed to the information centre to get a bit more information on the walks I'd read about in the guidebook, maybe even get a map, see if there were any more walks and ask about camping.
The first walk we did was Loch An Eilean, which I'd read about in the guidebook and wanted to do as there was a ruined castle in the Loch. The Loch is on the Rothiemurchus Estate and was another nice, gentle walk. The Loch is quite big and we accidentally ended up on a trail rather than the main path at a couple of points!
There were some great views, Loch An Eilean is definitely a very pretty Loch, reflecting the shores in its waters. The Loch is surrounded by forest making for some beautiful scenery when you look across the water. I noticed an island in the Loch and kept taking pictures of it from different angles, as I thought it made a pretty feature. Another feature I noticed was 'fire brooms' placed around the path, we had quite a discussion trying to figure out what they're for. In the end we came to the conclusion (which I guess is actually pretty obvious) that they are for putting out fires…
We'd been walking for about an hour and seemed to be getting near to where we started and we hadn't seen the ruined castle. I was worrying that we'd somehow missed it! When we suddenly came upon the castle! Turned out we'd been admiring it the whole way round the Loch – it was the island that I'd taken so many pictures of! And if we'd turned right instead of left when we started out we would've come across it in a matter of minutes! To be honest, what's left is quite a small castle, just looks like a wall from the shore! But it is a pretty feature of the Loch nonetheless.
After getting back to the van we headed to a walk that the information centre had pointed us to Loch Morlich (turns out the Cairngorms is full of Lochs…) This Loch is in the Glenmore Forest Park and had very different scenery than Loch An Eilean. On the opposite side there were mountains covered in snow and this Loch seemed longer and thinner.
The walk around Loch Morlich was a little harder than Loch Eilean as the path was more hilly, but not exactly strenuous. I enjoyed this Loch walk more as the views really were spectacular. At one point there was a beach on the Loch so the view was beach, loch and snow covered mountains, beautiful. And the sky reflected in the water was amazing. Once we got to the beach we had actually left the path, which we couldn't find again! We didn't want to back track but luckily the beach was near a carpark so we could follow the road back, still in view of the loch shore. We then found a path on the opposite side of the road, so we followed this to get off the road.
Now we had a choice. There was a campsite near Aviemore, but we'd also been told if we carry on up the road there are a few free parking spots and as it's low season we should be fine on them. We decided that we'd try the campsite first, as facilities seemed like a good idea! So we headed to Aviemore to do a quick shop then over to the campsite.
Rothiemurchus Caravan Park was not only open, but they let Wickeds in! We literally just caught the reception before the guy locked up. The guy on reception was great, one of those people who just like to talk… The plan was I'd run in, pay and we'd get settled, but he kept me talking for so long that Dave came in the reception to see if I'd got lost. Unfortunately that meant the guy had a new person to talk to… It was quite amusing really. He was very informative though, he told us that there's a gate across the road that leads to the Hilton and the bar lets campers in.
So we parked up, cooked some pasta and bolognese sauce, which took forever! The camping stove provided wasn't great and I think the cold air didn't help as the gas was so cold. After eating we headed over to the pub, which was an adventure in itself! First, we overshot the gate, but luckily stumbled upon it after a few minutes of walking in the wrong direction. The path to the pub seemed to go on forever – we thought we'd missed the pub! Finally, we got to the 'Woodshed' and it looked closed. But luckily, it wasn't, you just had to go round the side and up some stairs. It was really trying for the 'Sky Lodge' feel. But it was warm and the drinks weren't as expensive as we'd feared, so we stayed chatting and planning for a few hours…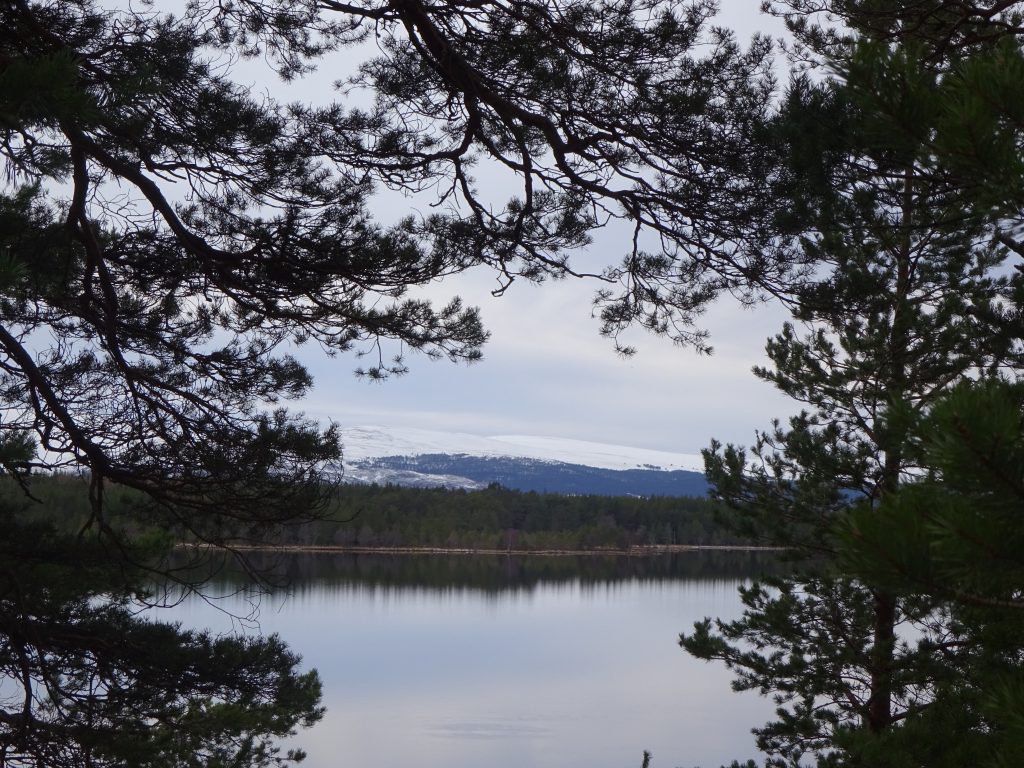 A Walk And A Whole Lotta 'Nos'
The next day we got up early as there was one more Loch walk we wanted to do. First task of the day was showering and I have to say, the Rothiemurchus campsite has AMAZING showers!
I wanted to see An Lochan Uaine (Green Loch), so we headed to the Glenmore Trails, from which we could make our way to the Loch. We decided to tackle the Ryvoan Trail, as the sign stated that it would take about two hours, so we wouldn't be hitting to road too late. We went via the 'Upper Section' (so I think we technically did the trail the wrong way round…) and to begin there was a fairly steep climb, snow and fog, so some great views of mountains in clouds.Then the descent started. This became quite difficult – steep and windy with the extra excitement of ice and snow covered ground!
Looking back I'm glad we came down the slope instead of battling our way up! After the battle down the slope it was a little further to An Lochan Uaine and as we arrived it began to snow again! An Sidhean (The Faeries Hill) was partly hidden by cloud, but was covered in snow and made a pretty sight across the green(ish) waters. The 'Lower Section' was a much easier trail and I'm glad we did this part on the way back.
Back at the carpark we decided to head into the Glenmore Cafe for a well earned breakfast. Here I discovered that a sausage and egg roll can be quite confusing, when given the choice of sausages!
The Cairngorms is definitely somewhere that I want to go back to at some point and explore further. Many more walks and activities to try.
The main plan that we had was to head up to John O'Groats, go across the north coast and come back down the west. So we started Northward again. We'd decided to go up via the Black Isle as it was a more direct route. After a little confusion on the road around Inverness we made it over to the Black Isle (which technically speaking isn't an island, it's a peninsula) and took a break at Chanonry Point to look for dolphins – the Moray Firth has a resident bottlenose dolphin population. But unfortunately the weather wasn't great, so nothing was seen and the visitor centre was shut due to it being low season.
We headed towards Cromarty, as it's basically the main settlement on the Black Isle. Here we pulled up to have a wander around. Down a side street we entered a shop that had some really cool things in – can't remember the name though – a very arty kind of shop with handmade jewelry etc.
The woman working there was really nice and told us what's around and open. Leaving there we headed towards the centre of town and came across the Hugh Miller House, which was, you guessed it, shut for the season. So we carried on up the very pretty streets and found another 'arty' shop, as I'm going to call them, We stayed in here for a while as the woman working here was also very helpful, telling us that we couldn't miss the bakery and that there's a brewery we must go to and even of a campsite that she always goes to on the north coast!
Carrying on with our walk through the town, we took everyone's advice and headed to the street with the bakery. Before the bakery there was a Dutch Cheese Shop – a bit out of place in a highland town – so we went in for a nosey. If you're a fan of Dutch Cheese, it's worth a visit! Then it was over to the bakery, I don't really know what I had, but it might as well of been a slab of sugar! The sweets were massive and really nice. So after getting a bit hyper on sugary food we headed back to the van to make our way to the brewery.
The Cromarty Brewing Company was only established in 2011, so at this point was still quite young, and small. As we parked up there was a small dog that was just a bit scared of the van, which was quite amusing! The building was basically a small shop, and obviously, being low season there were no tours. But the woman working there was happy to have a chat about the company and describe all the beers for us. So we bought a few to try and headed back to the north road.
By this time we knew we weren't making it much further tonight, so we planned to stop in Dornoch. Unfortunately all the campsites turned out to be shut – which was a shame as there's one right on the beach.
Well there was one a little out of town that seemed open, but no one would answer the phone. So we drove around trying to find some free parking, but there were no areas that were suitable or didn't state 'no overnight parking'. Dornoch must get busy in peak season for them to be so strict! With this barrier and with it getting dark, we headed on to the next village Embro.
There is nothing in Embro, but there was a campsite. We got to the reception just as the staff were leaving, but once again the campsite was shut for the season, it'll be open in a week or so. Great. Luckily the people were very helpful and told us if we drive through the campsite we end up on an area that is not theirs and has no parking restrictions.
This was a great spot, right on the shore, sea view (would've been nicer if the weather wasn't so downcast). They also told us that the campsite pub is open, but wouldn't be serving food.So after parking up and admiring the view, we had a walk around to see if there was a chippy or something to get food from.
As I said there was nothing in Embro. We now had a choice, head back to Dornoch for food or just make do. We decided that it was too much effort to drive back to Dornoch, so headed back to the van and cobbled together some sandwiches from what food we had left, then headed to the pub for a warm and a drink. The pub was basically being used for a staff meeting, but all the folk included us in their chat for a bit. Then we found a corner so that they could be left to their planning and we could get on with ours.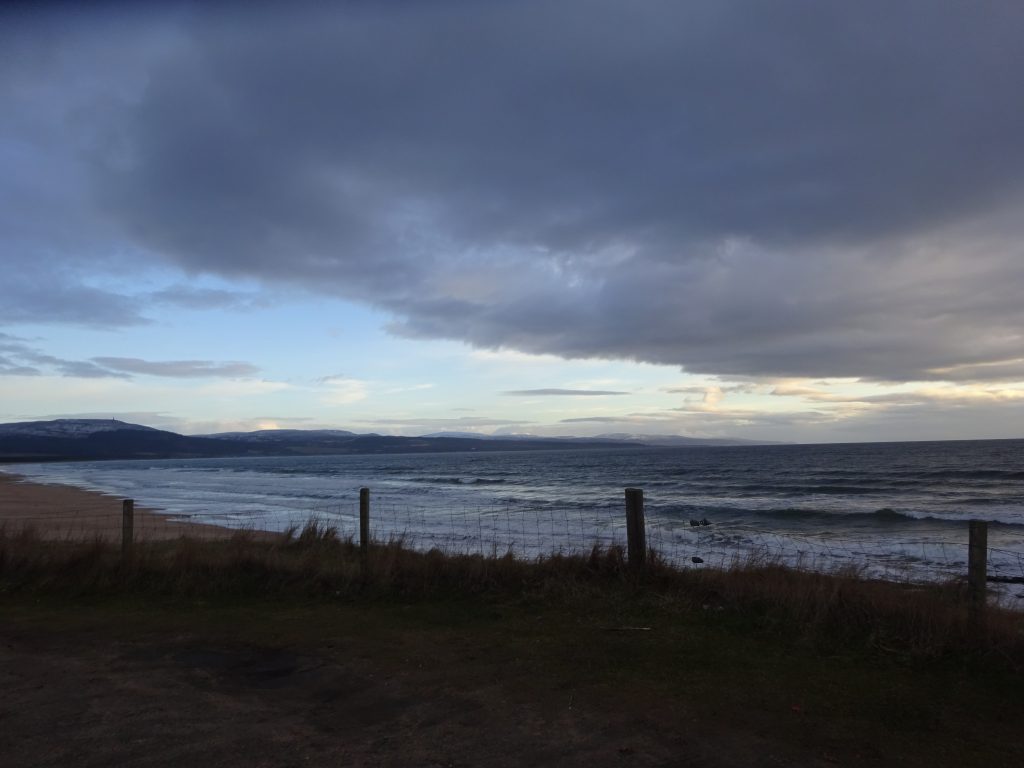 No One Rises Early in The Highlands
When free parking, it is best to move fairly early, and you generally wake up with the light anyway. So first thing, we decided to head back to Dornoch to find a coffee shop. First thing turned out to be too early for Dornoch. The cafes didn't open til 10am! So we had a walk around, read a few of the information signs on the Castle and Cathedral (the castle is now a hotel, it was actually a Bishop's residence), then we decided to move on as we had a lot of ground to cover today!
Our next pit stop was at Golspie, so that we could see the Sutherland Monument, which you can't miss from the road! The Monument is to the first Duke of Sutherland and stands on the summit of Ben a'Bhragaidh, which you can walk to the top off, but unfortunately we didn't have time so this was to be left for another adventure at some point. We happened to park up in a dolphin spotting area, but there was no luck here either and all the cafes were still closed! Too early for dolphins and coffee!
We next tried for coffee in Helmsdale, to no avail (we were now pretty much stopping at every village on the way north to try for coffee and breakfast). But we still decided to stretch our legs a little, Helmsdale was very grey but did have some interesting features, like a passing place under a bridge that would never work as a passing place. We walked up to the Emigrants statue, and there were some good views of the town from here, and the statue is worth a look at.
Up at this point there was also an information sign about the castle ruins, which were demolished in 1970 for the road bridge – big mistake there! Who demolishes castle ruins for a road bridge? That's just daft! There is also a plaque where the castle used to be, well it states the castle was built 'near here', in my mind this needs to be made a bigger deal off. Helmsdale does have some lovely views though, even without the castle ruins.
Finally! At Wick everything was open and we managed to find a cafe! We went to Murray's for a full scottish. It was quite a fun place, with an upbeat feel and a pirate ship area (which I'm pretty sure is meant for kids, but that didn't stop us sitting in it!) Wick was much busier than the other towns we'd stopped at, but after a short walk we headed to the Pulteney Distillery, which is the most northern in Scotland, only to find that it was closed, even the shop wasn't open! So we headed back to the road.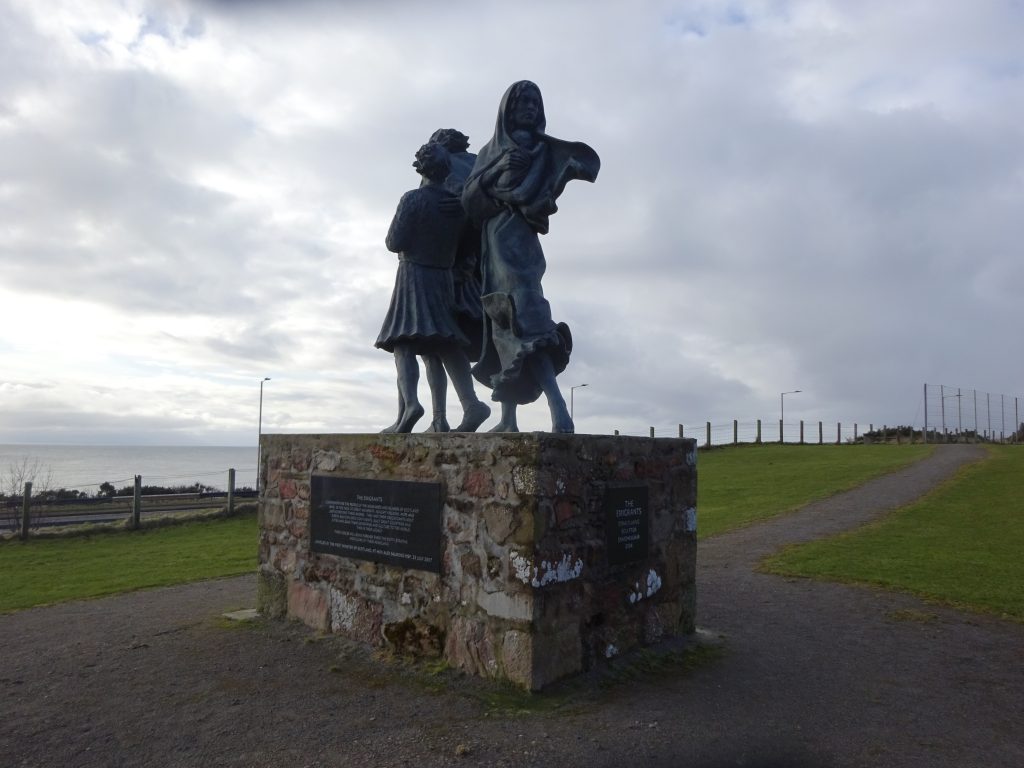 The Northern Tip
We now got to John O'Groats, which surprised me to learn is not actually the most northern point of Scotland. I was also a little disappointed by how little is there, it's just tourist information and cafes and shops with names like 'The End Of The Road' Not really much to do when you get there.
The tourist information was good though, the woman pointed us to the real most northern point, the most eastern point (which we'd already gone past) and the most north eastern point (John O'Groats). She also advised us to look at Duncansby Head, which was nearby, walking distance if we'd had time, but we drove instead. We'll get to that shortly though.
At John O'Groats, we ticked it off our list, made a mental note that the Orkney Islands are now on that list and had a look around at practically nothing. Obviously, there's the usual sign telling you how far other places are but there were also 'Nomadic Boulders', a sculpture which even after reading the sign I'm not sure what they represent, but they look pretty cool.
We then jumped in the van for a very short drive to Duncansby Head, at the carpark we saw a very small coach in the coach park… Made me giggle just a little… At Duncansby Head there is a rather unusual Lighthouse – It has a square tower rather than the usual cylindrical. I'm still not sure what I think of it, whether it is awesome or just strange, don't think I'll ever work that out! We went for a walk out to the cliffs towards some stacks off the coast, the stacks are impressive and the seabird colonies you can't miss. Though it was a little boggy, so a little difficult at this time of year, but plenty to keep me entertained for a while!
Now we headed to the real most Northern point of Scotland, Dunnet Head. The roads to get here were very fun, so I'm not surprised coach tours don't really come this way (yet). There was quite a bit of information around Dunnet Head, despite it not being as well heard of as John O'Groats. I'm speculating, but I do think someone plans to make it more of a tourist destination, as paths were being built. It's a nature reserve with an abundance of wildlife, a lighthouse and spectacular views on a good day (though when we were there it was raining, so the I can't confirm that!)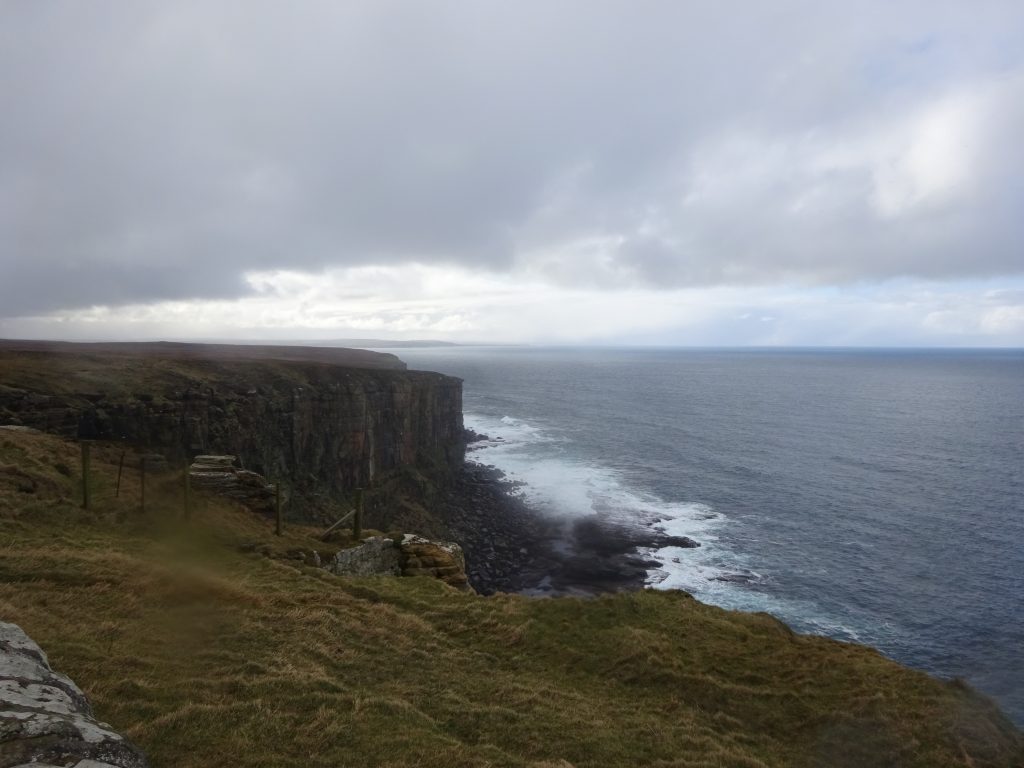 Stories From A Boatman
Our plan now was to head across the north coast to Durness (where the campsite the lady on Black Isle had told us about was) and stop there for the night. Then do a few walks and head down the west coast and get across to Skye. There were a couple of places to stop at along the way, but time was getting on with us still being in winter. So we left Dunnet Head and headed across the North coast.
We went straight through Castletown, but wish we'd stopped. There was a great view of the church from the road, but then didn't see anywhere to park up and there was nothing in the guidebook. Might have made a mistake not stopping here, but we did only get to the campsite as it was pretty much dark…
On route we stopped at Bettyhill, well just outside, as in the old Church there is a museum, in the museum is 'the sorry tale' of Elizabeth, Countess of Sutherland. And I was curious. Unfortunately the church, tourist office and chippy were all shut (the tourist office and chippy had the same winter hours, 5-7pm, wonder why…) but it was a very pretty small church. The graveyard also includes a Pictish stone, so there was some information on that and I saw my first Snowdrops of the year in the graveyard. So although I did not get into the museum or get anymore information than what our guidebook said, I still enjoyed the visit for the views.
The next planned stop was Tongue as I wanted to see the ruins of Caisteal Bharraich (Castle Varrich), which was a medieval stronghold for the MacKays. You really can't miss it from the road as it dominates a hillside spur. With a three-mile return walk to the ruins, it seemed a good idea to stretch our legs. And it was a good idea. We had superb views of what I think were Ben Loyal and Ben Hope. On the way was a river crossing where we had a clear view of the mountains and up to the ruins themselves.
Up the hill to the ruins were plenty of information signs about the castle, the woods and wildlife. Apparently, the castle itself is a bit of a mystery, as is it's name. The site of the castle has been inhabited since prehistoric times, but obviously the castle has not always been there. Once at the ruins, we had great fun clambering around to see all the views. There were great views of both the mainland and out to see. Being a clear day we could see an island offshore, which I believe to be Rabbit Island. On the way down the clouds were moving in and hid the mountains, which I always think looks amazing.
Driving toward Durness we made an unscheduled stop at Loch Eriboll. We stopped as there was an amazing view from the road and a viewpoint appeared. The loch is surrounded by land which is underlain by limestone, which means the surrounding area is a fertile pocket compared with the rest of the coast line, making the view much greener than other areas. The lco is also one of the deepest sea lochs in Britain (yes, there was an information sign at this viewpoint).
We arrived at Durness and easily found Sango Sands. The campsite was closed, but there was also a sign stating that you could park for free out of season (and where the nearest facilities were). So yay! We parked up right on the coast with a great view out to sea. There was also a bar, which was open and since we hadn't been to a shop we decided to try there for a meal.
Although the bar was open we were quickly informed that they didn't do food this early in the season, the nearest place for food would be the Smoo Cave Hotel, which we passed about a mile down the road. We drove there, as we didn't fancy the walk back in the dark! It was a nice place, larger than it appeared, with a warm, lovely fire!
Here I had steak pie, which was actually pretty good pub grub. After eating we weren't quite ready to leave so went to get another drink, as I was driving I was on non alcoholic as we got to the bar the barman asked where we were staying, so we told him we planned to stay at Sango Sands, as we have a campervan. He basically told us not to be daft, as long as we weren't blocking anything we could stay in our van on their car park. Awesome! So we quickly took full advantage, I had a whiskey, we grabbed the laptop and the guidebook, charged the laptop and stole some Wifi. Not that they minded, meant we were staying and buying drinks!
We were planning our next few days when we noticed that at the bar were obviously some locals. Locals are better than guidebooks, and it sounded like at least one of them worked on the ferries at some point.
As at this point we were debating if we'd manage to get across to any islands via the ferry, Dave went to ask if he knew if the ferries would run at this time of year. He told us that they would be, and then him and Dave got chatting properly. I went to join them and next minute we had the two bar staff, the owners son and two locals telling us stories, mainly about boating, which was fun. The local Dave first spoke to was a Captain and was telling us how he never learnt to swim, which he finds gets reactions from his passengers, to which he asks them "Do you ask a pilot if he can fly?" Valid point.
Our talk completely changed our plan, instead of going down the west and over to Skye we would now catch a ferry to Lewis and Harris, then a ferry to Skye. It was a brilliant night, with the local have 'the last one' as he had to get home at least three times.
If you ever get a chance to have a quiet night chatting to locals, do it, you get a wealth of memories from them and some great ideas. I won't tell you the stories we were told, there's too many to choose from, but as the night wore on, the boatmen forgot that we don't really know much about boats so it all got a little bit confusing for us 9or maybe that was the drink…) We stayed past closing, just chatting and drinking and finally it was time to head to the campervan.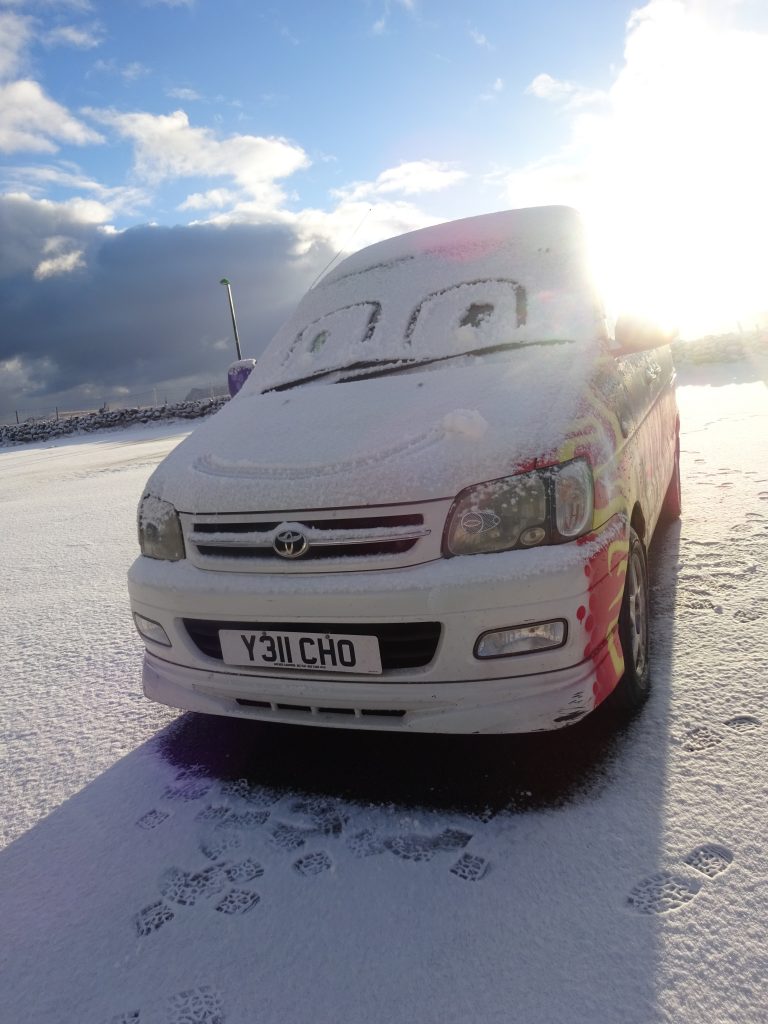 A Day Of Walks
We woke the next day to find our van and the area covered in snow. So we left a quick 'Thank You' in the snow and went to look at Smoo Cave just up the road. It seemed like it would be a quick walk down to the caves and then back up, we were a little mistaken…
Take a look at my post about Smoo Cave
The walk down was quick but then we took another path up and this was much longer! But anyway, there is a main cave at Smoo Cave, with a waterfall in it, this was very cool. In season you can go on a boat trip to explore the caves further, but obviously this was low season, so we couldn't. We still had fun exploring what we could though! As I said, we took the longer path back up, this allowed us to get right out to the cliff edge, so some great sea views. It was nice being in low season, it was so quiet and only our footprints in the snow!
As we got back towards the car park there were some good informations signs. One of them had some old tales about the place, like why it was believed the devil was down in the caves – Donald MacKay sent his dog down into the caves and the dog came back terrified, a sure sign that the devil was present…
Back on the road and we soon came to the realisation that it was Sunday in the highlands – nothing was open (at least the public toilets were though…) So we headed to our next planned stop, Faraid Head.
There is a path at Faraid Head that the guidebook recommended as a 3-4 hour walk, with great views at the end of Loch Eriboll and Cape Wrath. Since we'd already done some walking and everywhere was shut, the first thing we did was make bacon butties for breakfast on the carpark. Then we set off over the beach which had almost as much snow as sand.
As we were walking, we noticed a storm out to sea, took up the view of the sea. We decided to ignore it, until we realised it was heading our way. By the time the head of land we were heading for was completely hidden by black cloud, we stopped to take stock of our situation. We nearly turned around. But then when were we going to get back here again? And we had waterproofs, so we didn't let the storm beat us. And I'm glad we didn't, somehow the storm completely missed us on its way inland! So ironically, if we'd turned around we would've got to the van and probably not been able to drive as we waited for the storm to pass!
After the beach it's a path over dunes. I thought the dunes covered in snow was one of the prettiest sights I've seen. As we got further from the beach, there was less and less snow, but I just like sand dunes anyway! And the guidebook was right, the views are spectacular! And well worth the walk! By time we got to the head the storm had passed and it had turned into a beautiful, sunny, clear day. At the cliff edges there were loads of nesting birds (on the cliffs) we even saw a couple of Oystercatchers, which didn't really want their picture taken.
The path then became a little confused as there is also a military base here and the snow had reappeared at this bit, so we ended up walking along the road for a little while, I'm still not sure whether it actually was part of the path or not… But we managed to get back to a path and back to the beach – the view of the beach from the dunes was also amazing. The walk didn't take as long as we'd thought, but maybe the military road was a shortcut… I don't think we'll ever know for definite!
Once we were back to the van we noticed the Church ruins across the road and went for an explore. The ruins were Balnakeil Church. It was a small ruin, with a small graveyard. In the church ruin is a tomb that is apparently the tomb of Donald MacLeod, who there was some information on at Smoo Cave.
The next planned stop was 'Sandalwood Bay'. But along the way we stopped at a viewpoint with a cool Pictish Stone for a few minutes. This was on the Northwest Highland Rock Route.
When we got to 'Sandalwood Bay' I discovered what an idiot I'd been. For it was actually Sandwood Bay, for some reason my mind was readling sandlewood… So that caused a little confusing finding it!
Sandwood Bay turned out to be a long walk, past some lochs and ruins. Some areas were flooded, but some stepping stones had been placed. But the walk was worth it when we got to the bay itself. The sand is surrounded by sand dunes, so is well hidden. There was also snow here, which made the sand not look quite as white as the guidebook said. But it was still a beautiful beach with amazingly clear water. After some time we decided it was time to start the walk back, unfortunately there was no path over the dunes, so we started walking in the direction we believed the path to be (the dunes kind of all look the same…) Walking back over the dunes was tough, as it was now mainly up hill, and walking uphill on sand dunes is tough. But we finally got back to where the path was and made our way back to the van. There were better views of the lochs walking back.
Read more about Sandwood Bay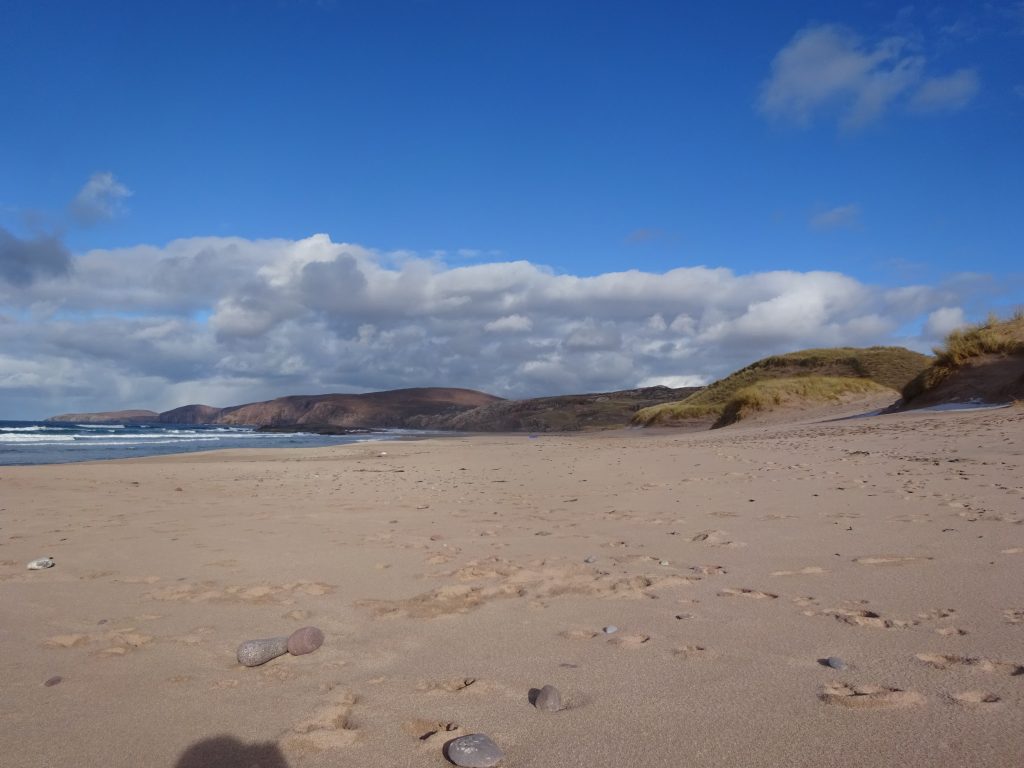 Seafood And A Boat Ride
Now it was time for our long drive for the day. We planned to make it to Ullapool so that we could catch the ferry to Lewis the next morning. This meant it was the longest drive of the day. As the day was getting on, we had to make progress fairly quickly. Though we still stopped at a couple of viewpoints, this part was taken up mostly by the drive.
Just as it was getting dark, we finally arrived in Ullapool, so we quickly found somewhere to park up nearby and went into the town to get some tea. We went to Seaforth, it was quite a nice restaurant, if a little fancy for us in our walking gear! First we wanted to share a seafood platter, but they'd run out, as the platter is very popular. So we were a little cheeky and had a Mother's Day two course meal, although neither of our mums were there! The food was absolutely lovely, I do recommend trying here if you're in Ullapool and want some nice food. I had a prawn cocktail to start and then chicken roulade (which was chicken stuffed with haggis) and I couldn't fault anything. We also used the wifi here to check out ferry times and the staff were as nice as the food!
The next morning we booked on the first ferry to Stornoway. This was only really possible due to it being low season. In high season you really need to book in advance. Of course, nothing was really open in Ullapool, just a little corner shop and one massive chain, but luckily we didn't have too long to wait. I love ferries. I don't know why, but I do. On this ferry I especially liked, not only the great views but, the eldest card machines I have ever seen and the 'SOS' (Save Our Squirrels) posters.
We arrived on Lewis and headed north towards the butt of Lewis. The guidebook was right about this area – it is one giant peat bog! Which is great, if you're like me and like bogs. Although, as per, nothing was open due to it being low season – what do the people who live here do for all of low season I wonder? We parked up at the end of the road (literally) and realised that we were not at the Butt of Lewis – there was no lighthouse. Well we could get there from this carpark, but it a bit of a walk and we had a lot to see in one day. Luckily, on the drive back we saw a sign for it, so turned off and finally found it!
In all honesty, I've seen much prettier lighthouses, but this one is important (though I can not remember why). I was more interested in the birds on the cliffs, but that's just me. So we had a wander around, stretched our legs, before getting back into the van for more driving.
Driving around Lewis, I was impressed with the state of the roads and the amount of passing places! Next we stopped at the Calanais standing stones. Luckily you can still go to see them even though the visitor centre was shut for the season! No one knows why the stones are here, or why they resemble a celtic cross (which they really do). They are an impressive sight and the surrounding views are quite good too. I enjoyed walking round the stones, and the mystery that surrounds them. Though I do wish the visitor centre was open!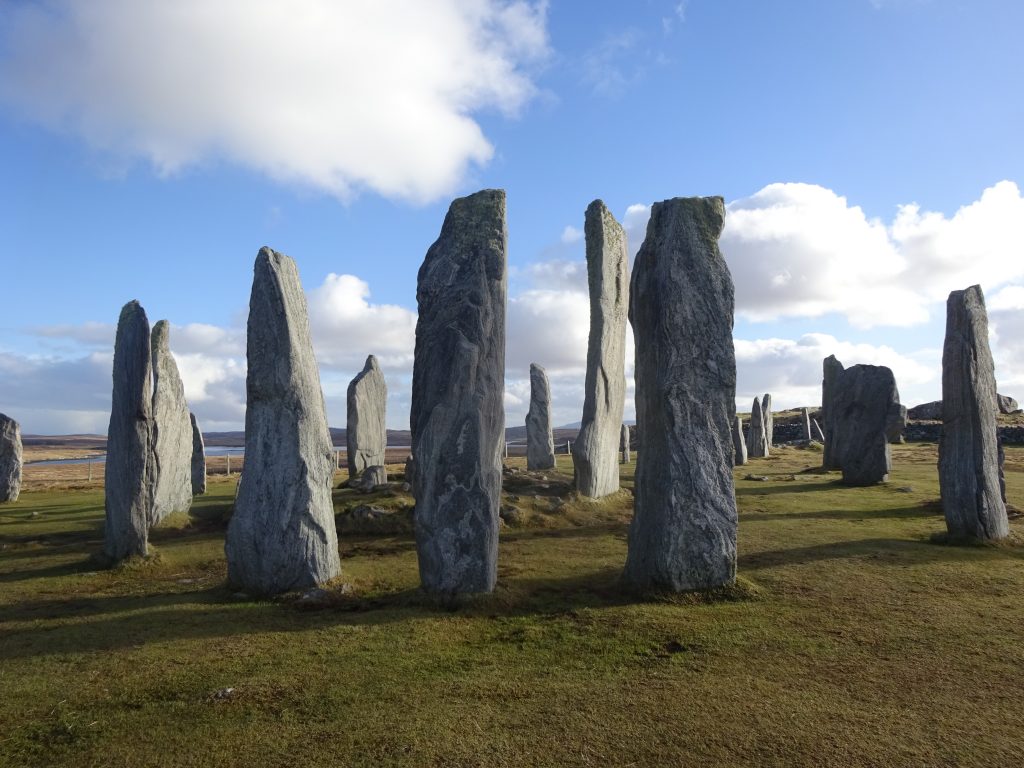 A Church, A Beach And A Distillery
Driving on from the Calanais standing stones took us through the south of Lewis and onto Harris. On Harris we drove straight through the north area as there's not much there! On the south of Harris we reached the beaches, which even in winter were beautiful (though I didn't try swimming). We pulled up at a few of the beaches to admire the views.
Driving on we got stopped by a confused cow – it was on the road and wouldn't move! It took some time, but we managed to get around it without scaring it! Next we made our actual planned stop at the church in Rodel – St. Clement's Church, which was shut at this time, so we couldn't go in. St. Clement's is a pretty church, and made an especially pretty sight as it was getting on towards sunset. There is meant to be an unusual carving in this church, which I am a little disappointed we missed.
As I have said, it was starting to get a little dark, so we headed to our chosen campsite, which the guidebook stated was open from March. The guidebook was wrong! The owner of the campsite (Lickisto Blackhouse Camping) was very helpful though, and it was having some work done, so looks like it'll be a great campsite. The owner told us to head to the beaches as there's plenty of places to park there. However, there was one downside, we hadn't stayed in a campsite for a few days… Which meant we'd not had showering facilities… But oh well!
Back to the beaches we headed and it wasn't long until we found a camping spot. To be fair, the view was worth the shower sacrifice! The camp spot was owned by West Harris Trust and they ask a honesty payment of £5 to be paid online.
There was no where to have tea nearby so we made a leftover dish with pasta, bacon, tomato and onion, which was actually really nice. We had a lovely evening on this campsite, watching the sunset as we ate. A really beautiful spot.
The next day we were up early and headed to the ferry port in Tarbert to buy passage. We bought our tickets and had a few hours to kill before the ferry ride. As it was pretty early nothing was open, so we went for a little drive. We headed off the main road and went down a B road (I couldn't tell you which one though). It was a lovely drive, with pretty views and even some deer thrown into the mix! We came to a MASSIVE house, which we drove past before decided to turn around.
It always happens, at least to us, but we arrived back at Tarbert much quicker than we got to where we turned around! So we still had some time to kill. We parked near the ferry queue and went into some (well the entire two) nearby shops, which were Tweed shops. I've never really understood tweed, I find it too coarse, I had a feel of some and still came conclusion.
Leaving the shops, we noticed another building, the sign said 'Harris Distillery'. We'd not heard of this (it wasn't in the guidebook) so we went to see if it was open. Amazing, it was! There were no tours running though, but we were the only people so we were jumped upon by one of the staff. He was very attentive and really loved his job! He told us that it is a brand new distillery, not even a year old. As whisky takes a minimum of years to mature, there was no whisky, but they have distilled gin with sugar kelp. He let us have a taste and I normally hate gin, but I really liked this gin, you could taste the saltiness of the kelp. The distillery hires local people instead of finding experts from elsewhere and all the materials used in the building are from Harris.
Although there were no tours, the guy took us into the tasting room and told us what the tour would include. He was very excited about the whole thing! They had a really good way of describing whisky, using an abacus to show its 'smokiness', 'fruitiness' etc. It makes describes the taste in a much simpler way than any distillery I've been on (although they don't know what their whisky will be yet)! He pointed out the Harris Tweed used on the seats and that the material used for the floor is found only on Harris and the Moon.
I've made a note that I must revisit Harris in 2020, to taste the fruits of the distilleries labour! They had a Ceilidh when the distillery opened it's doors, what'll they do when they actually have their own whisky?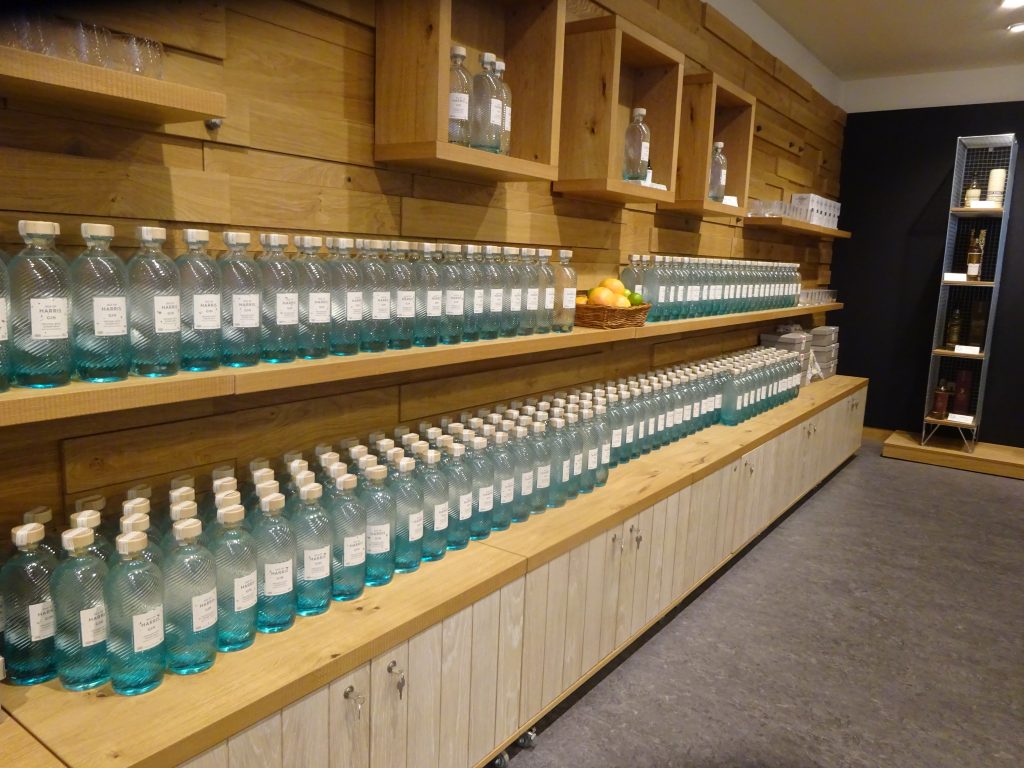 A Much Needed Shower
We left the distillery and got in the queue for the ferry. We decided that we would take a change of clothes as most ferries have showers on board and we needed to take advantage if this ferry did!
After boarding we discovered that our prayers had been answered! There were showers! Yay! Showering on ferry is brilliant fun! Trying to stay upright as the ferry heaves up and down on the waves! We didn't do much else on this journey. After showering I used the time to catch up on my notes of the trip and write a couple of postcards.
We arrived at Uig on Skye in the early afternoon and decided to go for lunch. There was a cafe in the guidebook, near the ferry terminal that was meant to be good. We found this cafe – Ella's Cafe – and it was open! It was also a shop, full of random oddments. The cafe was very good though, although it wasn't until after I'd ordered I realised the tea selection and tea pots, I should've had tea instead of hot chocolate (don't get me wrong, the hot chocolate was awesome, but I'm a tea girl). I had the lunch special which was Mushrooms in White Wine and Cream With Garlic Bread and Salad, which was very nice. There are also lunch platters available, which looked good.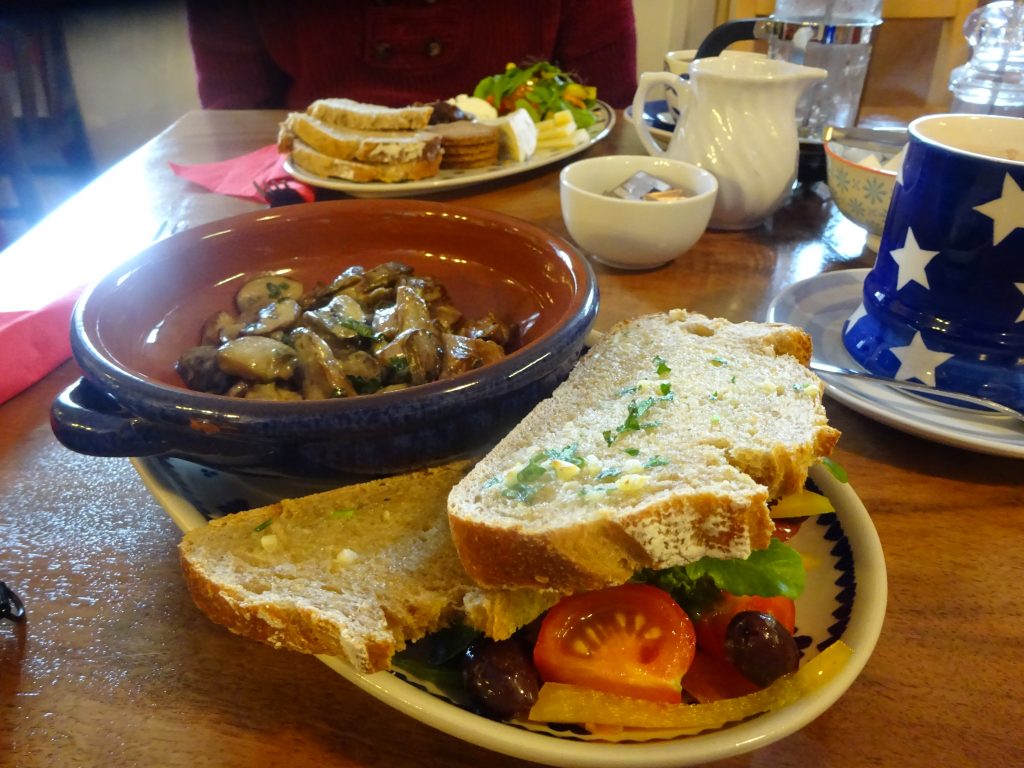 Failed Searches
The guidebook had mentioned a walk up glen Uig , also known as the Faerie Glen, which sounded like a good short walk. But we couldn't find it. We realised we were getting a little far out so decided to go back to the van and move on. Driving up a hill there was a parking spot for a viewpoint, so we stopped. Turned out the viewpoint was a bit of a walk, but it was worth it.
Dave had heard about dinosaur footprints on Skye, and really wanted to see them. There were two beaches that they were supposedly on. We ended up at the wrong beach (Dave didn't do his research)… This beach was quite a walk from where we parked and on the way back after not finding any footprints it started raining! Getting back to the van we decided that we needed a better way of searching than just stopping at every beach in the Trotternish area! We had noticed that there were signs scattered on the road, so we drove around and found signs. The first one didn't help, but the second one basically told us what was around Skye, and it pointed out the dinosaur footprints! Looking at the map we decided to go there after a walk that I had planned.
We headed to climb the Quiraing. The steeper path was meant to be quicker, so we had decided to take this route. We parked up by the cemetery and started on the climb. It had stopped raining by now, but the sky still looked dark… The path was a little difficult to stay on, as it was not signposted and we were obviously on the less popular path, so it was not as well trodden.
The guidebook wasn't joking when it said that it was a steep climb. But we finally made it too the top where we tried to figure which rock formation was 'The Prison' and which was 'The Needle'. As we reached the top, the weather had begun to turn. As visibility wasn't great and the path wasn't the easiest to stay on, we turned around, and I'm actually glad we did! Within minutes the rain had turned to hail and it was relentless! By the time we got back to the van (after losing the path once or twice) we were completely soaked, even though we were in full waterproofs! The weather was so bad we tried to wait it out before driving on, it didn't let up, so we made the decision to move on and slowly drove down the single track road!
We made it to Staffin Bay, where the dinosaur footprints are, only to discover that it was high tide, so they were submerged! At least it was no longer hailing…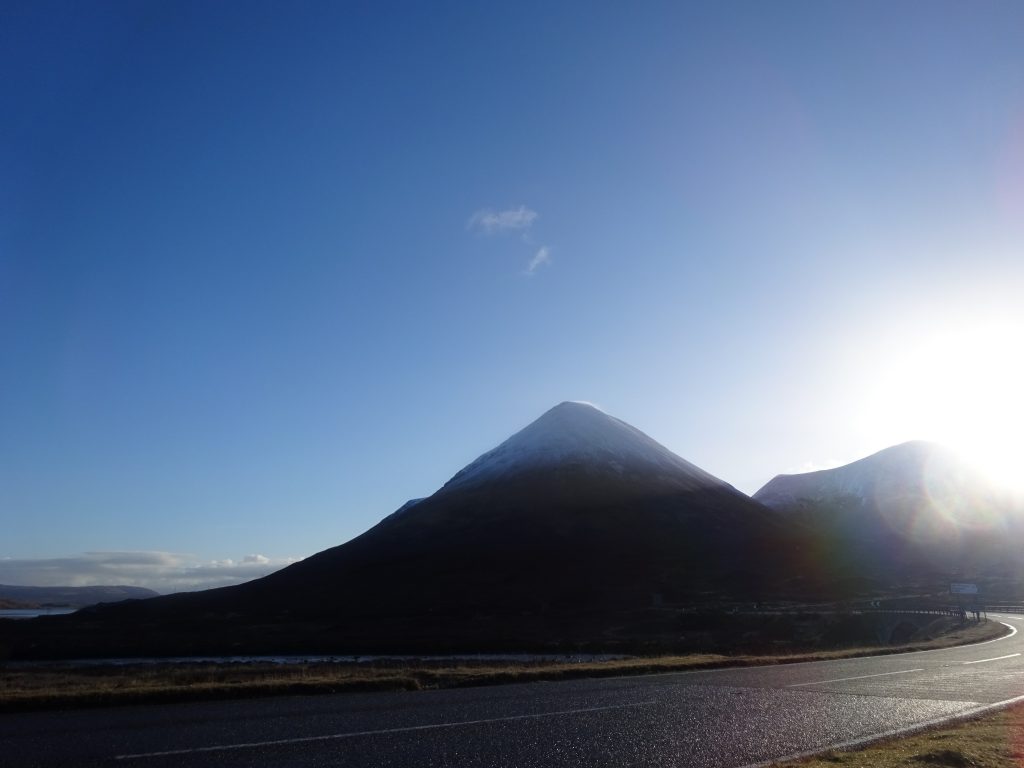 Faerie Magic
A little wet and miserable we decided to call it a day and head for a campsite. I'd picked out Sligachan Campsite, which is part of the Sligachan Hotel. We arrived and enquired about camping at the hotel, we were informed that the campsite was still shut for the season, but we could stay in our van in the carpark, as long as our van wasn't in plain view. So that's what we did. We had our tea here, I had the pork, which was ok, nothing wrong with it, but nothing special. Using the WiFi we researched the tides at Staffin Bay – we WERE seeing these footprints tomorrow, it was personal now! We also used the hotel to warm up and dry out a little, before heading back to the van to sleep.
Rising early we decided to go into the hotel for breakfast too. I' glad we did, it was cheap, a lot there and good! I had Salmon and Scrambled Egg and really enjoyed it! The hotel has a great view of the Cuillin Range and under the Sligachan Bridge across the road are some magical faerie waters that are supposed to give you eternal beauty. We learnt about this on our last trip to Scotland on a Macbackpackers tour. It felt wrong to miss it out, so we dipped our faces in the water again before getting in the van to move on.
On our last trip we had also visited the Faerie Pools, but we had a limited amount of time so I wanted to head back there and walk further up the path. So we got to the Faerie Pools and walked as far as we could, turning around when the path was climbing a rocky side! I love the Faerie Pools! The sound of the water does sound magical. Although we did not have a swim, it was chilly enough out of the water! Although I nearly went for a swim when trying to get a picture, climbing over slippery rocks!
On walking back we passed a few groups of people. We were discussing how it was definitely a tour group that we were passing by the look of the clusters of people when suddenly we heard "Ock! It's the Newlyweds!" Looking up we saw a familiar face – our tour guide from the Macbackpacker trip we had been on the year before, who we'd loosely kept in touch with! I was amazed he recognised us first! So on the way back to the van we had a good catch up and discussed how it must have been faerie magic that had brought us together!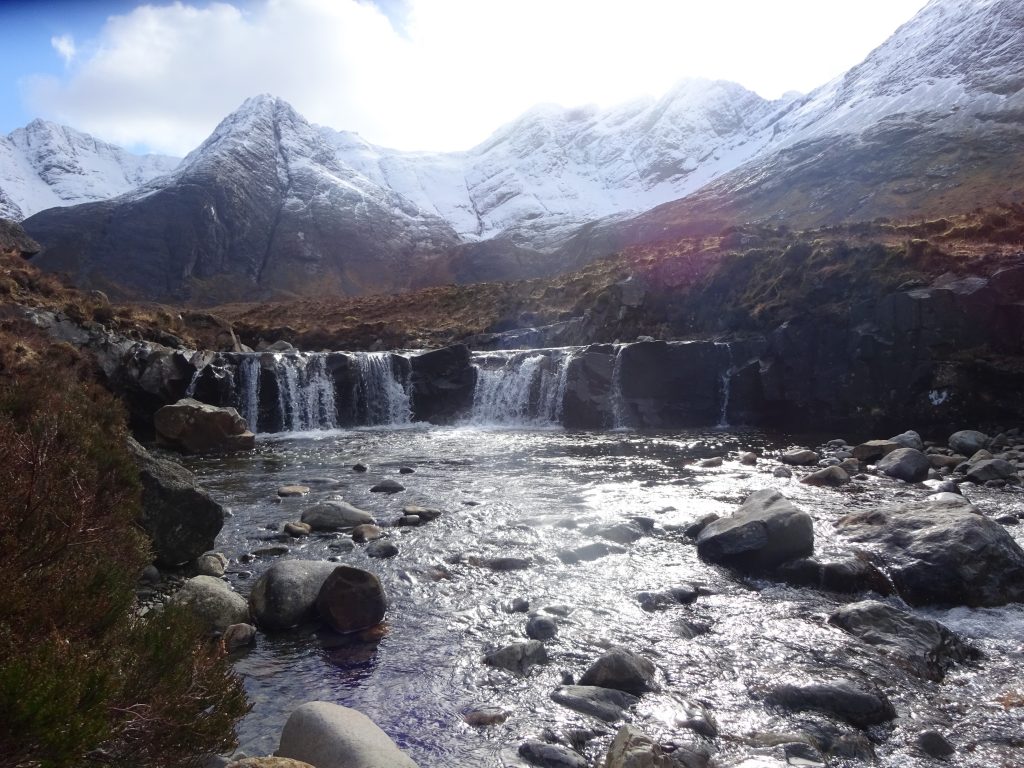 Dinosaurs Or Whisky
Saying our goodbyes we headed to Talisker brewery to see if we had time for a tour before low tide. When we got there the next tour was at low tide, so we had a difficult choice, whisky or dinosaurs. We choose dinosaurs. As we left Talisker we saw the Macbackpacker bus on the carpark! We kept bumping into each other over the next few days!
Parking up at Staffin Bay we read the sign to see where the footprints were. The sign pointed that the footprints were below the layby/car park. They weren't. And we weren't the only people searching for them! Luckily there was a local lady who sees this everyday and shouted us all over to the footprints – which we had walked right past! So finally, we had found these elusive footprints!
We headed back to Portree for lunch and a wander. Wandering round we came upon a really nice pottery shop (and I'm glad I didn't manage to break anything…) We went to MacKenzie's Bakery for lunch as we remembered it from our last trip. I had a Birdie and a cake (can't remember what sort) and I'm pleased to say MacKenzie's was as good as I remembered. If you're ever in Skye I highly recommend you go for some baked goods!
Now it was time to say goodbye to Skye and head back to the mainland. We headed over the Skye Bridge and had a brief stop at Eilean Donan Castle, however we'd missed the opening hours, so we couldn't go in. It's one that I need to go back to!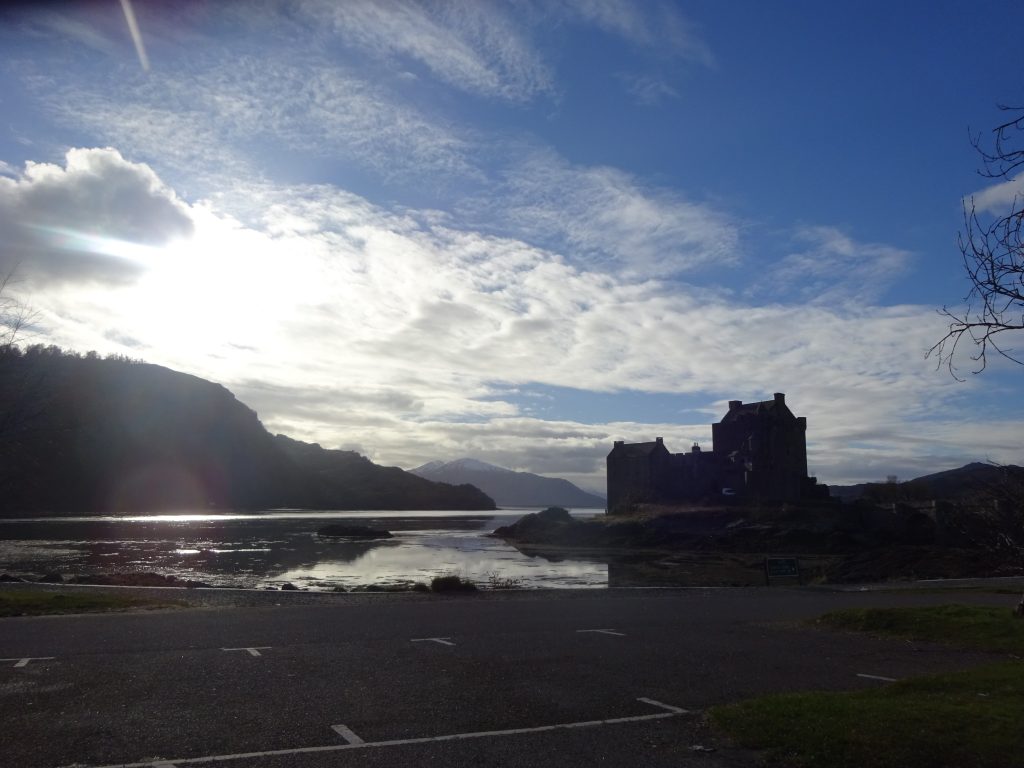 Waterfalls And Valleys
Our plan was to head to a campsite in Glen Coe for the night. Along the way we saw plenty of breathtaking views and the Ben Nevis Distillery (though, obviously, it was shut). We had a short break from the drive at Fort William, which had a pretty church and a cool statue, but I've no idea who the statue was of…)
Arriving at Glen Coe we had a bit of a search to find the campsite I'd chosen, driving back and forth up the same road. But eventually we found it – we hadn't actually gone far enough up the road. The site we used was the Red Squirrel Campsite, and was pretty good, decent showers and it felt like we were deep in the forest! Nearby was meant to be a pub, which we decided to head to for food. It was a further walk than we expected. The pub was called Clachaig Inn and had a distinct outdoor theme around the place! The food was good, hearty and filling, I had a lovely Venison Casserole and Dave had a Chicken thing that I cannot remember the name of, it was Chicken with Oats, that's as much as I remember and it looked really nice!
After eating we headed back to the campsite to settle down for the night. We seemed to walk back much quicker than we walked there, always the way though!
The next day we had a lot planned. There were a few walks I wanted to do before we left Glen Coe. First we did the Waterfall Trail at Glen Righ. It was a fairly short walk with some brilliant views, although I expected to get closer to the waterfall.
Next we stopped of at Grey Mare's Tail Waterfall. It was only a short walk from the carpark, but there is a longer walk you can do here that we didn't have time to fit in. The waterfall itself is impressive though and worth seeing.
We then went to the information centre to ask where a couple of walks were. The information centre is also a cafe so we had lunch of a Haggis Panini, which was surprisingly a really tasty use of Haggis!
We crossed the road from the information centre with the intention of walking around the Ballachulish Slate Quarry, however I am not certain we went the correct way. We certainly didn't seem to go around the quarry. Instead we headed up into a forested area. It was still a good walk with some good views and some random huts! Although the path was difficult at times as there were a few trees that had fell down across the path! Eventually we found our way back to the road and back to the carpark!
The main walk I wanted to do in Glen Coe was the Lost Valley, or Allt Coire Gabhail. This is where Clan MacDonald fled and hid their cattle during the Massacre Of Glen Coe (1692). Once again we had trouble figuring out where the walk was and once we got to the carpark, we went the wrong way to begin with! From the carpark you have a great view of the Three Sisters. We followed the path and there were some very steep climbs and water running across the path. It was quite a strenuous walk really! We got quite far up the slope, but had to turn back when the path got too icy (and after a guided walk passed us…)
I had seen on the map we had picked up 'Signal Rock', which I also wanted to see. So this was our next stop. It was further from the carpark than I expected, but I enjoyed the walk. Signal Rock is at the top of Tom a' Ghrianain, which is Gaelic for 'Hill of the Sun'. It was believed to be the meeting point of Clan MacDonald at times of emergency and may have got its name from beacons being lit here. There are many legends surround Signal Rock. However, from the top of the rock the trees obscured the views.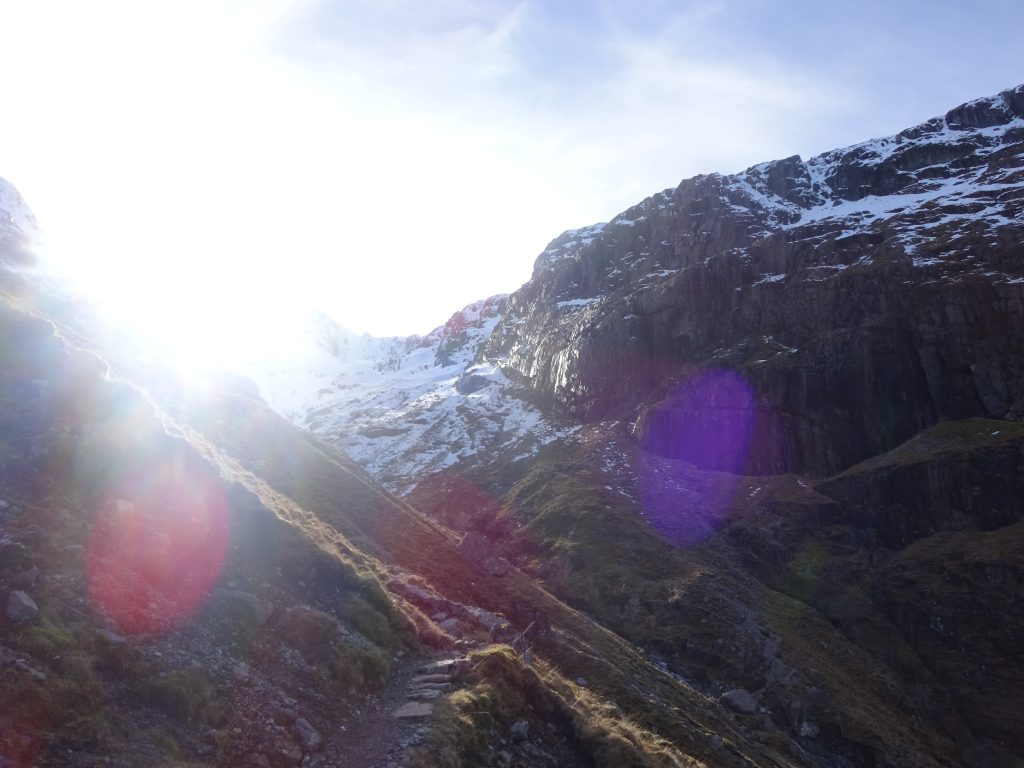 A Taste Of The Sea
So, with more exploration of Glen Coe still firmly on my list, we headed of to our next destination, Oban. We were unable to find a campsite close to the town, so we found somewhere to park for the night. Oban is known for its fresh seafood, so we decided it was the best place to have our first try of Lobster. We headed to EE-USK for this. EE-USK is right on the harbour and has amazing views. It felt a little upper class for us pair that were touring in a Wicked Campervan, but I guess that's half the fun! We both had Half a Lobster (I'm glad we didn't have to pick our own) and I will admit, Lobster is a very tasty crustacean, but for the price you don't get a lot of meat. It did leave me wanting more, the chips just couldn't satisfy!
We decided, since we were close to the town, we wanted to have a bit of a walk around and sample a bit of the nightlife. In the first pub we went to we met two couples that were on a coach tour. We got chatting and ended up talking the night away with them! A few hours later we said our goodbyes, knowing we'd never meet again, and headed back to the van.
The next day we had to make it down to Cumbria, as one of Dave's cousins was getting married the next day and we'd said we'd come. But first we wanted to have a look around. We had breakfast and noticed the Oban Distillery in the centre of the town. So we went to enquire about tours and there was one leaving in the next few minutes, so we bought tickets.
This was the best distillery tour I have ever been on. The guide was very informative and charismatic! Oban Distillery is one of the oldest in Scotland, and possibly the oldest (though I am not 100% on that).
The guide took us through the distilling process then onto maturing. He told us how the whisky is matured in used bourbon casks, which they get cheap from America – the Scots love a bargain! We had a taste of a 12 year old (which you can't buy) and a 14 year old (which you can buy).
The guide told us when you first sip whisky do not open your mouth, hold your mouth shut for as many seconds as the years old the whisky is before opening slightly and swallowing (though this may become difficult when you get to a whisky that is over 30 years old)! It was a good tip, it stops you from feeling the whisky burn it's way down your throat! The cherry on the cake of this tour was that if you couldn't finish your whisky taster (or were driving) they supplied you with a take out container for the whisky, complete with lid!
After the tour it was time to start making out way to Cumbria. On the way we wanted to stop at Loch Fyne, as we have a Loch Fyne restaurant near our home, so wanted to try the original. We pulled up at Loch Fyne Oyster Bar and had a look around the deli before entering the restaurant. Here we sampled our first Oysters. To be honest, I don't see what all the fuss is about! They taste like seawater and feel like phlegm! I prefer Lobster!
Leaving Loch Fyne we spotted a sign for 'The Tallest Tree' so we had to make a short detour! Apparently there were both the widest and tallest trees in the park we entered. I remain to be convinced though… I have no idea where this was, other than it was near Loch Fyne and there was a pretty white church near the carpark!
The road to Cumbria took us down the west coast of Loch Lomond, which was a planned stop on our way back up. Here we stopped at Firkin Point for a look of the Loch. Even though the weather was taking a turn for the worse, Loch Lomond was still beautiful, which was probably helped by the roses scattered on the shore (I'm presuming there was a wedding). Back on the road we hit the Glasgow traffic, which really was terrible!
On the way down we also made a quick stop at Gretna Green, although everything was shut up for the night. We had a little wander around incase we didn't have time on the way back up.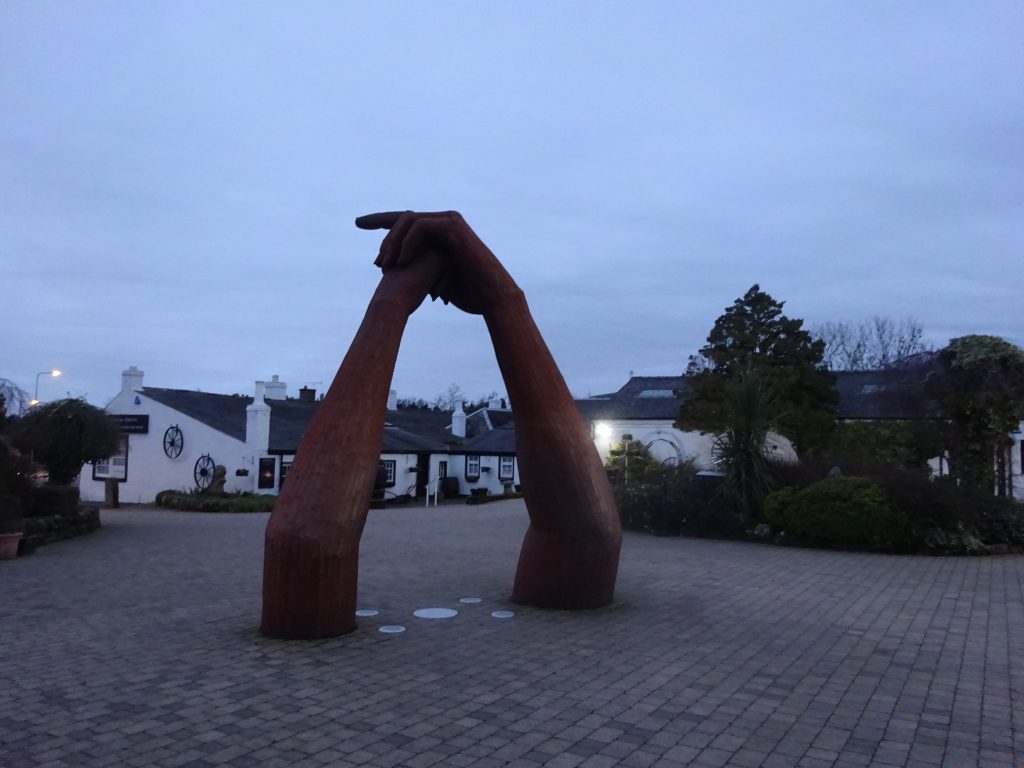 Interlude
We reached Cumbria and parked up near Dave's relatives. The next day we went to his cousin's wedding and had a good time. Although we were itching to get back on the road again…
Back On The Road
After visiting the relations that wanted to see us it was afternoon by the time we got back on the road. First we decided to try our luck at Gretna Green again. Our luck was in! Everything was open! So we walked around the shops and had some lunch. The Museum was fun, lots of Gretna Green stories and the history. To be honest, it's very touristy, but that was expected!
Getting back on the road we headed back to Loch Lomond. We just made a campsite before the reception shut. The receptionist told us that the nearest place to eat was a few miles down the road in Balmaha, so before we settled for the night we headed for some food.
The pub was the Oak Tree Inn and it was amazing. I had Sole with Garlic and Rosemary and loved every bite! Then it was back to the campsite to park up and sleep.
Hills And An Island
Upon waking we discovered that we had an amazing view of Loch Lomond where we parked. Although there were great views, the campsite showers were disappointing…
We headed back to Balmaha to climb Conic Hill. In parts it was quite a difficult climb, but overall not too hard, and worth it for the views over Loch Lomond and over to Ben Lomond. From Conic Hill you can see the fault line through the loch. It looked like a new path had been made to the summit, which we went up and I discovered that my camera can take panoramic shots!
From the summit we headed down what we presumed to be the old path, which went down and up over three smaller peaks. It was a beautiful clear day for this walk. When we arrived back to the van we went over to the boatyard to see if we could get a boat across to the nearest Island on the Loch, Inchcailloch. The boats were 'on demand' so we got passage across and arranged a pick up time in a couple of hours. There are three trails that cross the Island, the Low, Summit and Central. We started with the Low Trail, this takes you past a graveyard and church ruins as well as farm ruins. The farm ruins we nearly walked past before we noticed them!
Not long after passing the farm ruins, we decided to stop for lunch. We found a bit of shoreline with a good view and had a little picnic! Although, once we got walking again, we came upon a camping area that had tables, so maybe we should've waited until we got there, but I enjoyed the picnic on the shore!
We then took the Summit Trail to walk back. This was much easier than the description implied! The description said that it was a 'strenuous climb', maybe it was because we came from the other direction, but whatever the case I did not think it was strenuous! We reached the summit and the views over Loch Lomond were amazing! I think, but I may be wrong, I think the island is on the fault line. I think I heard it somewhere, or I could be completely mistaken…
Anyway, we got back to the pick up location from the summit with plenty of time to spare. So we decided to walk up the central path. This really was a quick and easy way to the other side. We got there and back and still had time to kill!
After getting back to the mainland, it was time to move on to our next destination. We weren't entirely sure where we wanted to end up at this point. We knew we wanted to make it to Stirling Castle the next day, so decided to drive in that direction and see where we end up for the night.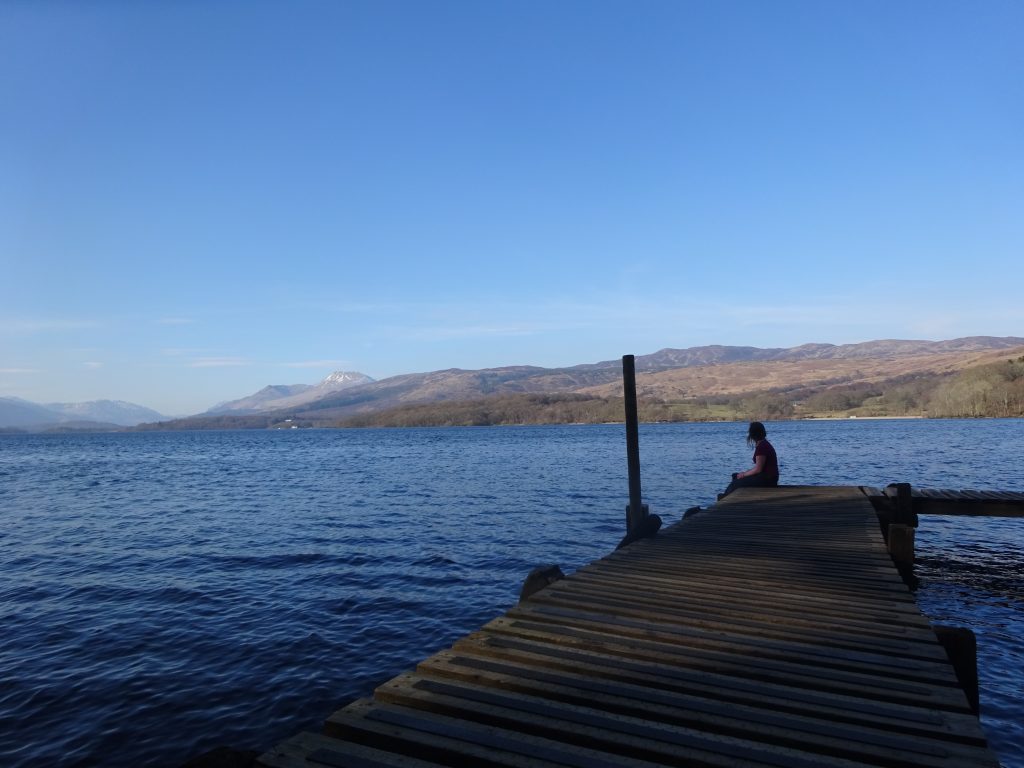 The Best Breakfast Ever!
On the road we took a detour and pitstop at the Lake of Meredith, Scotlands only lake (instead of Loch). It made a pretty view, but being low season, there wasn't much else to do other than admire said view!
By now we'd decided to head towards Callander via the Trossachs. We parked up and got talking to another couple that had been mountain biking. We talked until after it became dark! They pointed out a pub down the road for us to go for some food, so after saying our goodbyes, this was where we headed!
The pub was called the Lade Inn and was great. With it's own ales, I wish I was an ale lover, but I'm not! Sitting next to the fire nearly put me to sleep! Here I had Scampi, but should've gone for the Haggis, Neeps and Tatties like Dave did. It was the best presented Haggis, Neeps and Tatties I've ever seen! After eating it was time to wrap up for the short walk back to the van…
We rose early the next day as we knew Stirling Castle would take a good chunk of the day to explore. Turns out we completely pigs tailed it and were there an hour before opening! It was obviously a sign that we should go and find somewhere to have breakfast!
Walking through Stirling, the city is now firmly on our list! Really need to go back and stay there at some point!
We found a place for breakfast called the Fat Cyclist Cafe and I loved this place! Everything was made with recycled materials, there were bike parts everywhere, it was just a quirky place. And the food was amazing too! We both had a Bagel with Bacon, Egg, Cheese, Mushroom and Mushroom Sauce. Honestly, best breakfast I've had for a while. A good excuse to go back…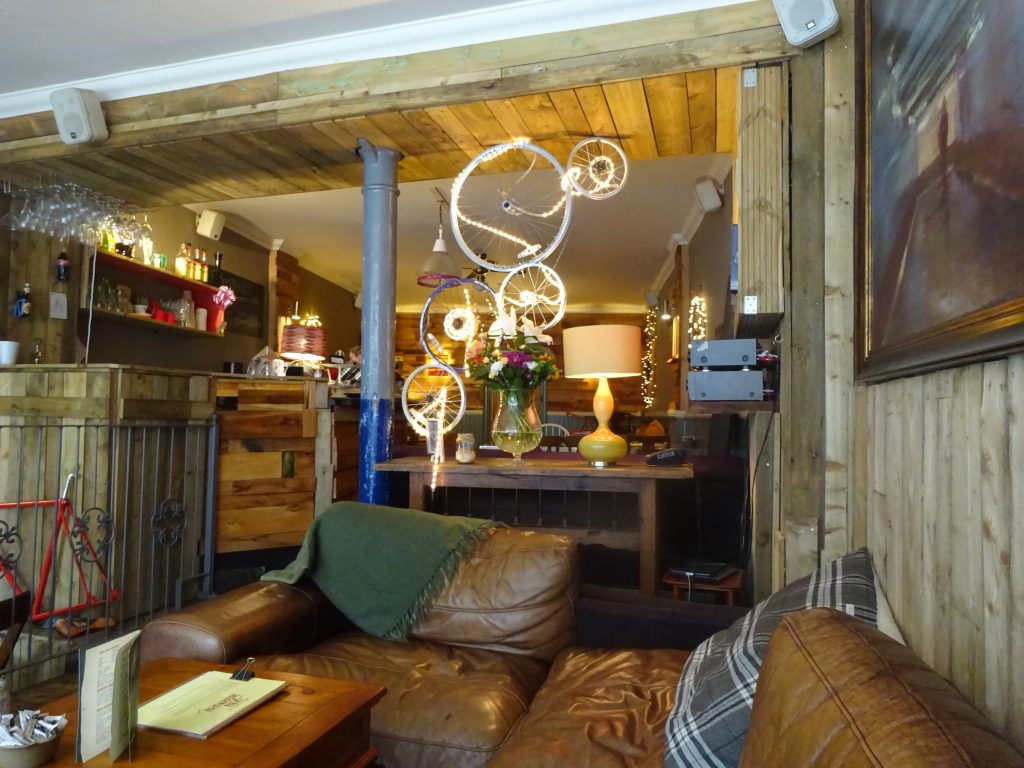 A Lot Of Learning
We headed back to the now open castle and just as we got our tickets a walking tour was about to start, so we ran to the start point! The walking tour took us through a lot of history! The guide was good, friendly and informative. She talked to us about the old chapel, the history, James VI of Scotland, or I of England (who we nicknamed Jimmy Stewart… We're so mature…) We were also shown the damage to the castle that the army made when they were there.
After showing us a bit of the battlements and a short walk around, the tour went into the Grand Hall, which has been restored to its medieval glory. She pointed out the family crests and told us a little about what they meant. She told us what it meant if there was a line through the crest, but I annoyingly can not remember what she said! If anyone knows, please put in the comments below!
Next we moved on into the King's rooms – the King and Queen would've had separate chambers. The last stop on tour was the Chapel Royal, which James VI (or I, depending where you're from…) had built for his son's baptism. I really liked the chapel, it was very pretty inside!
With the tour finished, we were free to explore the rest of the castle. First we heading to the Stirling Heads. These are massive wooden medallions that once decorated the ceiling of the Presence Chamber. They are pretty impressive, including faces of both royalty and mythological characters. This exhibition also gave us some information on the carvings outside. On the palace exterior are carvings of James V dressed as a commoner, Venus and Jupiter among others. There is a small debate going on whether they should be fully restored and repainted as they would have once been bright and colourful! I'm personally unsure of this.
We then headed to the kitchens as the tour guide had mentioned that there were some recipe books with medieval recipes, which I wanted to nosey at. We got down, watched a short video about the castle kitchens but then it became overcrowded with school children! So we didn't fully get to look down here.
The next exhibition was '1000 years of history'. There's a lot in this bit! The castle changed hands a lot! Though the main story I remember was about John Damian. He was a physician in James IV court and decided that he could fly using chicken feathers. So, armed with wings made from chicken feathers he jumped off the battlements and fell… He survived though, with only a broken thigh! Lucky!
We were now searching for the Unicorn Tapestries that were mentioned on the walking tour. We walked via the battlements, with their amazing views and finally found the exhibition, which was a little hidden away! I absolutely love these tapestries. Although, the exhibition was about reconstructing them and didn't actually have the tapestries there. The tapestries tell the story of a capture of a unicorn, there is a lot of symbolism in the story. The exhibition made this clear, told about the weaving time for each tapestry and the stories of the weavers. This was one of my favourite parts of the castle.
We then went to find the actual tapestries, which are in the Queen's rooms. Here there was also an actress, who we talked to for a bit. She told us about the importance of women, and the Queen, in the keeping of the house. She was very good and happy to answer all questions!
When we entered the room with the tapestries in, my first thought was that they were in the wrong order! As they are meant to tell a story I thought that this was really silly!
We had done and seen everything thing that we wanted to in Stirling Castle (the only bit we left out was about the army's occupation here, that Neither of us are interested in). So we left.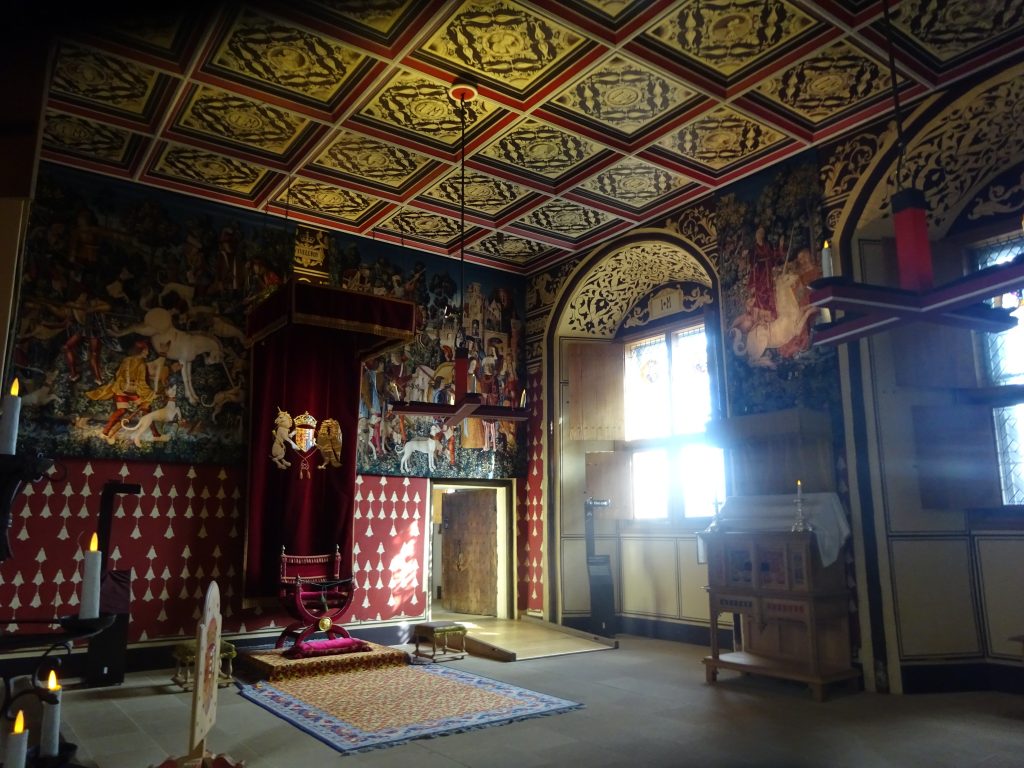 Kelpies, Wheels And Playgrounds
We wanted to head towards Melrose for the evening, so that we weren't too far from Edinburgh for our final day. On the way we planned to see the Falkirk Wheel. On the road to Falkirk we saw a sign for the 'Kelpies'. We have passed these on the motorway a few times and got really excited that we may get a good view of them! So we followed the sign and parked up.
As we were heading into the carpark we'd seen a playground with a MASSIVE slide. As we are very mature there was no way we were missing this! So we practically ran to this playground – so jealous of the kids, it was an amazing playground! And we made the climb and had a slide. It was awesome! Small things, eh?
After that little detour we followed the path to the Kelpies. I thought the path would lead to a viewpoint of the Kelpies, but I was wrong. It led us to the Kelpies themselves, we could get up close and personal! The Kelpies are two giant horsehead sculptures. Kelpies are a Scottish Faerie, they have shape shifting powers and are often seen as a horse. The Kelpie beckons people to ride him in this guise, but once a human mounts he will run into the water and drown the human (who is unable to dismount).
We had a nosey in the visitor centre, unfortunately we had missed the last tour though. There was a little exhibition inside that had to scale models of famous tall buildings, which was, well, I'd say cute. It also told a little of the history.
Back out in the fresh air we walked around the sculptures and got as close as we could. There were two quotes that I really liked "Bow down your strong heads to taste the water" and "Stretch up your long necks to face the sun" as I thought these really captured the Kelpies in words.
We then headed back on the road to the Falkirk wheel. We got there too late though, it was shut! And we had no time to do the walks around the area. Nevertheless, the Falkirk Wheel was still an impressive site, but I do want to go back to have a go!
We had decided to stop in Melrose for the night, so that we could visit the Abbey there. So this is where we headed to. The guidebook also said that there was a campsite in the town, there was, but at £30 a pitch! I don't think so!
We found somewhere, eventually. Then we headed into Melrose for some food. First we found a pub and had a drink whilst we discussed if we'd seen any likely candidates for eating as we went through the town. We ended up in a place called the Townhouse, which felt a little up market, but was actually good and not too pricey. I had Venison with oats (which was why we chose to eat here, I saw it on the sign outside) and it was lovely. The warmth and good food made us tired, so we then headed back for sleep.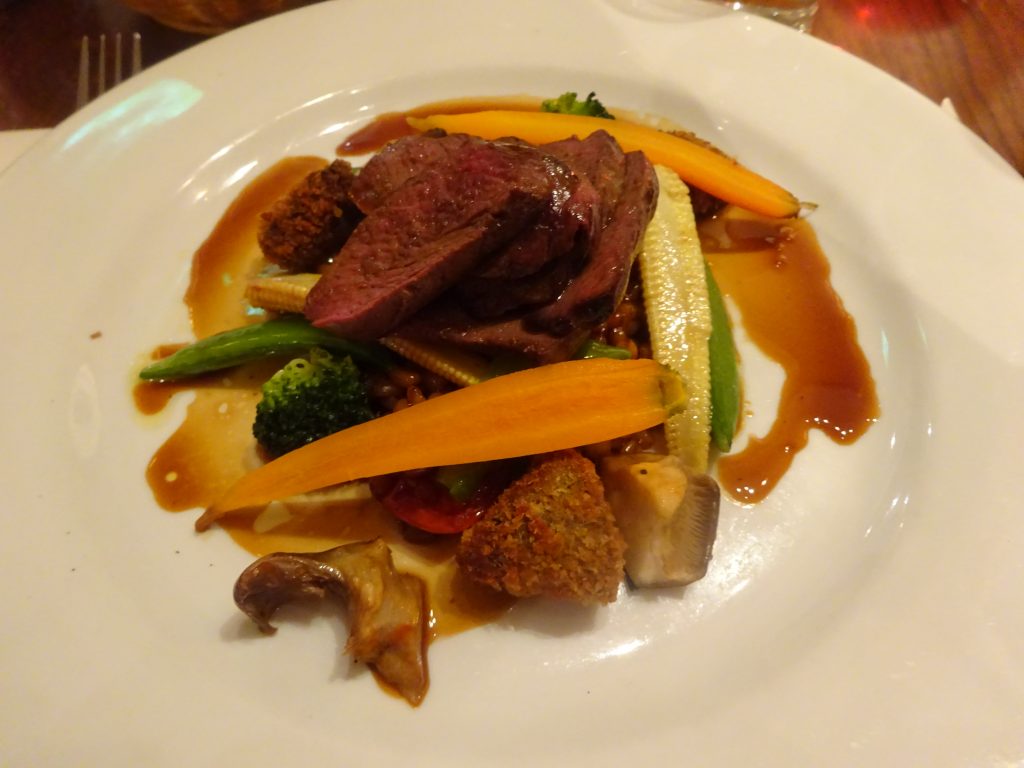 A Bit Of A Religious Day
First thing in the morning we walked over to melrose Abbey – only to find we'd done the same as we did at Stirling Castle, pigs tailed it. So we went for a walk around to find some breakfast. We found a lovely little bakery (can't recall the name though) that did great breakfast baps and good coffee!
Heading back to the Abbey we still had a little time before it opened, so we headed up next to it into a park and got a good view. Finally we got into the Abbey! The entrance fee included an audio guide, which was mostly good, but got a little repetitive at times! There were also extra bits you could chose to listen to, which of course you can't miss out!
The Abbey has pink walls, and I'm sure the audio told me the reason, but apparently I didn't retain that information! Cistern Monks were house in this Abbey and they were pretty hardcore. Being on the borders, the Abbey was fought over a lot. It was even burnt down and rebuilt by the same king! I found the gargoyles amazing, there's even a pig with bagpipes (and a viewpoint). The Heart of Robert the Bruce is also meant to be buried here, whether it is true or not I can't say, but I'd like it to be true!
One thing that really made me laugh was the actual use of the word 'pisspot' on a sign. It really shouldn't make me laugh as much as it did! There was even a description, because a description is really needed!
There's also a museum across the road. It was basically full of bits of broken pottery! But there was also a bit that had miniatures of different types of people, which was interesting.
We had walked all around the Abbey and seen a good chunk of the museum, so we took our audio guides back and headed to the road. The last destination that we had to see was Rosslyn Chapel.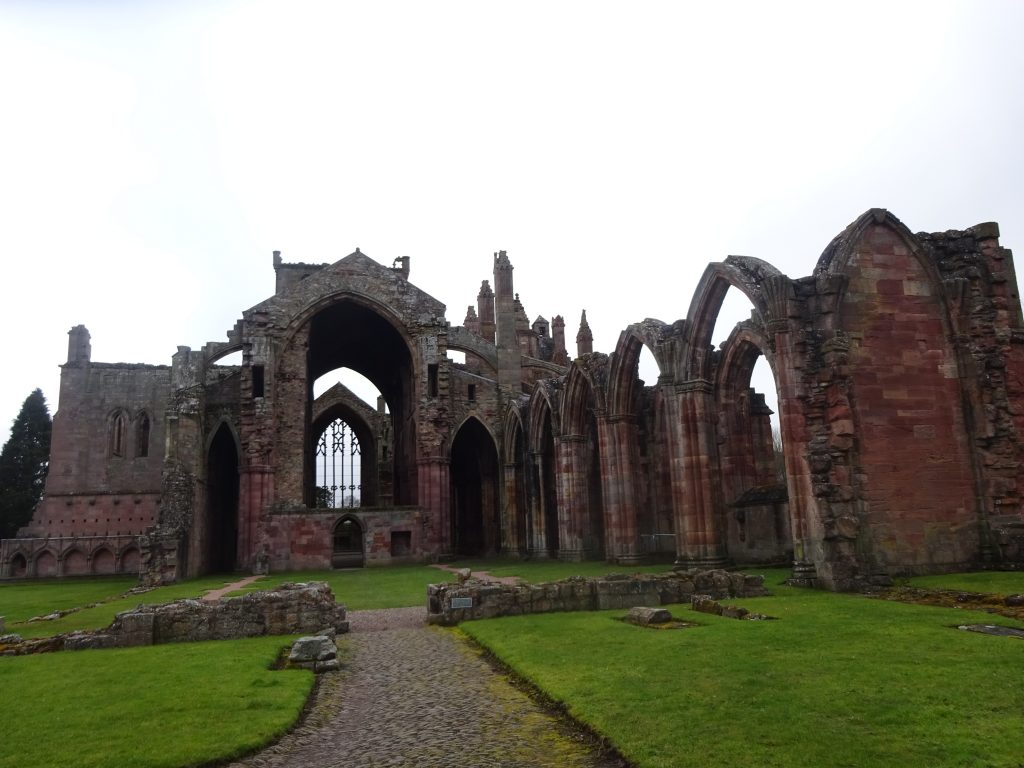 To be honest, the visitor centre at Rosslyn Chapel kind of ruins the feel of it. Makes it seem less magical. But we had nice lunch there, so not all bad! There are loads of interesting stories surrounding the chapel, but no pictures allowed inside, so sorry! No pictures on here!
The chapel was built so that a Sinclair could buy his way into heaven, Wonder if it worked? There was also no star of David (although you can see where it was placed in The Da Vinci Code) but there is a cat (that has his own story book). I loved the green men carved everywhere. The Seven Virtues and Seven Deadly Sins, are very intriguing, as charity and greed have been switched. I like to believe this was a deliberate mistake, showing that there is evil in every good person and good in every evil person. There were so many stories connected to everything, my favourite was the apprentice story. The apprentice carved a pillar much more beautiful than his master's, so his master murdered him. As you do. The master was obviously charged with murder and executed. Don't you love a happy ending…
Interesting point, Rosslyn chapel is spelt differently to Roslin (the place). Which is the older?
Now it was time to head back to Edinburgh… We gave the van a clear out and a tidy (I think we made it cleaner than when we got it…) Then we got it back to the Wicked Depo and waved goodbye…
A bus ride later and we were back in the centre of Edinburgh. So we checked back into Castle Rock Hostel (and got cards for free breakfast, don't know why, but I'm not complaining)! After showering and getting over the fact that the honeymoon was over the next day we went out for a meal. We decided to have a bit of a blow out and went to Wedgewood, which was recommended in the guidebook.
We both went for the 'Wee Taste of Scotland' tasting menu, with wine to match each course. I have to say, it was amazing. Although there were some unusual dishes, there was some kind of egg that I swear had ice cream on it which was one of the first courses! But it was all delicious, my favourite course was a venison and oat risotto. Although it was hard to keep up with the wine! After the meal was over the waitress asked if we needed her to call us a taxi our reply was "No, where do you recommend for a drink?" She told us to head to Devil's Advocate, so this is what we did.
On the way we came across the World's End. We'd passed this pub on many occasions, but never been in, so we made a detour through the door!
We got to Devil's Advocate a bit later. It is a very cool cocktail bar. A bit on the pricey side, but you expect that from a cocktail bar and you only need one drink anyway! Which is all we stayed for, then it was bedtime!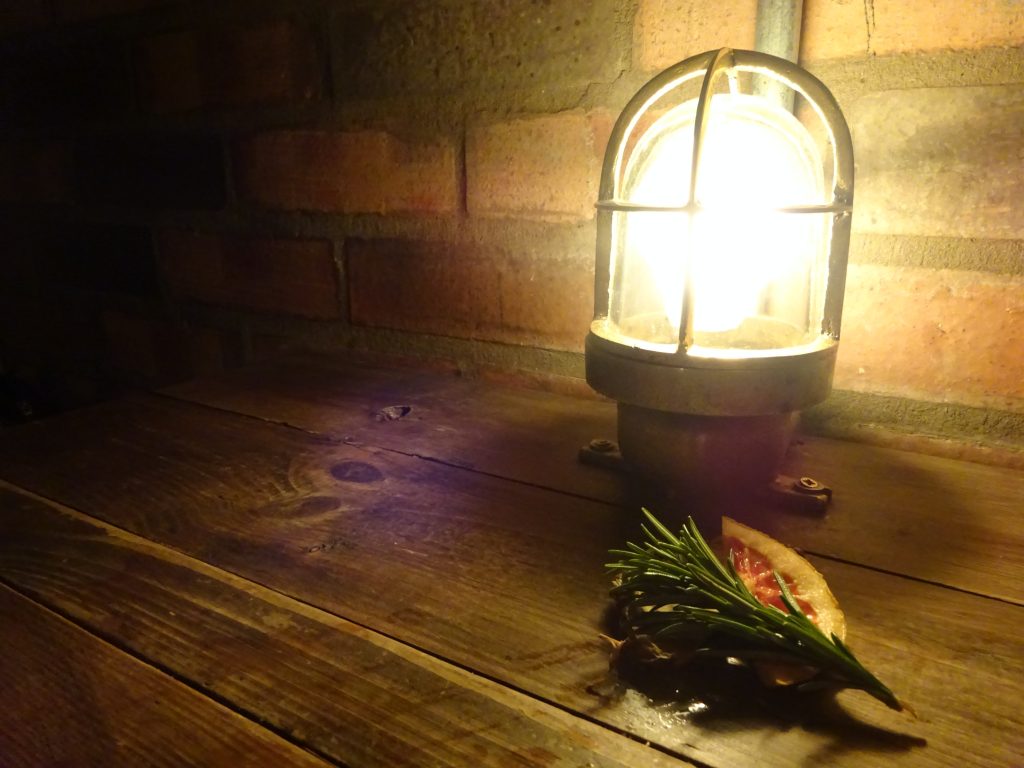 And It's All Over
Waking up we went down for our free breakfast, which was actually pretty decent and if you didn't have a freebie it was pretty cheap too. There was cereal, juice, fresh fruit and bread (but no toaster…) Made for a decent amount.
We spent the day just wandering up and down the Royal Mile as we didn't want to get caught up doing something and miss our train. We ended up in a cafe in a church for lunch, which wasn't as bad as I expected. Then it was off to the station and home…
Although I managed to 'tick off' a lot on my Scotland list, I think I added a few more! Scotland is absolutely incredible you could never get bored there! I'm looking forward to going back again in the not too far future!