Alton Towers started as a Theme Park, now it's so much more! Located in Staffordshire, it is now a resort with a Water Park and Hotels. Although the main event is still the Theme Park itself, with rides for all ages and thrill levels (as well as heights), there's plenty of other areas to explore. For instance, if you fancy a bit of peace and quiet just wander into the castle or gardens. What's more you can go year after year and not get bored as there is something new annually. Whether it be a big ride or a new part of the hotel, every year there is something new to try! With some great events too, like Scarefest, Alton Towers is well worth a visit.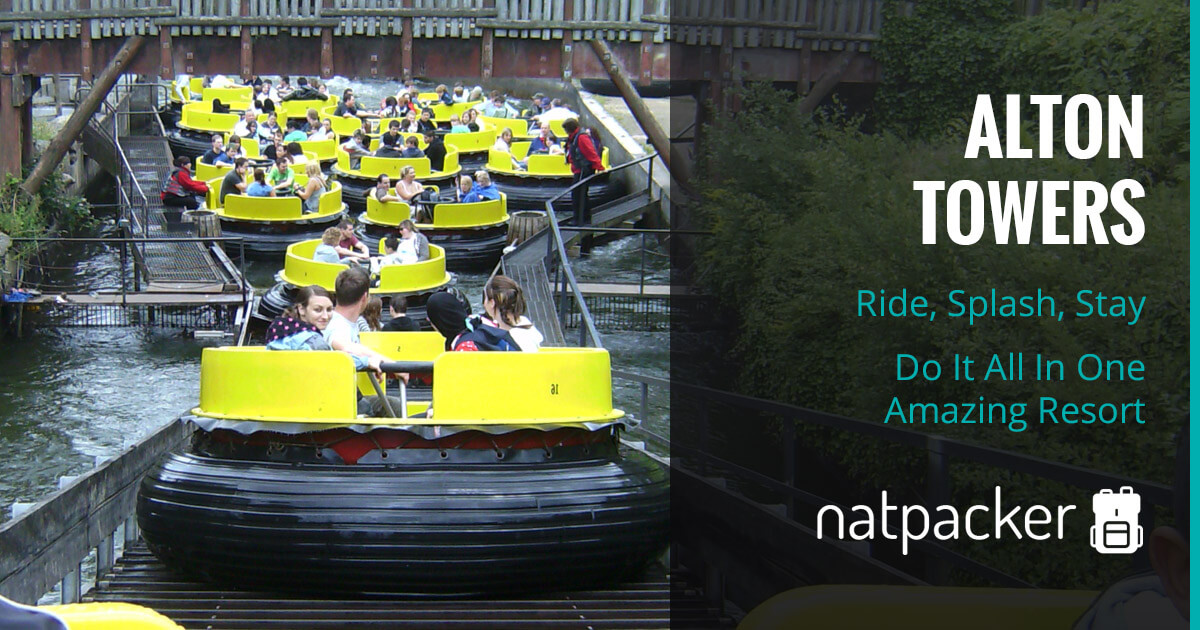 Alton Towers History
Alton Towers has a long history and it obviously wasn't always a theme park. The towers themselves were a residence long before tourists were allowed in. It was the Talbot family who would eventually turn the grounds into a resort for the public, so let's begin the history lesson with this family.
The Talbots Of Alton Towers
The First Earl of Shrewsbury, John Talbot, was the first of this family to be given the estate. The estate, then known as Alverton Lodge or Alton Lodge, was used as a summer residence for the Earl and his family.
The 15th Earl, Charles, had more of an interest in the estate and decided to extend. The work began in 1800 and continued until 1852 (which was after Charles' death, his nephew, John, completed the works.) One of the biggest developments that Charles undertook was to turn the dry valley to the east of the house into a stately garden, in which there is a monument of Charles.
The death of Earl John in 1952 was a turning point in the history of the towers. After his death the family went into very expensive legal battles to decide who owned the estate. The battle was won by Henry Chetwynd Talbot. However, because of the cost of fighting for the estate his next move was to sell the contents of the house. The grounds were opened to the public in 1860 to raise money for repairs on the house.
Becoming An Attraction
In the early 1890s the 20th Earl, Charles Henry Talbot, began to develop the Alton Estate as a tourist attraction. Fetes, illuminations and firework displays were all organised, not to mention exhibitions of torture instruments and balloon festivals! However, after he and his wife separated, his wife remained at the estate. Charles was meant to pay towards the upkeep, but he never paid the agreed allowance, so the towers began to fall into decline.
Then in 1924 Alton Towers Estate was sold to a group of local businessmen and all the contents of the house were auctioned off. However, the estate was still open to the public, so some of the rooms were converted into cafes etc.
The Towers During World War Two
The estate was requisitioned by the army not long after the outbreak of World War II. During this time no repairs were carried out and the estate was used as a training ground. In 1951 the estate was returned to the Alton Towers Company. Due to post-war shortages of materials, such as copper, the whole interior of the house was sold. Only the bare brick and stone wall that is what you see today were left.
The majority of the house was abandoned. But in the 1970s the owners reinforced some of the floors and ceilings to allow for public access. To keep the public amused as they strolled around the grounds a few attractions were also constructed.
A Grand Change
The big event in Alton Towers was in 1980, when John Broome decided to turn the 500 acre grounds into a family leisure park. There were already some attractions, but he felt the park was missing something, so he had the UK's first double corkscrew roller coaster constructed. Visitors began to flock from all over the country and still do today.
Broome continued to add rides and attractions until 1990, when Alton Towers was bought by the Tussauds Group, which was then bought by the Charterhouse Group in 1998. In 2005, the Charterhouse Group sold Tussauds to Dubai International Capital, who then sold it to the Merlin Entertainment in 2007. Despite all the ownership changes, Alton Towers still has a new attraction every year and remains a popular day, or weekend, away.
Rides At Alton Towers
The rides and attractions at Alton Towers are split into different themed sections, which like the rides themselves, occasionally change. Areas include themes like CBeebies Land, the Haunted Forest and the X-Sector. With such titles, you can imagine there's something for everyone, from the very young to the thrill seekers. And if you're not sure what to go on, the queue times are posted around the park, so you can decide where to head to.
Alton Towers is a place of firsts, the Towers had the world's first vertical drop roller coaster and the world's first 14-loop rollercoaster, to name just a few. Here are just some of the rides you can look forward to:
Rides For The Young
Postman Pat Parcel Post – Become part of Postman Pat's Special Delivery Service.
Get Set Go Tree Top Adventure – A ride with lots of imaginative play included. You can wake up bugs in the CBeebies bedroom and more.
Rides For The Family
Spinball Whizzer – Be catapulted along the track in a car that spins 360 degrees and reaches speeds up to 60km per hour.
Congo River Rapids – Be prepared to get wet as there's no escape from the splashes and sprays along this river ride.
Rides For The Thrill Seekers
Rita – Reach 100 kilometres per hour in just 2.5 seconds.
Oblivion – Hang over the edge of the world's first vertical drop roller coaster and savour the moment before you plunge downwards.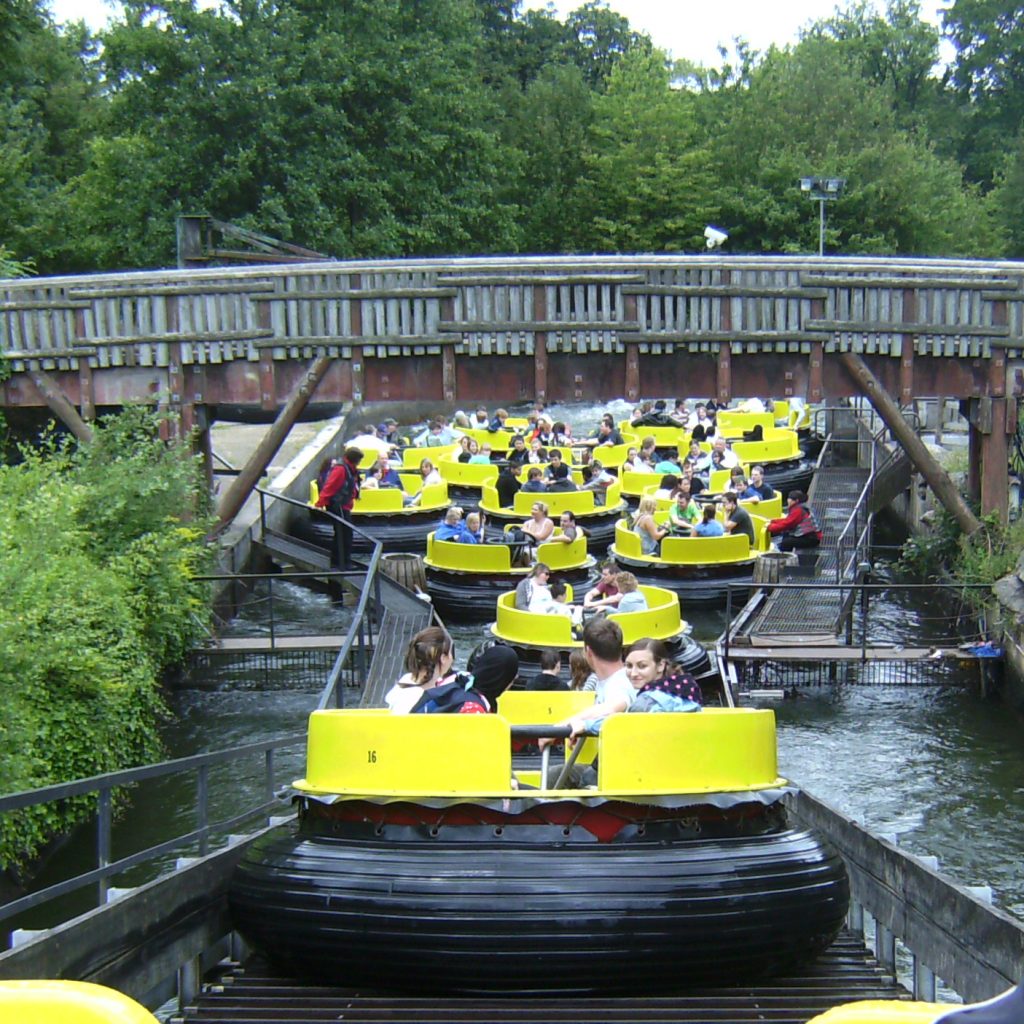 End of Congo River Rapids Ride
Other Activities And Attractions
There's much more to Alton Towers than just the rides, there are plenty of other activities you can try. Plus, plenty of events for so you can experience a little something extra!
Walk Through Attractions
The Gardens – Take a break from all the excitement and stroll through the elegant gardens.
Sharkbait Reef – Discover the wonders hidden underneath the galleon wreck at Mutiny Bay.
Active Activities
Extraordinary Golf – Two wacky nine-hole golf courses where every hole is based on a famous Alton Towers ride or attraction.
Water Park – With indoor and outdoor areas and a range of rides from the Lazy River to the Master Blaster Water Coaster the fun lasts all year.
Spa – Unwind after a long day of excitement with some well-deserved pampering.
Tree Top Quest – Two amazing high-rope courses with a variety of challenges and obstacles to tackle.
Events
Scarefest – Halloween at the Towers, with extra scary activities and the rides stay open till late.
Fireworks – The last few days of the season end with an amazing firework display.
Christmas – Take a break over the Christmas period and experience some truly festive activities.
Birthday Parties – Choose from the Water Park or Extraordinary Golf, or both, for a memorable Birthday Party.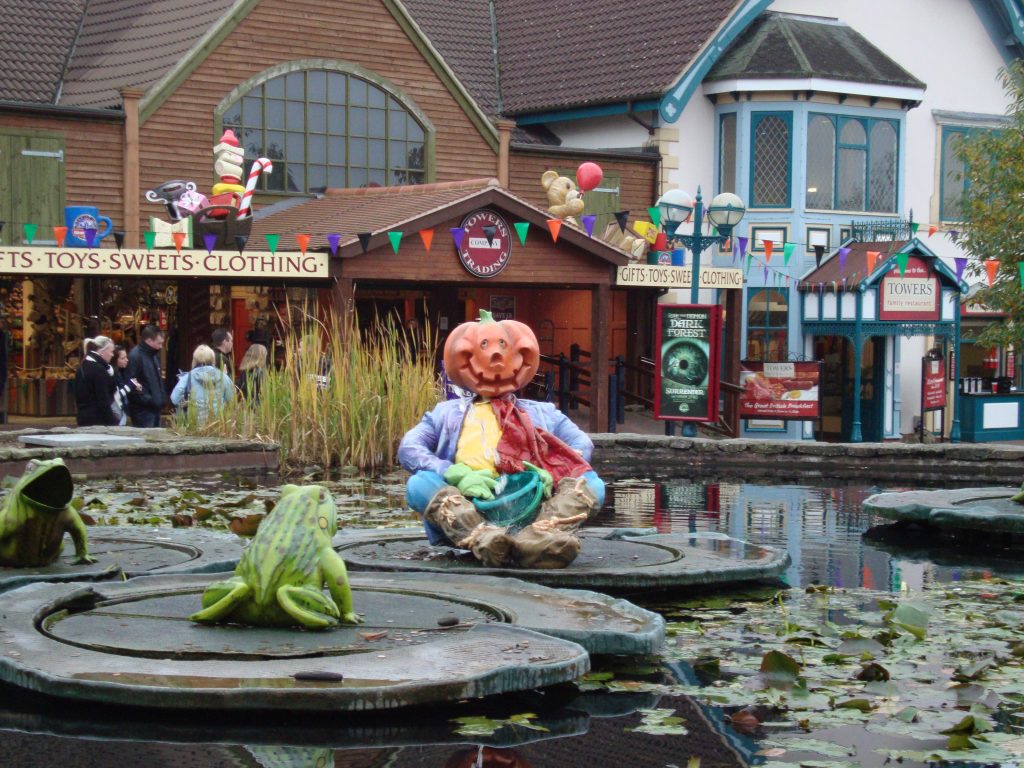 Alton Towers Scarefest
Food At Alton Towers
You won't go hungry at Alton Towers. There's plenty of restaurants and snack venues around the park. If you're staying over there's a choice of restaurants too. Prices vary, so there's something available for all budgets and tastes. Allergen information is available and food can be cooked to order separately to avoid cross-contamination. Here are just a few of the places to eat:
Food In The Park
Explorers Pizza and Pasta Buffet – 'Help yourself' buffet with pizza, pasta and fresh salad. Eat as much as you like.
Woodcutters Bar and Grill – From steaks to grilled chicken, all available to order. Cooked fresh and brought to your table, there are even vegetarian meals available.
Nitrogenie – Ice cream made with a twist.
Food In The Resort
Roller Coaster Restaurant – A unique dining experience, where your food is delivered to your table via a roller coaster track!
Flambo's Exotic Feast – Travel the world from starter to dessert.
The Coffee Shack – Not just coffee! You can also buy hot chocolate, cold drinks and snacks to keep you going.
Stay At Alton Towers
Since there's so much to do at Alton Towers, why not plan a short break so you can fit it all in more easily? There's a range of rooms available, in three different resorts. Choose anything from a standard room in either the Alton Towers Hotel or Splash Landings Hotel. Or you could really treat yourself in one of the Luxury Tree Houses. You can even have a completely themed break away. Here's a look at the rooms:
Alton Towers Hotel
This Hotel is themed around a traveller – keep an eye out for his flying ship that crashed landed in the hotel.
Themed Rooms – Whether it's for a special treat, a family theme or a romantic break away, there's a theme for every occasion.
Supreme Rooms – Choose from Explorer or Moon Voyage for that extra special treat.
Splash Landings Hotel
This Hotel has a Caribbean theme, and so is bright and energetic.
Themed Rooms – Join Ice Age Characters or become a Pirate.
Beachcomber Rooms – Totally tropically rooms, perfect for taking the Caribbean theme that bit further.
Enchanted Village
This is where the fable folk live. Stay in the Enchanted Village and you will hear these little people, though you'll never see them.
Woodland Lodges – Be enchanted by staying in these quirky lodges surrounded by trees and fable folk.
Luxury Tree Houses – Each house has it's own style and are perfect for that extra special occasion.
There are four more fantastic reasons to stay at Alton Towers:
Get your second day of entry into the Theme Park completely free;
Free car parking;
Enter the Theme Park one hour early (and yes, rides are open);
Great evening entertainment.
Tickets
Want to go? Buy in advance for a great deal. Book at least five days ahead for the best deal. Buying online also allows you into the park one hour early, for extra ride time. Although, remember the theme park ticket is only valid for the park, for the water park you need another ticket. If you want to do it all, it'd be best to check the offers or the short breaks. Want a little bit extra? Why not look at also purchasing:
Fast Track – Skip the queues on one to thirteen of the most popular rides. You can choose packages for single use or unlimited use.
All Day Dining – No need to worry about food, eat as much as you want for a one-off price, at selected food outlets in the park.
Merlin Annual Pass – Travelling around the UK? Why not purchase an Annual Pass so you can visit as much of the Merlin Groups great attractions in twelve months. It pays for itself after just three days out.
Whether it's one day out or a short break, thrill rides or a water park you're after, Alton Towers has something for everyone. With quirky themes, great events and something new every year you can't get bored of this amazing theme park full of many of the "World's First". There's plenty to do and see, so why not pay Alton Towers a visit?