Uluru (Ayers Rock) is a natural wonder and should be on any Australian itinerary. Sitting within the Uluru-Kata Tjuta National Park there is a wide variety of of activities to keep you occupied. Uluru is impressive as it is a unique landform in the outback. The rock itself is a Monolith, meaning that it is made up of just one rock. Most tours here include a sunrise or sunset viewing as this is when you'll see Uluru's colour changes. However, it is not just the physical being of Uluru that makes it a natural wonder. Uluru also has cultural and spiritual significance, being ancestral lands of the Anangu people, who are the traditional landowners.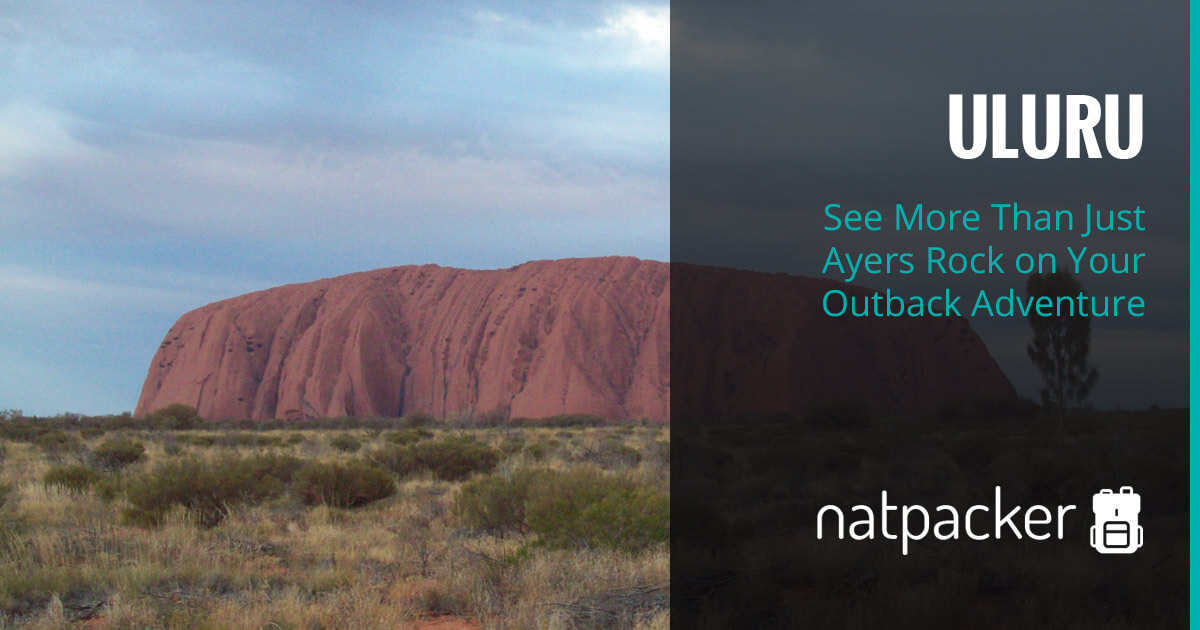 Anangu Peoples
It is still debated when the native Anangu people arrived at the Rock, with most estimates putting the date at around 20,000 years ago. The Anangu people survived here in small, mobile groups so that they were able to move between waterholes. The semi-arid environment makes water a highly valued resource, so the permanent waterholes at the base of Uluru make the area important to the natives. Permanent waterholes attract game, as well as providing water, so have a practical significance as well as a religious one.
However, Uluru is not a shrine that the Aboriginals make pilgrimages to, the Rock is simply an important ancestral area for the Anangu for water, food and ceremonies. Significant events from Aboriginal stories are said to have taken place here, deepening the cultural and spiritual significance. Uluru is not actually the name of the rock itself, but the name of a temporary waterhole near the summit.
Uluru Cultural Centre
Start your trip of Uluru-Kata Tjuta National Park with a visit to the Cultural Centre. Entry is free and you will learn about everything Uluru has on offer. You can pick up guides here, buy souvenirs and book onto tours. Many of the stores here are run by traditional owners and you can pick up local artwork from here. The Cultural Centre is a great starting point as you learn about Aboriginal culture, the natural environment and how Uluru was formed. With many interesting displays the Cultural Centre will help you make the most of your time at Uluru.
Bush Walks
A huge attraction of Uluru-Kata Tjuta National Park is the amount of walks. These walks give you amazing views of Uluru and the surrounding area. Some walks allow you to get up close and personal with The Rock.
Ranging from short and easy strolls to extreme treks, there's something for everyone. Two of the walks (Mala and Mititjulu) are wheelchair accessible and you can purchase a brochure for self-guiding on these walks from the Cultural Centre. All timings for walks are an average, some people walk quicker and some slower, some like to hang around to absorb the atmosphere or take pictures. It's not a target – go at your own pace.
Dune Walk:
Where? Bus Sunset Carpark
How Long? 30 mins return
A walk along a sand dune with views of both Uluru and Kata Tjuta. Here you can see the contrast in vegetation on the dune and the woodland towards Kata Tjuta. You may even see some animal prints.
Mititjulu:
Where? Southern side of Uluru
How Long? 1 km (under 1 mile) 45 minutes return
Available as a self-guided walk and wheelchair accessible, the Mititjulu path takes you past rock art sites to a waterhole where you can see evidence of the battle between Kuniya (woma python) and Liru (poisonous snake man).
Mala:
Where? Mala Carpark on the north-west side of Uluru
How Long? 2km (1.24 miles) 1 hour return
Available as a self-guided walk and wheelchair accessible, the Mala walk takes you to the Kantju Gorge. You'll pass strangely eroded caves, some used by the Ananju fairly recently, rock art and pools in the shade of desert oaks. Turn around when you reach the huge cliff of the Kantju Gorge
Walpa Gorge:
Where? Kata Tjuta
How Long? 2.6km (1.62 miles) 1 hour return
Take the path up a gently rising slope with amazing views of the surrounding landscape. At the end of the Gorge Spearwood vines can be seen.
Valley of the Winds:
Where? Kata Tjuta
How Long? 7.4km (4.6 miles) 3 hours full circuit
This is one of the harder walks as it is rocky, steep and difficult in parts. But the exertion pays off with amazing views and two great lookout points along the path. You can fully experience the beautiful landscape on this walk.
Be aware, this path will close if temperatures are too high.
Uluru Base Walk:
Where? Base of Uluru
How Long? 9.8km (6.1 miles) 3-4 hours full circuit
This track takes you around the base of Uluru and includes the Mala and Mititjula tracks. It is generally a quiet track so you shouldn't bump into any large tourist groups. Along the loop you'll get a look at the variations in the texture and surface of Uluru as well as seeing more Anangu sites (but heed signs of closure). This path is walked in a clockwise direction.
Guided Walks:
There are two types of guided walks you can take at Uluru, Ranger or Anangu.
The Ranger Guided walk uses the Mala track and so is wheelchair accessible. Allow 1.5 hours.
The Anangu Tours are called Kuniya and Liru walks. Anangu Tours are an Aboriginal owned enterprise. The guide will demonstrate bush skills, talk about their traditional lifestyle, bush food and Tjukurpa.
To Climb or Not To Climb Uluru?
Climbing Uluru is a massive exertion. You will find signs around the base stating 'Anangu don't climb', the Anangu don't like tourist climbing. Roughly ⅓ that try give up, one person dies a year (normally due to a heart attack) and a number of rescues are needed (putting the rescuers in danger). The Anangu feel personally responsible for the safety of tourist on their land. Despite this many will attempt the hour long climb. If you decide to, be prepared, it will probably be the hardest thing you try in Australia and if you slip you will end up back at the carpark.
There is a chain to help until the gradient eases off then you will walk up and down gullies until you reach the summit. From the summit, it's back the way you came. The climb is closed if the temperature is expected to be too high and during strong winds.
Sunrise and Sunset
There are specific viewing areas to see Uluru during sunrise and sunset. During these times the effect of the atmosphere on the sun's' rays causes the rock to change colour. Any reflections from the sky and rock will enhance the already spectacular colours.
How To Have The Uluru Experience
There are a number of different tours available to experience the Uluru-Kata Tjuta National Park. Most include a sunrise/sunset viewing and a walk or two. But there's lots of variety from just one activity to 7-day tours. You can even sky-dive or take a helicopter ride. There are also a number of tour groups to look at, Uluru Travel, Groovy Grape, Uluru Resort and Oz Experience to name just a few. There's a tour for every ability.
Or why not try it on your own? The Park is accessible to those not on an organised tour. You could rent a car and stay in a hotel or rent a Campervan (for example Wicked Campers) and camp out. Just make sure you have a good map and someone to call if you get lost!
The Boring (But Essential) Bit
Remember, the Uluru-Kata Tjuta National Park is a semi-arid environment. It is hot and dry, so it is vital to take some simple precautions:
Only walk during cooler hours of the day;

Stick to the paths;

Wear a sunhat and use plenty of sunblock;

Wear sturdy walking boots;

Heed all warning and closure signs;

Drink at least 1 litre of water every hour;

Listen to your own body and use your common sense.
Whatever you choose to do during your visit to Uluru-Kata Tjuta National Park, you'll still feel like you haven't seen it all. Exploring the park, only whets your appetite for the place, and doesn't satisfy it. Make the most of your time there and do what'll give you the best experiences and memories. Just ensure you do it safely and respectfully, take only pictures and leave only footprints. That way you and the Park itself will be there when you realise you need to see it again and do more there.
Want to visit? You can search for nearby accommodation on Tripadvisor.