It's always difficult deciding what to pack. I always want clothing that is comfy, versatile and stylish on any trip that I take. Personally, I always like to take at least one dressy outfit, but not one that's going to take up too much space. It's not just about packing light, but also packing clever. The Ultimate Travel Dress seems to tick both those boxes. This dress is made for travellers, by travellers. With travel in mind, this dress can transform into twenty outfits. Seems too good to be true right?
Disclaimer: I received a complimentary Ultimate Travel Dress in exchange for a honest and unbiased review. All opinions are my own.
About Kameleon Rose
Leila Rose founded Kameleon Rose because as she was travelling around the world she came across the same frustration that many female travellers do, trying to look stylish, stay comfortable and have practical clothing. During this trip she designed the Travel Dress. After the success of the dress, Kameleon Rose now have produced several types of convertible clothing.
The clothing is made in Madagascar and Mauritius, under ethical conditions. Kameleon Rose aims to have a positive impact on the environment and the people wherever possible. The factory is WARP certified, which is the largest independent certification programme in textiles. To be WARP certified, there are twelve principles that must be adhered to. These principles include prohibition of child labour; Health and Safety; prohibition of discrimination and compliance with laws and workplace regulations, amongst others.
The Ultimate Travel Dress
The Ultimate Travel Dress is an award winning design that comes in five colours.  This dress is made from 96% polyester and 4% elastane, so the material is quick-drying, non-creasing, breathable and rolls up small. All sounds too good to be true for a female traveller!
The dress can be styled as into at least twenty outfits, it can be worn as a dresses, skirts, pants and even tops. You have to admit, that does sound very versatile. The dress also has a small hidden pocket for valuables.
My Review
I was so excited to be receiving the Ultimate Travel Dress. Really excited. As soon as it arrived I tried it on. My first impression was how tiny it was when I got it out of the parcel. Once I'd unrolled it and got it on I was amazed how comfortable it was as a dress, and there were no creases even though it had been transported all rolled up. The material was smooth and lightweight. It felt really nice and it was surprisingly flattering.
I'd chosen the navy blue colour, which I thought would match other clothing when wearing as pants or a top. I found the colour very versatile, which let's face it, you need some good mix and match colours!
The hidden pocket is quite small. You can't fit much in there, but it is good for a phone or passport plus some money. And that's all you really need to be hidden away.
I only found two small negatives when wearing the dress. Firstly, I found that if I wore it as a top, the buttons would often catch my (very) long hair; so I have to keep an eye on this. The other issue I have is when the elasticated top part of the dress is around my waist (so wearing as certain pants, a skirt or a top) it could be a little uncomfortable. However, I could easily sort this out with a bit of jiggling around. I'm not sure if this is just me, as I have the same problem with quite a few pieces of clothing. I know I just have to make sure waistbands are in the correct position to be comfortable.
I also haven't figured out how to roll it back to how it was delivered. But that really doesn't matter as it folding and rolled into my backpack so small anyway!
My Score – 5/5
Even with the two small issues, I have with the dress, overall I love it. Definitely one of my favourite pieces of clothing. It is so versatile, I love the colour and especially how flattering it is! It is everything it says: comfortable; quick-drying; versatile and breathable.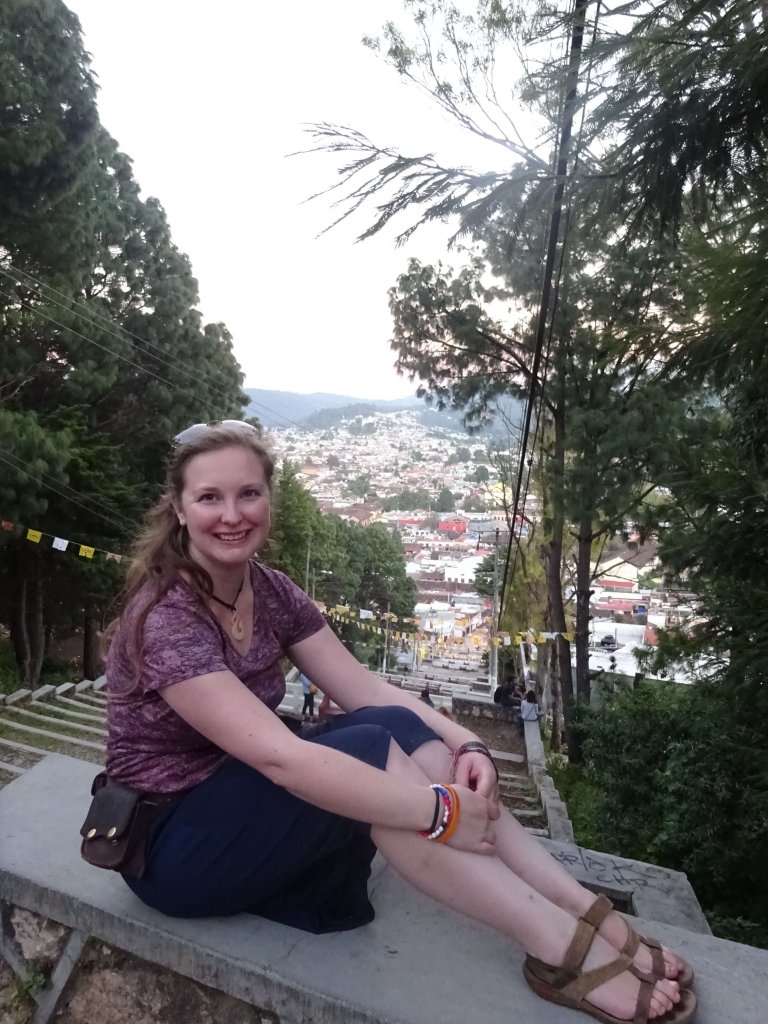 I took this dress on my six month trip to Mexico (which ended up being nearly seven months by the time I dipped into California too) and it was a staple to my backpack wardrobe. I didn't wear it everyday, but at least a couple of times a week. And it lasted really well. No stains, no creases and it really was quick drying. It was only on rare occasions it took longer than one night to dry and this was because the room had terrible ventilation. The dress has now become a staple in my travel wardrobe and I take it on every trip.
I found that during my travels I stuck to four or five ways of wearing it. These were just my personal preferences. But each way I wore it I loved it. I always felt great and comfortable. If you're looking for a way to reduce what you take travelling, this dress really is the answer.
Kameleon Rose Discount Code
If you're interested in the Ultimate Travel Dress, you can get a discount with me! Go to the Kameleon Rose website and save 10% by using the code "natpacker" at the check out.