TourRadar is a company that helps travellers to find and compare tours. They aim to find the best tour that is suited to your needs. They use loads of different tour operators across the world to supply a variety of tours. TourRadar was made by a group of travellers in 2010 and now there are over 15 nationalities in the team in offices worldwide. They aim to give the best advice to help you with your adventure. Online you can search by the area you want to explore or the type of adventure you want. And there are always plenty of deals and competitions!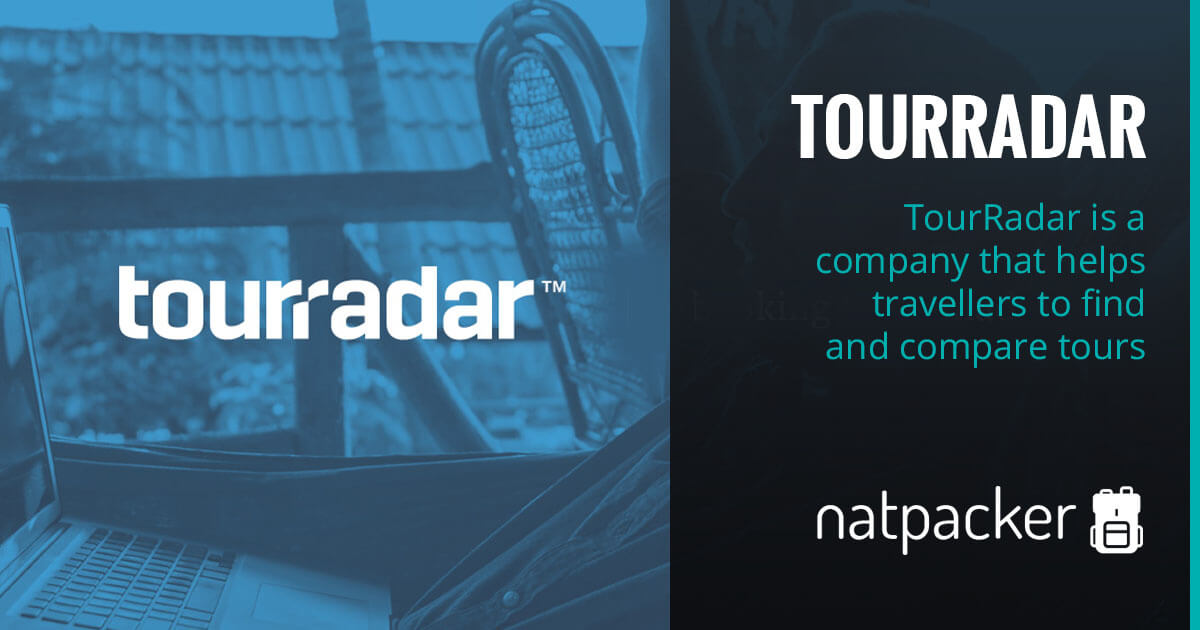 Choosing A Tour By Area
You can choose a tour by first starting with the continent you want to travel to. Then you can filter your search with options such as budget, must see cities or countries, start and end point and even age range. The continents you can look at are:
Africa
With tours that include places like Tanzania, Zimbabwe, South Africa and Malawi, there's lots to see in Africa. You can choose safaris, adventures, cultural experiences and even cycling trips. Trips either stay in one country or visit several. There are tours that take three days, tours that take 280 days and pretty much everything in between! So whether you are looking for the Nile, Pyramids, iconic animals or Kilimanjaro, there's an Africa trip for everyone.
Asia
With the Asia tours you can be taken to places such as Vietnam, Thailand, China and Bangladesh, to name just a few. There are 'discovery' tours, 'in-depth' cultural experiences, adventure and more. Visit one country or several on tours that can be 3 days to 217 days. If you want beautiful beaches, the Great Wall of China or diving, there's an Asia tour for everyone!
Oceania
Visit Australia, New Zealand, Papua New Guinea and more with tours that travel through Oceania. There are 'discovery' tours, adventure tours and hiking tours to choose from. Tours can cover one country or several and last from 3 days or can go on as long as 91 days. Whether you want to meet the locals, relax on beaches or have a crazy adventure, there's an Oceania tour for every traveller.
Europe
Europe tours can take you to countries such as Sweden, France, Poland and Russia, among many more. With tour types such as culture, sightseeing and even river cruises, there's plenty to choose from! Travel in one country or several, tours can last from 3 days to as long as 77 days. So if you want culture, nature or even a Europe party, there's a Europe tour to suit everyone!
North America
With TourRadar you can visit Greenland, Canada and the USA. There are hiking and trekking tours, adventure tours and 'discovery' tours, among more. Whether you want to visit one country or more, there's plenty of choice. The tours can take as little as 3 days or be as long as 80 days. Whether you're into National Parks or cities, you can find a tour in North America to suit you!
Latin America
See countries such as Mexico, Jamaica, Cuba, Brazil and more with a Latin American tour. Tour types include wildlife tours, cruise tours and culture tours, to name just a few. With tours that encompass one country or many you can tour from 3 days to 217 days. If you want beaches, rainforests or waterfalls, there's a tour in Latin America for every traveller!
Choosing A Tour By Style
If you have a certain style and are not sure where you want to visit, you can search by tour style. You can then filter down your choices, changing options such as budget, country or age group. The tour style options are:
Culture
Culture tours can show you one country or several. These can either be 'discovery' or in-depth. You can focus on local life, wine, food or historical experiences. With tours that last from 3 days to 217, there's plenty to choose from!
Nature And Adventure
Have an adventure in one country or many! These tours can be trekking and hiking or overland coach/bus. Choose from tours that focus on areas such as wildlife, surfing, kayaking, skiing and more. These tours can take 3 days or be as long as 280 days, so no matter how long you want to adventure, you should find something to suit you!
Independent
Whether you want to travel through a single country or a few, there's plenty of choice with independent tours. These tours can be hop-on hop-off buses, living like a local or even custom tours. You can travel for a minimum of 3 days for tours that go on for 120 days (although many hop-on, hop-off can go for longer, depending how long you 'hop-off' for. These tours give you time for yourself.
Marine
Have an ocean adventure that can cover one or more countries. These tours can be on sailing boats or cruises. These trips can take you on rivers, oceans and even the polar regions. With trips that last from 3 days to 32 days there's plenty of choice no matter how little time you have to spare!
Festivals And Events
Want to make the most out of a festival? From Oktoberfest in Germany, Hogmanay in Scotland to Halloween in Romania, you can see the best of each festival. Each festival also has its own options and advice to prepare you!
Special Interest
Special interest trips can include volunteering or photography and language courses. There is also a section for gay travel. The tours can still include a variety of destinations and vary in length from 3 days to 84. So if you want something a little different, to give something back or learn a new skill, there's a tour for you!
About TourRadar
TourRadar help travellers to choose a tour best suited to them. With 1 million departures and 200 countries they use more than 500 trusted tour operators – they're sure to find a tour that matches your requirements. Whatsmore, if you do come across any snags their customer care is open 24/7, so you can always get help when you need it.
Even though they act as a 'middle man' there are no booking fees and they have a best price guarantee. This means if you find your tour cheaper, with the same departure day, they will match it. There are also no hidden charges, no credit card fees etc. You pay exactly what the price is. Even better, every time you book a tour you earn travel credits. These are unlimited, the more tours you book, the more you get and can be used to help pay for another tour!
You can also make wish lists. This makes it easy to remember what you've looked at and want to do. You can also then wait for a decent offer on the tour you want to go on next.
Why Tour?
There are lots of reasons why using a tour rather than going independent can be the best. Sometimes it's just nice to be with other like minded people, sometimes you get sick of having to arrange everything yourself. Here's what TourRadar say about the benefits of tours:
Makes Planning Easy
Booking a tour means you don't have the hassle of planning everything. Accommodation, transport, sightseeing and most meals are all sorted for you. All that's left for you to sort is flights and insurance, easy!
There Is Free Time
Many people worry that you'll get no free time on tours, but this is not true. There is a fine balance between guided parts and free time. Many tours give you free time or even a full day for you to explore on your own.
It's Cheap
With most expenses such as accommodation already included in the price, it's all paid for, which means you often have a great deal. The operators can even have discounts arranged at attractions, meaning you save!
It's Safe
You will be with a guide who is trained and knows the area that you are touring. The guide will also know what to do if the worst should happen and something goes wrong! You'll also be in a group that are in the same situation, meaning that it's unlikely you'll be alone, you'll always have someone to go wandering with.
Time Is Not An Issue
With so many tours to choose from, it really doesn't matter how little or how much time you have. So you can choose a tour that shows you the highlights or a tour that is a much slower pace.
There's A Tour For Everyone
Whether you're into art, adventure, food, culture, wildlife, the list goes on, there is a tour for you! With over 20,000 tours to choose from there is a tour to meet every traveller's needs.
Friends
You'll be thrown into a tour with like minded people, it's unlikely you won't get on with a single person. You meet people that have the same interests as you and probably a story or two about their travels. Friends for life are often made on tours.
You'll See A Lot
From the obvious tourist attractions at a destinations, to the hidden gems, you will see so much. You will get everything you expected to see and places you didn't know existed!
Amazing Guides
The guides are passionate about the area that they are showing you, so you will learn history and culture. Their passion is infectious and you'll love where they are showing you. They will be happy to help with any problems or queries you have. They'll be able to advise you what you should do with free time too.
You'll Learn A Lot
History, culture, traditions, the guides know a lot about the destinations. And if you have a question that they can't answer, they'll probably know someone who can!
No Need To Worry About Language
The guides know the local language, so you don't have to worry about it. You can either learn from your guide or let them do the talking!
It's Fun
The people you tour with, the places you visit, all add up to an amazing experience. You can't help but have a brilliant time!
Put simply, TourRadar acts as a middleman, but there are so many benefits! TourRadar make choosing a tour easier, you earn credits and there's always support and advice available. If you don't want the hassle of planning the trip, you can't go wrong with TourRadar! So why not sign up today?
The above links for signing up to TourRadar is an affiliate link. All this means is, if you buy a tour after clicking the link I will get a small commission at no extra cost to you. So please use the above link so I can maintain this blog!